Celtics
Jaylen Brown provides update on injuries to hand and shoulder
The cut on Brown's hand had split open during Game 1 against the Hawks on Saturday.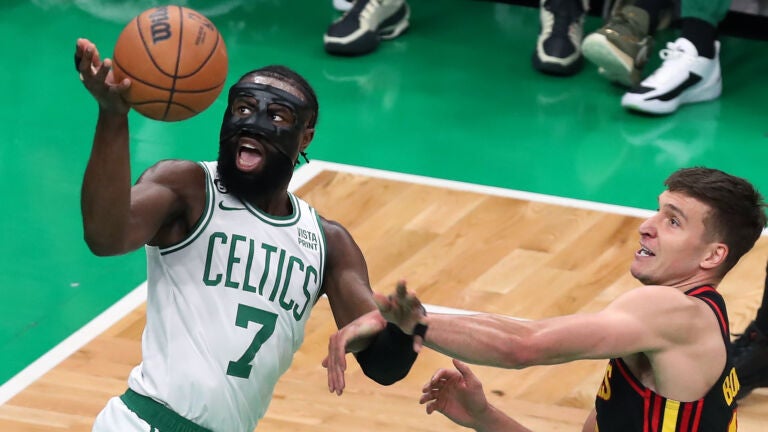 Following the Celtics' 119-106 victory over the Atlanta Hawks on Tuesday night, Jaylen Brown provided updates to reporters on injuries to his shooting hand and left shoulder.
Brown did not note any particular problems with the cut on his right hand during Game 2, after previously saying it had split open during Game 1 on Saturday night. He simply noted that the injury is "getting better each and every day."
During the game, it did not appear as if Brown was having much difficulty managing the wound. The wing shot 50 percent from the field and from beyond the arch against the Hawks on Tuesday and added three steals and two blocks.
One of his two threes narrowly beat the shot clock in the third quarter and gave the Celtics a 20-point lead.
While his hand continued to heal on Tuesday, Brown did note that he picked up another injury while going for a rebound.
"I took an elbow or something to my left trap, and it's a little bruised up right now," he said. "But, at this point in the year, the body is bruised up, and that's a part of being in the playoffs. I'll be all right."
Following the win on Tuesday, Brown and the Celtics have two days off. The next game for Boston will be Friday in Atlanta with Game 4 on Sunday.
Sign up for Celtics updates🏀
Get breaking news and analysis delivered to your inbox during basketball season.