Celtics
Joe Mazzulla weighed in on Hawks' Dejounte Murray's banter in Celtics' Game 2 win
Murray appeared to have some words after each shot he made in the third quarter, but it was apparently all in good fun.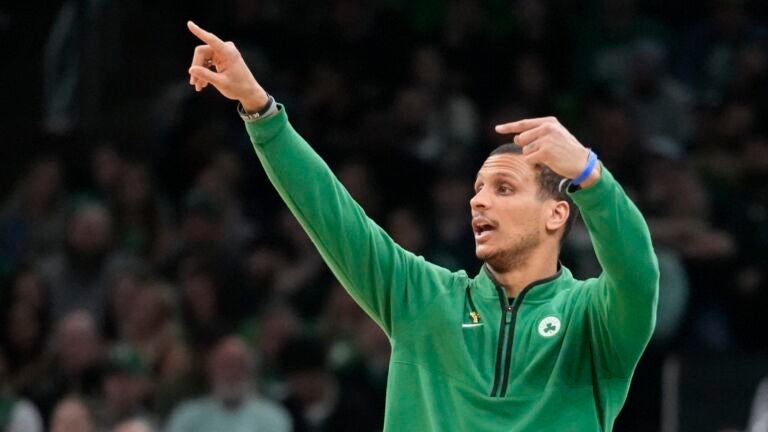 The Celtics had answers for nearly everything the Hawks threw their way in their 119-106 Game 2 win on Tuesday.
But there was one player who the Celtics didn't have an answer for during a stretch in the third quarter. Hawks guard Dejounte Murray scored 13 points on five consecutive shots he took over a three-minute span late in the quarter to help keep his team within striking distance of the Celtics.
After each make, Murray jawed with the Celtics bench, having words for some of their reserves and coach Joe Mazzulla.
Mazzulla admitted that Murray was talking to him, but he said the exchange between them was all good.
"He was talking to me. Just asked how my day was going." Mazzulla said with a laugh.
Murray also seemed to have fun over the exchanges, downplaying any ideas that there was animosity between him and the Celtics.
"Nothing there. Nothing there," Murray said. "Just competing. I know a bunch of guys over there, and that's it, that's all. Nothing big."
Murray wasn't able to keep up the production in the fourth quarter as he didn't score again until there were less than 30 seconds left in the game. But he was arguably the lone bright spot for the Hawks in Game 2, scoring 29 points as he matched Jayson Tatum for the game-high. He also shot 7-of-13 from deep to go along with six assists and four steals.
Mazzulla showed Murray some respect when he spoke about the back-and-forths he had with him on Tuesday.
"He's a great kid, he's a great guy," Mazzulla said. "I've gotten to know him just through a lot of people in the Spurs organization. And he's putting on a hell of a show."
The Celtics will hope to slow down Murray when the series heads to Atlanta for Games 3 and 4 over the weekend.
Sign up for Celtics updates🏀
Get breaking news and analysis delivered to your inbox during basketball season.