Celtics
The Celtics need to beat the Hawks in five: 6 takeaways from Game 3
The Hawks got fiery hot in Game 3. The Celtics can't let that happen again.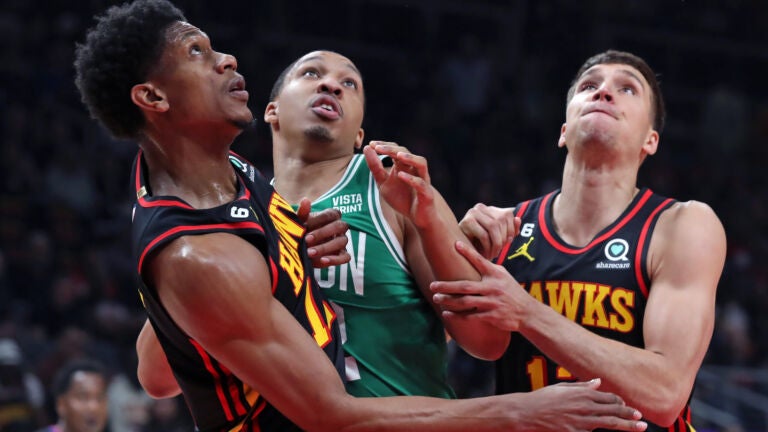 The Celtics dropped Game 3 of their first-round series to the Hawks on Friday, falling 130-122 in an offensive shootout.
Here are the takeaways.
1. For the Celtics, Game 3 was always going to be the most difficult — especially after they won Games 1 and 2 with relative ease. The Hawks were returning home, and they knew their season would be over for all intents and purposes with a loss. They were by far the more desperate team, and the more desperate team is usually the successful one.
That proved to be the case on Friday. The Hawks scored a playoff franchise-record 74 points in the first half and shot 65 percent. That number dropped, but only a bit in the second half as they finished 56 percent from the floor and 44.1 percent from behind the arc. As a result, the Hawks weathered a 21-for-48 (43.8 percent) performance from three by the Celtics, who dropped their third loss this season when they hit 20 or more triples in a game.
The Celtics still had their chances, and for a team that has struggled to take care of business at times during the regular season, it might have been nice to win a grit-it-out game against the Hawks, who were having an otherworldly offensive night. But the biggest reason the Celtics remained in the game was their own offensive performance — a barrage of 3-pointers in the first half that only cooled a bit in the second. The defense that stopped Trae Young in his tracks in Games 1 and 2 struggled to keep him out of floater range in drop coverage, particularly late as he knocked down several clutch baskets.
There's plenty to analyze but summing this game up is actually pretty easy: The Hawks threw a big punch, and the Celtics countered but absorbed too much of Atlanta's hit.
That can happen once in a series against an inferior team without much damage done, but it shouldn't happen twice. If the Hawks were the more motivated team in Game 3, the Celtics need to be motivated in Games 4 and 5 to avoid letting the series trickle back to Atlanta.
2. Atlanta native Malcolm Brogdon didn't make many friends in his hometown at shoot-around.
"I love Atlanta — this is home, this will always be home," Brogdon said. "… But as far as the franchise, no. I mean, historically, these fans haven't been the most dedicated. And that's myself included, coming up. I was always an NBA fan, but not Hawks specifically."
In response, Hawks fans booed Brogdon when he touched the ball on Friday. At one point, they started a "Brog-don sucks" cheer, which Brogdon promptly answered with a 3-pointer.
Meanwhile, late in the game, Dejounte Murray buried a 3-pointer over Derrick White, and after White fell to the ground, Murray pointed at his former Spurs teammate. A moment later, Smart hit a three and pointed right back at Murray.
This series has largely been devoid of controversy and drama, but Game 3 percolated mildly. It remains to be seen what carries over into Game 4.
3. Grant Williams played his first minutes of the series in the first quarter and got off to a comfortable start, rolling to the corner for a 3-pointer as the outlet to a drive by Malcolm Brogdon.
That jumpstarted an impressive return to action by Williams, who scored 14 points and shot 4-for-4 from behind the arc. He returned to the floor in the third quarter, and after the Celtics got a stop on the penultimate possession to prevent a Hawks lead from swelling to 12, he buried a 3-pointer just before the buzzer that cut it to seven.
Williams will likely play a big role deep into the Celtics' playoff run, so getting him some minutes was important. The Celtics, however, couldn't take advantage of his hot shooting.
4. Jayson Tatum was excellent in the first half — 17 points, 4-for-6 shooting from 3-point range — but he cooled off considerably in the second, finishing the final two quarters 0-for-5 from three and 4-for-11 overall with three of his four turnovers. All three of his turnovers in the second half were a little strange — a pass that slipped out of his hands and sailed out of bounds, an ill-fated attempt to split a double team, and — perhaps most costly — a faulty step out of bounds in the fourth quarter that wiped away an offensive rebound and a dunk as the Celtics tried to rally.
Tatum's last 3-point attempt came with 58 seconds remaining as the Celtics trailed by three. Jaylen Brown drove early in the shot clock, collapsed the defense and kicked out to an open Tatum, but Tatum's open triple hit the back rim and bounced out.
"Thought it felt good," Tatum said. "Hit the back of the rim, so gave myself a chance. I've got to play better, I think. I had some timely turnovers, especially some reads at the rim. Maybe try to get fouled where I have to do a better job of making decisions in some of those moments, timely situations. So this one tonight is on me. …
"I get a lot of credit when we win, and I have to take the blame when we lose. Rightfully so. I've got to play better, make some better decisions in some of those moments. I will."
5. Both Marcus Smart and Robert Williams took hard falls in the second half. Williams touched his back briefly after hitting the deck, but he got back up relatively quickly. Smart's fall looked particularly painful — he lost his balance mid-air and landed directly on his tailbone. His eyes widened in pain and he remained down for a moment, but he stayed in the game.
"It's sore," Smart told reporters after the game. "Same spot as the last time, just caught me off guard, the fall. We'll see how I feel in the morning."
6. The Celtics, appropriately, are far from panicked. Still, they understand the importance of Game 4 on Sunday in Atlanta.
"I think that we took their best punch," Jaylen Brown said. "I don't think we played as well as we could have played, and we still were in the game, so ultimately we had chances to win. They made some super tough shots down the line in the fourth quarter — Trae with the step-back over Al in the corner, Dejounte heavily contested in the corner as well — those were two big threes they made, and we just have to do better in the first three quarters so down the stretch we can be in a better spot."
Sign up for Celtics updates🏀
Get breaking news and analysis delivered to your inbox during basketball season.