Celtics
Malcolm Brogdon might be the best Sixth Man of the Year since James Harden
Brogdon fits what the Celtics are trying to accomplish perfectly.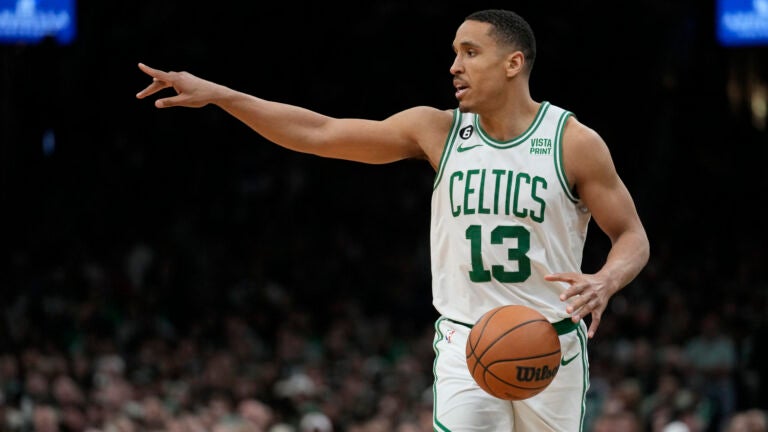 On Thursday, the NBA announced that Celtics guard Malcolm Brogdon won the 2023 Sixth Man of the Year award.
The accolade wasn't a surprise. Straw polls showed Brogdon had a lead over Knicks guard Immanuel Quickley, and Brogdon comfortably beat him 60-34 in first-place votes and 408-326 in overall points.
A great sixth man is often an odd mixture of things — talented enough to score like a star, self-aware enough to realize that sometimes he needs to take a secondary role, confident enough to take a primary role when necessary, and smart enough to know when to toggle back and forth between primary and secondary.
When Brogdon was dealt to Indiana in 2018, the former Rookie of the Year had an opportunity that many All-Star-adjacent players crave: A chance to test his skills as a primary weapon on a team.
The results were disappointing. Brogdon's per-game averages spiked as high as 21.2 points in 2020-21 and 7.1 assists in 2019-20, but the Pacers only cracked .500 once in his three years with the team, and Brogdon's injuries made building a team difficult.
To his credit, Brogdon not only recognized that his team was struggling, but he also fully owned his role in those struggles.
"My last two seasons, they weren't super successful," Brogdon said on Thursday. "So for me, that was another gut check for me in understanding that maybe I'm not a No. 1 guy, but I can be a great No. 2, 3, or 4."
That kind of perspective and self-awareness, especially from a player capable of averaging 20 points per game, is very valuable (and pretty rare).
"The last few seasons for me were rough, not being able to win," Brogdon said in early April. "I'm a winner. I feel like I've been known as a winner. I want to be known as a winner when I'm done playing in this league. And I want to win at the highest level, and that's winning a championship. So, being in Boston, being a Celtic fits me perfectly."
Prior to the season, it was clear the Celtics would have at least one Sixth Man of the Year candidate. Marcus Smart seemed unlikely to move to the bench given his role, tenure, and cache with the team, but both Brogdon and Derrick White loomed as possibilities.
We wrote about White yesterday, who started 70 games and emerged as a star in his role. White fits seamlessly into the Celtics' starting lineup in part because he fills any gap left by the rest of the Celtics' talented starting unit.
Brogdon is a different kind of player — there was no doubt he would excel … as long as he was willing to accept a smaller role on a championship-level team. That was the only real risk Brad Stevens took when he acquired Brogdon for the price of Daniel Theis, Aaron Nesmith, a late first-round pick, and a pair of truly elite towel-wavers.
As the Celtics' president of basketball operations, Stevens has largely hit singles and doubles rather than swinging for the fences (a strategy that can produce wildly varied results — just ask Danny Ainge who both whiffed trading for Kyrie Irving and homered to the upper deck by drafting Jayson Tatum instead of Markelle Fultz). One can't help but wonder how much Stevens wishes he could have coached a bench like the one he put together this offseason.
Stevens's read on Brogdon's bench potential was one of his most prescient moves to date. Brogdon can score both in isolation and within the flow of the offense, driving 11.3 times per game to break down the opposing defense while shooting a career-high 44.4 percent from 3-point range. Questions about Brogdon's durability were reasonable (he played 36, 54, and 56 games in his three seasons with the Pacers), but in a reduced role, Brogdon played 67 games for the Celtics and entered the playoffs in a good place physically.
Armed with the perspective of losing seasons with the Pacers, Brogdon spent the season galvanizing the Celtics' second unit. After a disappointing loss to the Bulls in November, Brogdon said the team's bench was talented enough to have lofty ambitions.
"[The bench is] the second team," Brogdon said. "We're going to be the best in the league."
Then Brogdon — who never started a game this season, despite several high-profile injuries — set about making that happen. Unlike Quickley (who started 21 of the 81 games he played) or even White (who occasionally went back to the bench for certain matchups), there was no question about Brogdon's role.
There was no question about its importance either. Lack of depth may have cost the Celtics the title last year — Tatum acknowledged that he wore down during a difficult playoff run to the Finals, and the Warriors were able to take advantage of that weariness. Brogdon needed to be the foundation of a unit that could take some plates off the heavy barbells resting on the shoulders of the Celtics' stars. Brogdon's performance within that role made him eminently deserving of Sixth Man honors.
Brogdon might be the NBA's best Sixth Man of the Year in quite some time — perhaps since James Harden came off the bench for the Thunder in 2012. The following offseason, Oklahoma City dealt Harden to the Rockets, which was the start of Harden's streak of scoring titles, All-Star and All-NBA appearances, and an MVP award in 2018. In the ensuing years, Sixth Man of the Year awards went to a number of offense-first guards including J.R. Smith, Jamal Crawford, Eric Gordon, Jordan Clarkson, and Tyler Herro, as well as Lou Williams three times (Montrezl Harrell briefly broke up the run of guard dominance with his victory in 2020).
Brogdon's numbers aren't quite as gaudy as some other Sixth Man winners — Tyler Herro, for instance, scored 25 points or more 22 times last year, while Brogdon scored 25 or more just six times this season. Herro's ability to light up opposing second units was indispensable for the Heat.
But Brogdon does important work enhancing lineups with one or both of Tatum and Jaylen Brown while carrying the load if the Celtics ever need to buy both stars a breather. He's also a more versatile two-way threat than players like Herro, Williams, and Crawford, who were (and are) often targeted defensively. For a Celtics team that needed depth more than perhaps anything else this offseason, Brogdon became the best depth option in the NBA.
The Celtics have championship aspirations and thus a long way to go before we can render final judgments on the way they were put together in the summer of 2022. If they bow out early, there will be a great reshuffling of every evaluation.
But after an award-winning regular season, Brogdon's willingness to accept and embrace his role — in addition to his two-way talent — makes him look exactly like what he said he hoped to be after his time with the Pacers: Not a No. 1 guy, but a great 2, 3, or 4 guy.
A winner, in other words.
Sign up for Celtics updates🏀
Get breaking news and analysis delivered to your inbox during basketball season.