Celtics
Three reasons the Celtics are NBA title favorites, according to CJ McCollum
The Pelicans guard was asked why the Celtics are favorites.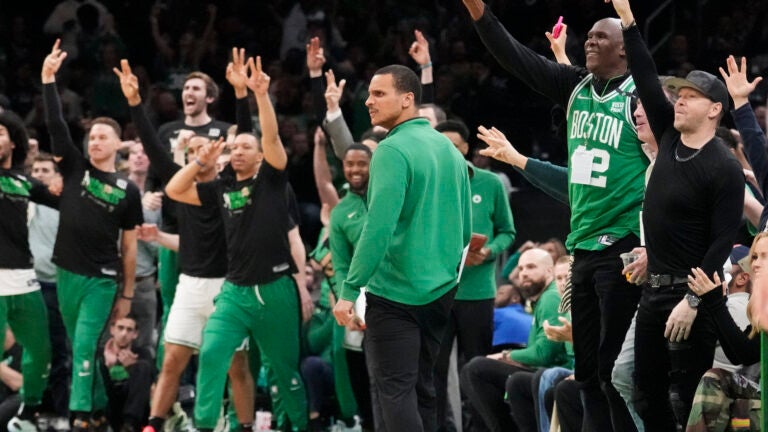 The Celtics are the No. 2 seed in the East, and they're in a better position to win the NBA Finals than any other team except, perhaps, Milwaukee.
According to FanDuel Sportsbook, Boston has the second-best odds behind Milwaukee to win the championship. The Celtics were No. 1 earlier this week.
Pelicans guard CJ McCollum discussed what makes the Celtics such a strong team during an episode of ESPN's "The CJ McCollum Show."
Here are three reasons the Celtics should be considered favorites to win it all, according to McCollum:
1. Jayson Tatum and Jaylen Brown are "better" than other stars
They also have plenty of depth, although coach Joe Mazzulla hasn't fully utilized it in the Eastern Conference first round. He's sticking with an eight-man rotation, and players like Grant Williams, Payton Pritchard, and Mike Muscala haven't played at all during the first two games of the series.
McCollum doesn't seem to have much of an issue with this, based on how the Celtics have handled the Atlanta Hawks easily so far.
"I've seen depth. I've seen their stars be better than the other team's stars," McCollum said. "And, their coach ain't messing around. He's playing eight guys. He's getting rid of teams early. He's letting Jayson Tatum play that whole first quarter, Jaylen Brown play most of that first quarter. They're finding the matchups they like."
2. Al Horford's 3-point shooting
When he began his career with the Hawks more than a decade and a half ago, Al Horford wasn't much of a 3-point shooter. That's changed this season. He's evolved into one of the most potent 3-point threats in the league.
"One of the things [Hawks center] Clint Capela talked about was, the fact that Al Horford is out around the 3-point line the entire game means that everybody is playing 1-on-1 and they're getting clear driving lanes to the basket," McCollum said. "And the big fella does help — Al Horford led the NBA in 3-point shooting percentage this season."
Horford's presence at the 3-point line forces defenses to choose between helping on drives, or giving up corner threes, McCollum said.
"He's been playing this role all season long," McCollum said. "He's clearly adjusted and gotten comfortable playing in the corners, shooting the shortest 3-pointer on the court. His teammates have gotten comfortable making that pass. Defenses have had to adjust as to what they take away."
3. A fully acclimated Derrick White
Derrick White is thriving in his first full season as a Celtic after arriving from San Antonio during last year's trade deadline.
He's been scoring efficiently during the Hawks series and has shown that he's one of the league's best shot-blockers at his size.
"The Derrick White trade? He is killing," McCollum said. "The other night he has 26 points in 33 minutes on 11/16 shooting and 2/5 from three."
Sign up for Celtics updates🏀
Get breaking news and analysis delivered to your inbox during basketball season.