Celtics
'Throw one back': Joe Mazzulla knows what went wrong for the Celtics in Game 3 and what they have to do to take Game 4
Seven of the nine Hawks players that played in Friday's game scored at least 10 points in the high-scoring affair.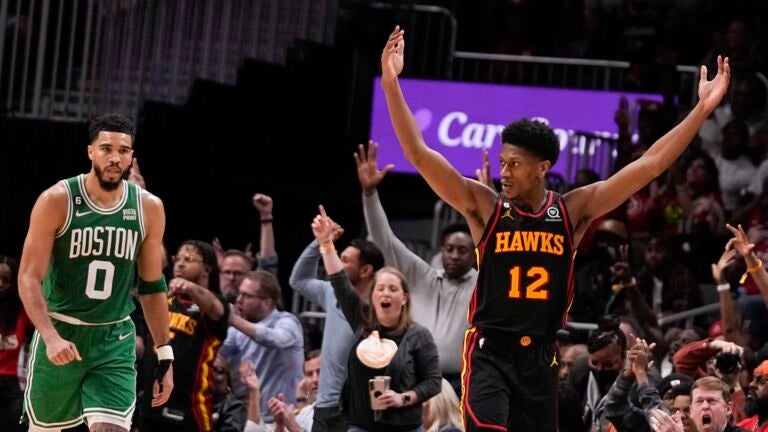 Celtics coach Joe Mazzulla had one moment in mind as to where his team lost Game 3 to the Atlanta Hawks, 130-122, on Friday.
The Hawks flipped the script on the Celtics in the second quarter. After Boston hit nine 3-pointers en route to a 37-point third quarter, Atlanta was practically unstoppable in the second quarter, shooting 15-for-20 from the field to put up 41 points in the frame and carry a 74-67 lead going into the break. It also helped the Hawks set a franchise record for the most points in the first half of a playoff game.
While Hawks stars Trae Young and Dejounte Murray had strong scoring performances on Friday, it was an unusual suspect that gave the Celtics fits in the second quarter. Bogdan Bogdanovic made all four shots he took, giving him 10 points in the quarter, to go along with a block and an assist to help Atlanta build a lead.
That was the key difference, according to Mazzulla.
"I thought we let some of their role guys get hot," Mazzulla said. "The second quarter dictated the game, where Bogdanovic and [Saddiq] Bey kind of made a huge difference when Trae Young went out. It gave them life and I thought they played a pretty complete game.
"So, in a close game like that, not only do you want to focus on the end of the game, but you also want to focus on the runs that led to that. I thought that second quarter did that."
The other factor that Mazzulla believed played in the loss was rebounding, or the Celtics' lack thereof. The Hawks came up with 11 offensive rebounds, outrebounding the Celtics 48-29, to help give them 23 transition points.
But as Mazzulla mentioned that, he continued to harp on players like Bogdanovic, Bey, and Jalen Johnson making their shots to help tip the scale in the Hawks' favor.
"I think the slip-ups came from their role guys," Mazulla said. "First two games we gave them some open shots that they missed. I thought that those guys knocked them down tonight."
One of those open shots was a 31-footer by Bogdanovic in the second quarter, catching the Celtics off guard at the moment. While Mazzulla tipped his cap to Bogdanovic on that shot, he also thinks his team could've done better closing out the Hawks' shooters.
"There were two inch-out opportunities to where a guy was driving on a contain drive and we were a little late to them. Bogdanovic hit one from near halfcourt, so that was a tough one. I think, just not closing out to their body. And then the one right there with Grant at halfcourt, that was a tough one."
Now, the Hawks are applying a bit of pressure on the Celtics going into Game 3. After many people predicted that the Celtics would either sweep or win the series comfortably in five games, the Hawks will get a chance to even things up on Sunday.
Mazzulla, who's in his first postseason as a head coach, understood that the Hawks threw a punch at his team on Friday.
"Throw one back," Mazzulla said on what the Celtics have to do in Game 4. "Just understanding the second quarter. Understanding what went well, what didn't. How we can be better and what we need to keep on doing. I felt we did a good job handling their momentum and their energy throughout the game."
Sign up for Celtics updates🏀
Get breaking news and analysis delivered to your inbox during basketball season.