Celtics
Having Brian Scalabrine and Eddie House on Friday's Celtics broadcast was a fine call
NBC Sports Boston considered bringing in an outside broadcaster, but in the end, the familiarity was helpful for viewers.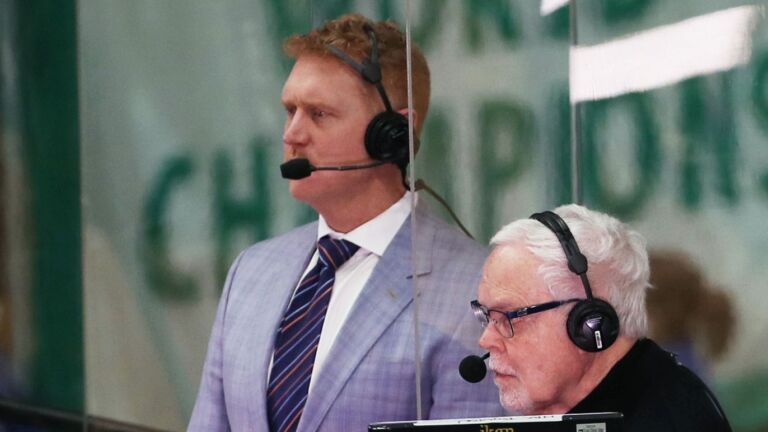 After listening to Brian Scalabrine and Eddie House call Game 3 of the Celtics-Hawks series Friday night absent a conventional play-by-play voice, I'm all right with NBC Sports Boston's mildly controversial decision to go this route.
No, of course it's not ideal. With Hall of Famer Mike Gorman unable to fly as he recovers from eye surgery and Sean Grande committed to calling Bellator MMA for Showtime, the network was left short a voice just as the most important part of the NBA season commenced.
Circumstances may have been someone unforeseeable in this case, but NBC Sports Boston has needed one more play-by-play voice on its depth chart for a while.
The network had options to bring in a temporary announcer for Games 3 and 4 (Scalabrine and House will call Sunday's Game 4, with Gorman back for Game 5 at TD Garden). I know of one prominent play-by-play person from another team in this market who expressed interest, and the gig was a dream opportunity for lower-profile broadcasters looking for a break.
But after considering all options, NBC Sports Boston management decided it was best, given the timing, to keep familiar Celtics voices on the broadcast.
The decision to go solely with Scalabrine and House rather than bring in an outside voice on short notice worked out fine. Sure, there are flaws and hiccups. Scalabrine falls into redundancy when he tries to call the action ("Here comes Tatum …"… "Here comes Murray …"), but for any verbal tics that he has, he is still miles behind the weird lawn guy in the Scotts ad as the most annoying redhead on the broadcast.
As for House, he removes any pretense of objectivity by referring to the Celtics as "we." ("What I can talk about is how we need to tighten it up,'' said House after the Hawks' 74-point first half). But he is an always enjoyable presence on NBC Sports Boston's coverage, whether on the broadcast or in the studio.
The former Celtics teammates, who have worked in tandem on a few "Players Only"-style broadcasts during the regular season, do have a humorous rapport, and insight arrives in their candid discussions of players. "Are you disappointed with the way that he's played, DeAndre Hunter?'' asked Scalabrine regarding the Hawks forward and former high lottery pick in the first half. "Do you expect more from him?"
I should note that there was a significant push by Toucher and Rich listeners to get Jon Wallach — the third voice on that show and the fill-in voice on 98 The Sports Hub's Celtics broadcasts — on the television call for Games 3 and 4. That would not have been an upgrade.
Scalabrine and House did fine under the circumstances. They also reminded us, as if Celtics fans needed it, that we have it awfully good around here with Gorman and Grande.
Ratings blowout is troubling for WEEI
A few leftover thoughts on 98.5 The Sports Hub's clobbering of WEEI in the recent Nielsen Audio ratings, which may well have been the biggest winter blowout since Chicago beat Washington, 73-0, in the 1940 NFL Championship Game …
What has to be especially troubling for WEEI is that the brutal ratings period — the Sports Hub was first with a 19.4 share in the targeted men 25-54 demographic, while WEEI was tied for eighth at 4.0 — is that this happened after a shakeup, which included adding predictable pessimist Adam Jones to afternoon drive. His show tied for 15th with a 2.2 share in March. What is the move now, when the moves already have been made?
Toucher and Rich, the Sports Hub's dominating morning drive program, got a massive 25.6 share, including a 26.5 in March, the last month of the three-month ratings book. That's a tribute to not just the size of the program's audience but its loyalty considering that co-host Fred Toucher was affected by a throat problem during the period and missed or struggled to speak clearly during a number of shows.
I'll never get why station management marginalized Rich Keefe, moving him from a midday co-hosting role to its evening host, during its lineup shakeup in January. He's the most entertaining host on the station. But it's clearer than ever that the move did him no favors, putting his show up against the Sports Hub's nighttime programming, which includes Bruins and Celtics broadcasts. With the Bruins and Celtics presumably poised for deep playoff runs, the spring numbers probably won't look much better.
Thoughts and prayers
Doug Kyed, who made his name in this market with thoughtful coverage of the Patriots for NESN, is a terrific NFL analyst and an even better guy. He revealed this week that he and his wife had received some frightening news — their 2-year-old daughter Hallie has been diagnosed with a form of leukemia. Good thoughts are appreciated, and a GoFundMe has been set up to help Hallie and the Kyeds at www.gofundme.com/f/help-the-kyed-family.