Celtics
Trae Young finally showed up in Game 3 and sent the series back to Boston
Atlanta and its two-time All-Star found their shooting stroke.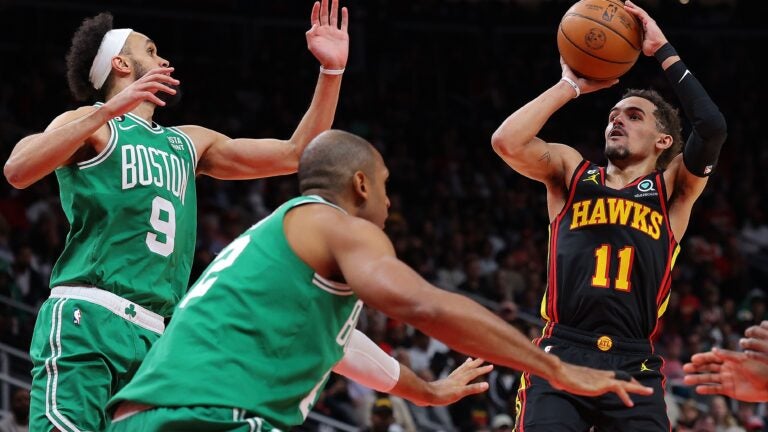 Trae Young vowed to play better after Game 2, when he had yet to find the shotmaking success he built his NBA reputation on during this series.
On Friday night, Game 3 was much different. He scored 32 points and made more shots than he missed (12-22 from the field), turned the ball over less, and dished out nine assists.
He said he would be better at home, and he was. Now the Celtics, who lead the series 2-1, find themselves on the road facing a potential series tie, and Atlanta will have at least one more game at TD Garden.
"Like I said last game, I wasn't worried," Young said. "I knew I could play the way I need to. It's all about reading and making the right adjustments."
The Hawks found their 3-point shooting stroke, but they also out-hustled the Celtics on the boards, winning the rebounding battle 48-29. Saddiq Bey made his first five shots, including three 3-pointers.
"They made some tough shots, as we knew they would," Celtics guard Marcus Smart said. "They're back in front of their crowd, they're back home. Get that little extra boost when you're back home. So we've just gotta do a better job of continuing to make things tough on them. You tip your hat off and move on to the next one."
Dejounte Murray, who dropped 25 points, pointed to Boston's Jayson Tatum and Jaylen Brown as examples of duos who grew together.
"I don't want to talk about Boston too much, but I look at Jayson and Jaylen a lot," Murray said. "Two guys who were going through it a lot, just not working out. And just to get to where they're at, the level they're at — obviously last year going to the Finals and this year being at the top of the East — so great things don't happen overnight. Great things take time and me and (Young) both want to learn the game and work at the game at the same time."
Celtics coach Joe Mazzulla said he was expecting a "big punch" from Atlanta with its backs against the wall at home. The Celtics got hit with it, and now it's their turn to respond.
"I think that we took their best punch," Celtics guard Jaylen Brown said. "I don't think we played as well as we could have played. We still was in the game, so our ultimate chance was to win."
Sign up for Celtics updates🏀
Get breaking news and analysis delivered to your inbox during basketball season.