Celtics
Dejounte Murray explains his side of Game 5 suspension for bumping referee
Murray will miss a potential elimination game on the road because of his actions at the end of Game 4.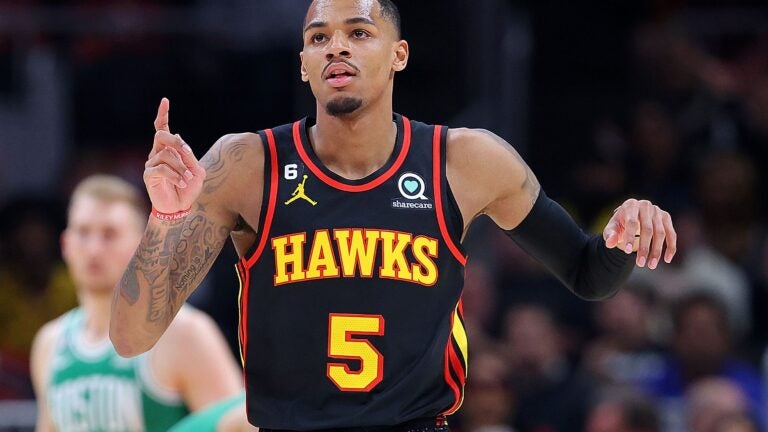 Dejounte Murray told reporters that he is taking full responsibility for his actions at the end of Game 4 that led to his one-game suspension for Game 5 against the Celtics.
Murray was suspended for making inappropriate contact with and verbally abusing a game official, according to a statement from the NBA.
On Tuesday, Murray said that "there was a lot" that led up to Sunday's incident which involved him bumping referee Gediminas Petraitis. He said he's been experiencing "one-sided" treatment from Petraitis for years, dating back to Murray's time with the San Antonio Spurs.
"I'm a grown man," Murray said. "And I hold my own and I take full responsibility for not being able to play for my teammates, and the fans, and just the organization as a whole. But at the end of the day, there's a lot that led up to that, and I think a lot of players could relate to those frustrations."
Murray said he believed the referee has been brushing him and his teammates off and that he can't figure out why.
"I'm just a guy that likes to have conversations, especially with the referees," Murray said. "And if you ask 98 percent of them why they greet me before games, they'll tell you because I'm one of the respectful ones. I don't cry about calls. I don't disrespect them, call them out of their names, or none of that. So whatever happened, happened. I just feel we should all be held accountable from players, coaches, even the referees. It shouldn't be one-sided, you know."
According to NBA rules, players and coaches who make intentional contact with officials get an automatic one-game suspension. The NBA reviewed the incident before suspending Murray.
It's a decision that could have a profound impact on Game 5. Murray is Atlanta's second-best player. He posted 23 points, 9 rebounds, and 6 assists in Game 4. Now the Hawks will have to play a potential elimination game at TD Garden without him.
"Beating Boston in the Garden in the situation we're in right now, we all know is a challenge in and of itself," Hawks coach Quin Snyder said Monday. "It's something the entire group has to absorb."
Murray isn't allowed to watch the game inside TD Garden because of the suspension, according to ESPN's Coley Harvey.
"At the end of the day, I'm suspended," Murray said. "It's been in the past and I'm not going to sit there and worry about it. It is what it is."
Sign up for Celtics updates🏀
Get breaking news and analysis delivered to your inbox during basketball season.