Celtics
The Celtics blew a big opportunity: 6 takeaways from Game 5 loss to Hawks
"We've been in situations like this before."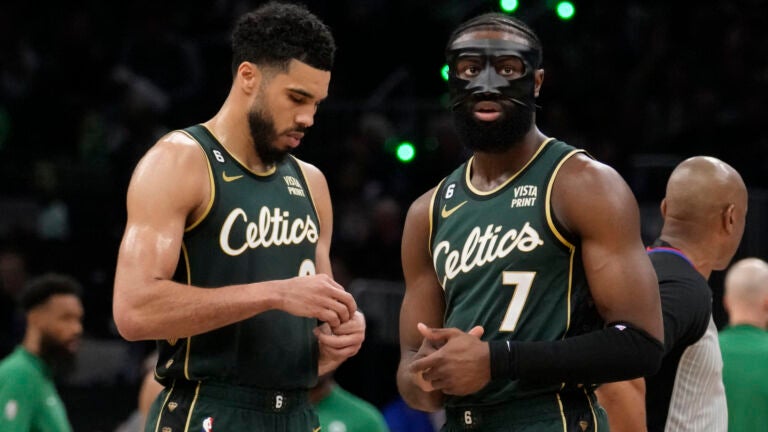 The Celtics appeared to have the Hawks on the ropes, but Trae Young helped the Hawks rally from a double-digit deficit late in the fourth to claim a 119-117 victory.
Here are the takeaways.
1. It's genuinely hard to overstate how bad that loss was for the Celtics.
We can't just point out how bad Jayson Tatum was, although he was really bad — 19 points on 8-for-21 shooting, including a paltry 1-for-10 shooting from behind the arc against a Hawks team that has struggled to defend the Celtics when they attack the rim. After Game 4, Tatum told reporters the Celtics learned during the last playoff run after costly losses to the Bucks and Heat that they need to put teams away when they have a chance to do so. The timing of Tatum's comments and the Celtics' performance in the fourth quarter of Game 5 might be worse than Grant Williams' "I'm going to make them both" moment at the free-throw line earlier this season.
We can't just note that the Celtics had a 13-point lead with just over six minutes remaining, although they did until the Hawks vaporized it with a 15-2 run that ended with one of Trae Young's three triples in the fourth quarter.
We can't just remind you that the Hawks played Tuesday's game without Dejounte Murray, who has been one of their leading scorers in the series. Murray bumped a referee and earned himself a suspension in Game 4, but he will be back for Game 6, which will be in Atlanta. The Celtics have beaten the Hawks three times with Murray in the lineup, but it's not inconceivable that the series returns to Boston for a Game 7.
And, of course, we still can't look ahead to the next series, where Joel Embiid and the 76ers wait. Embiid suffered an LCL sprain in his knee, which requires one-to-two weeks to heal. If the Celtics had won on Tuesday, their series against the Sixers would have started on Saturday. Instead, Game 1 will take place on Monday. In other words, the Celtics gifted the man who dropped 41 and 52 points in his last two games respectively against them two extra days to rest and recuperate.
The best we can do is put all of those things together in our first takeaway to really hammer home how bad the Celtics' loss in Game 5 was. Afterward, Celtics players and coaches talked extensively about the need to move on, which is all they can do. But Tuesday's result could be costly, and few teams know that better than the Celtics.
"It's over with now," Jaylen Brown said. "Nothing we can do to get it back. So, we got opportunities in front of us and let's not lose those opportunities thinking about what happened last game. We've just got to come out and get ready for the next one. …
"We've been in situations like this before."
Brown is a little too correct about that.
2. Young was brilliant in the fourth quarter, culminating all of his efforts with this dagger 3-pointer from very deep over Jaylen Brown.
"Trae Young is pretty shifty getting to his right hand, so that's what I was looking to take away," Brown said. "He stepped back, pulled one from the logo. It's a tough basket, a tough shot in the playoffs. Maybe I could have forced him towards the basket a little bit more if I could have picked him up a little bit better, but maybe we shouldn't have been in that position in the first place. Tough shot."
Young has taken his lumps in this series both on and off the court (we've certainly pointed out his struggles plenty here, particularly on the defensive end). Even on Tuesday, Young was serenaded by chants of "[Expletive] Trae Young" at the free throw line by Celtics fans. But he scored 16 of his 38 points in the final 12 minutes with the Hawks' season on the line, and when the Hawks desperately needed it, he buried the game-winner and sent the series back to Atlanta.
That's the kind of thing a superstar should do in a big moment.
3. Tatum was hit with an odd technical foul with 1:39 remaining in the fourth quarter. After Young drew a foul on Horford, he tossed a floater up at the rim, which Tatum casually swatted away. The official gave Tatum a technical for his efforts, which compounded the Celtics' problems — Young was already heading to the free throw line for two shot, and the technical gave him one more. Young made all three and gave the Hawks a one-point advantage.
Here's a look at the play.
"I mean, y'all see it all the time in the regular season after whistles," Tatum said. "Guys block the shot after the whistle all the time. I wasn't mad or anything, I just was doing something that I would normally do in the regular season. It kind of happens all the time, but I guess he didn't see it that way."
4. Jaylen Brown was excellent, which is something nobody will remember going forward. He finished with 35 points on 15-for-23 shooting including 4-for-7 from behind the arc to go with seven rebounds and five assists. The Hawks had absolutely no answers for him in the first three quarters, especially when he attacked the basket.
5. Young hinted he's figured out the Celtics' defense against him postgame.
"There's a few things, I don't know if I want to say it just because things get around, get back," Young said. "There's some things I've seen, just how they're guarding me. That's how every series is: The more you play a team, the more you start to get a feel in how they're guarding you and how you need to attack them."
Presumably, Young is referencing the Celtics' drop coverage, which gave him open looks like this.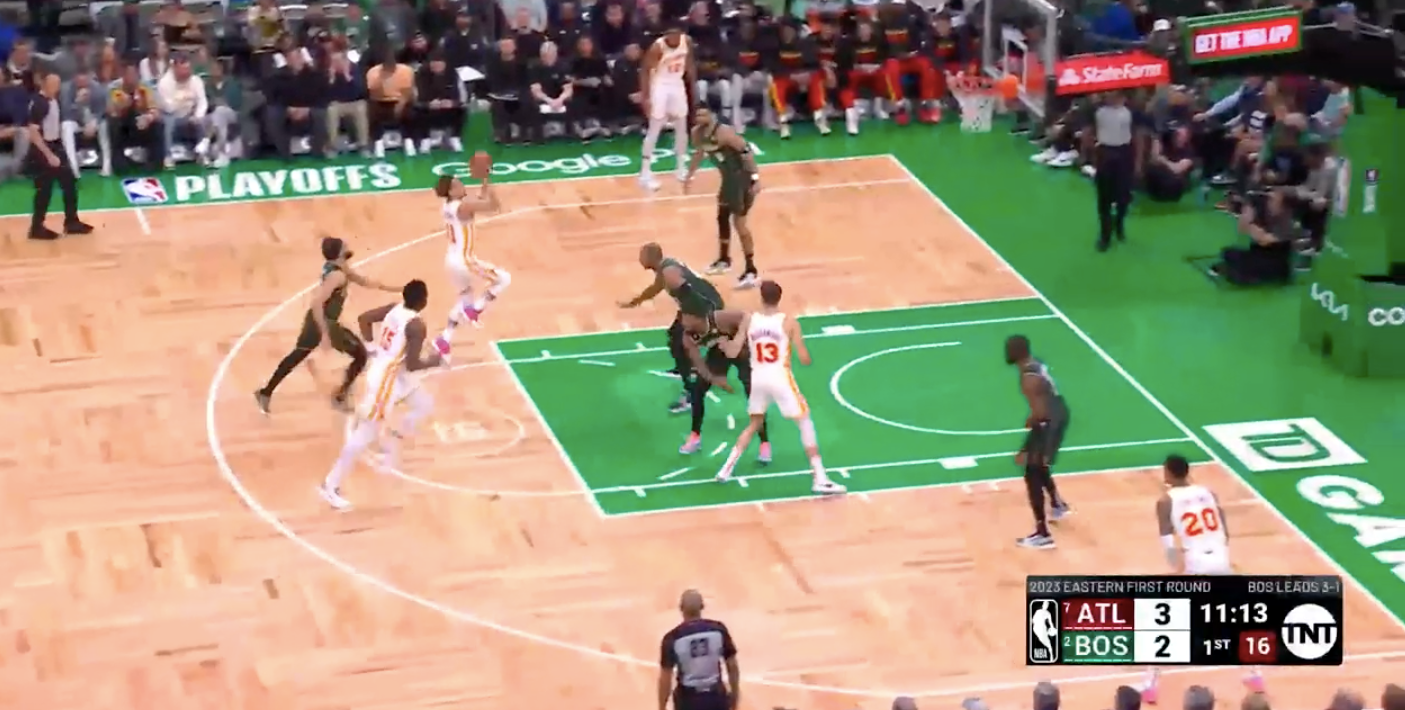 It will be interesting to see whether the Celtics adjust their defensive game plan or whether they trust that they can beat Young on a steady diet of floaters on a normal night.
"He's a great player," Derrick White said. "Made a lot of tough shots, made a lot of plays for them. So we tip our cap to him."
6. A reporter asked Brown what happened down the stretch.
"We just let the game get away from us a little bit," Brown said. "And they just hit shot after shot down the line. You give a team life, you leave it to chance. And that's what we did tonight."
Brown was talking about Game 5, but his comments apply to the rest of the series too. The Celtics gave the Hawks life on Tuesday. They left things to chance.
Game 6 will take place on Thursday in Atlanta.
Sign up for Celtics updates🏀
Get breaking news and analysis delivered to your inbox during basketball season.