Celtics
Celtics' Joe Mazzulla continues to poke fun at criticism of his coaching: 'I am the worst coach ever'
"This team has the ability to play at a high level on both ends of the floor. And it starts with our defense."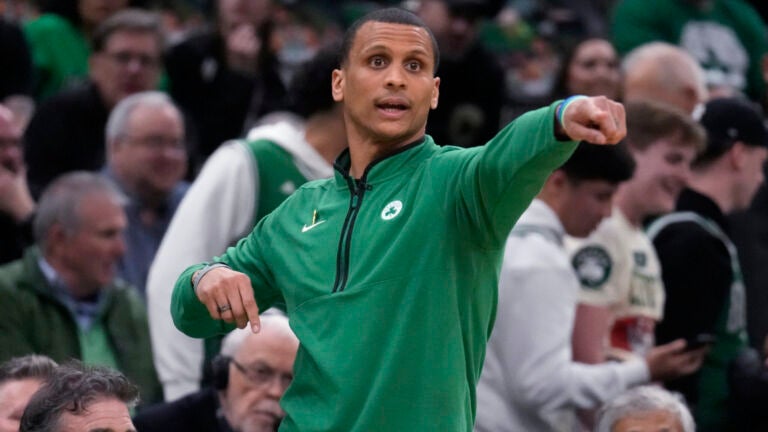 Celtics head coach Joe Mazzulla has been keeping tabs on all of the criticism lobbed his way this season.
Following Boston's blowout win over the 76ers in Game 2 on Wednesday, Mazzulla closed out his press conference by inquiring about the lack of questions related to his adjustments against Philly.
"Nobody wants to ask about all the adjustments we made from Game 1 to Game 2?" Mazzulla said sarcastically.
Less than 24 hours after dropping the mic, Mazzulla was at it again with another closing statement following a Zoom conference with the media.
"I am the worst coach ever," Mazzulla could be heard saying as he made his way off-camera on Thursday afternoon.
Mazzulla has been a target of criticism this season when things have gone south for the Celtics. Granted, the first-year head coach has raised eyebrows at various points this year with his timeout decisions and late-game rotations.
But some of those faults are due to a lack of execution on the court, rather than miscues made by the 34-year-old Mazzulla.
After a disheartening Game 1 loss to the Sixers, Mazzulla and the Celtics orchestrated a 34-point victory over Philadelphia in Game 2 on Wednesday night.
While Mazzulla didn't field any questions about the in-game tweaks made between Games 1 and 2 on Wednesday night, he elaborated a bit more on Thursday about the Celtics' refined approach entering Boston's lopsided victory.
"I thought the first adjustment we made was our mindset and our physicality — which I thought we just brought a different level of both of those things to the beginning of the game … and we sustained it throughout the entire game, which is something that we definitely talked about," Mazzulla said Thursday, per CLNS Media. "I thought we did a better job in our shift activity, presenting help and getting out to shooters, doing both, not giving up a ton of catch-and-shoot threes.
"And I just thought we managed the game really well. Our half-court defense led to our offense, and then our offensive decision-making led to our ability to get back into defense. So we've continued to do those things. And then obviously, our guys are really good at communicating matchups and giving [James] Harden and [Joel] Embiid different looks."
The chess match between the Celtics and Sixers will continue at Wells Fargo Center in Philadelphia for Games 3 and 4.
Even though Mazzulla expects a hostile environment, that adversity is no major hurdle for a Celtics roster with plenty of playoff reps under their belt.
"Our guys have been there before," Mazzulla said. "They've been a part of a lot of physical series, a lot of physical games, and a lot of games. And so I think it's just building, continue to just understand that when we play at our best — it's a choice. We have to work to hold each other accountable.
"We've got to choose to play to the level at which we played last night. Understanding that even if we do that, it may not go our way. But this team has the ability to play at a high level on both ends of the floor. And it starts with our defense. And so we just have to bring that mentality tomorrow night."
Newsletter Signup
Stay up to date on all the latest news from Boston.com