Celtics
Joe Mazzulla poked at the media after the Celtics dominated Game 2
"Nobody wants to ask about all the adjustments we made from Game 1 to Game 2?"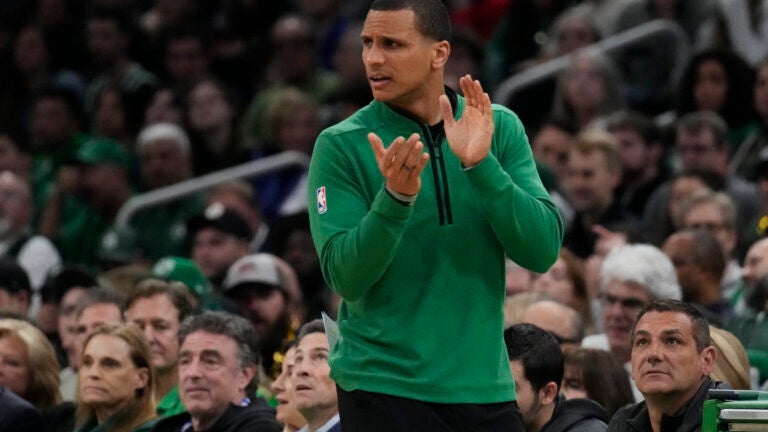 When the Celtics lose, especially in scenarios where they're heavily favored like Game 1 against Philadelphia without NBA MVP Joel Embiid, Joe Mazzulla tends to catch a hefty portion of the blame.
Celtics fans and media members routinely question whether the 34-year-old rookie head coach is up to the task of leading this team to Banner No. 18.
His stinginess with timeouts, relatively short playing rotation, and ability to make adjustments on the fly have all been topics of conversation this season.
But, what about when the Celtics thoroughly dominate their opponent the way they're supposed to as they did on Wednesday night in Game 2?
Mazzulla wondered where those questions were after the game.
"Nobody wants to ask about all the adjustments we made from Game 1 to Game 2?" Mazzulla asked, as he left the podium at the end of his postgame presser.
To their credit, the Celtics came out with a completely different level of intensity in Game 2.
They out-hustled Philadelphia on the glass. They took care of the ball and shared it unselfishly, limiting themselves to six turnovers for the entire game. They shot pretty much the same percentage from 3-point land, but got twice as many points out of it because they doubled the number of attempts.
The Celtics made an emphasis on testing the mobility of Joel Embiid's injured right knee, and held James Harden (2-14 shooting) in check.
"I thought their ball pressure ate us up all night," 76ers coach Doc Rivers said. "I thought they pressured us, they denied us, they played in our airspace all game. It's funny we talked about it this morning. Talked about it before the game. But you can talk about intensity and force all you want. But when you get on the court it's actually being applied to you, you have to be able to handle it. We didn't handle it very well tonight."
For these Celtics, it's not a question of whether they're capable of beating any opponent that stands in their way. It's a question of whether they can consistently show the best version of themselves and avoid the let down games that have plagued them throughout the playoffs.
"You never want to go into a game feeling like you let one go," Celtics forward Grant Williams said. "We did that too much last year. We've done that too much this year. It definitely gives you a certain edge. Now it's a matter of doing the same thing the next game. Does that edge stay, or does all of a sudden the edge go away because you've won one and you take your foot off the pedal of the gas. We can't do that."
Sign up for Celtics updates🏀
Get breaking news and analysis delivered to your inbox during basketball season.