Celtics
Jayson Tatum says he has 15 years left to try to win MVP
Tatum was among the favorites to win this year, but Philadelphia's Joel Embiid won the award.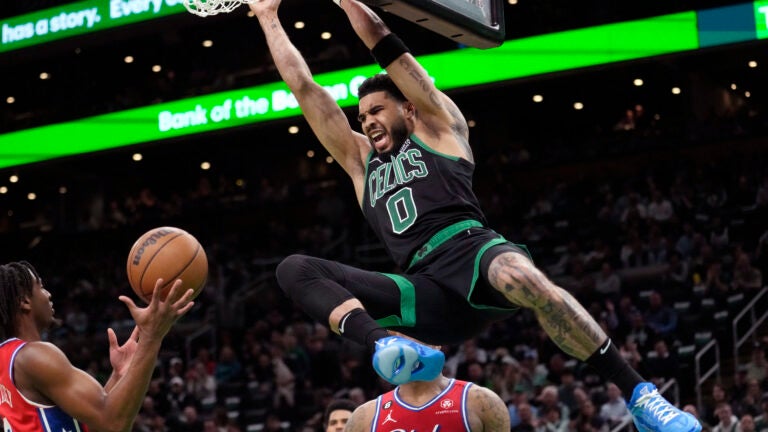 At the beginning of this season, Jayson Tatum was among the favorites to win the NBA's MVP Award.
He finished fourth and didn't get any first or second-place votes. Philadelphia's Joel Embiid, who returned early from a sprained LCL to face the Celtics in Game 2 Wednesday night, won the award.
Tatum said winning the award is still his goal, and he believes he still has plenty of time to do it.
"I think I've got 15 years left," Tatum said. "So hopefully one of those years I can play well enough and my team will do well enough to win that award one day."
Tatum turned 25 in March. He'll be 40 in 15 years. No NBA player has ever won an MVP award in their forties. According to Statmuse, Karl Malone was the oldest player to win the award in 1999 when he was 35. Michael Jordan won his last MVP at age 34.
Nonetheless, Tatum should have many years of pro basketball ahead of him. Already a 6-year veteran of the league, Tatum is in his prime. He's young enough to have several more shots at the award.
Tatum was the first Celtic to average more than 30 points in a season this year. Still, as prolific as he's been, Embiid, Denver's Nikola Jokic, and Milwaukee's Giannis Antetokoumpo have all won the award, and they all finished ahead of Tatum this year.
How much more of a leap can Tatum make beyond being one of the NBA's top scorers and leading his team to the league's second-best record? That remains to be seen.
He's firmly in the MVP conversation. But, not quite at the top just yet.
Sign up for Celtics updates🏀
Get breaking news and analysis delivered to your inbox during basketball season.