Celtics
'Dang, I really got curb stomped': What Grant Williams said about awkward play with Joel Embiid
"I'm just thankful he didn't like fully just lean his weight onto it because he definitely got me pretty badly."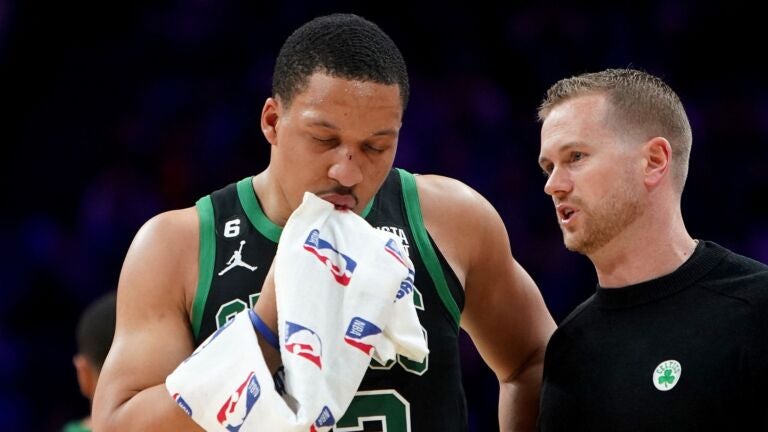 Grant Williams found himself in a rough spot in the fourth quarter of the Celtics' Game 3 win over the 76ers.
The Celtics forward dove for a loose ball on a 76ers' pass to Joel Embiid. But the newly crowned MVP was fouled by Jaylen Brown on the play, causing him to lose balance with Williams lying on his stomach on the floor. As Embiid fell, his foot ended up stepping on the back of Williams' head.
The play caused a scare with just minutes to go and caused Williams to depart the game to get checked as he appeared to be bleeding from his mouth. However, Williams was able to check back into the game roughly a minute later and helped close out the win with his play on the defensive end.
Still, Williams was in shock about what happened.
"I was like, 'Dang, I really got curb stomped,'" Williams told reporters of what he thought when he first saw a video of the play. "It happens. He was falling backwards. I'm just thankful he didn't like fully just lean his weight onto it because he definitely got me pretty badly. But then I think he felt that he landed on something, so he picked his foot up. It hurts a little bit."
Embiid apologized to Williams not long after the play happened. Williams understood.
"Hey, it's the playoffs brother," Williams told Embiid as the conversation was caught by the ESPN broadcast. " … I knew you were going for the ball. … It's what we battle for, bro."
Williams also downplayed any possibility that the play would affect his status in any way for Sunday's Game 4.
"I'm a little crazy, so I was fine," Williams said. "I'm good to go."
Celtics star Jaylen Brown was in shock by what he saw on the play.
"What I saw, I saw Grant get stepped on by a 300-pound individual," Brown told reporters. "To see that live was crazy. To see it in real time, it was probably the craziest thing I've seen on a basketball court."
Williams didn't score in the Celtics' win, missing all three shots he took. It was evident that he was one of Boston's top defenders in Game 3, especially on Embiid, as other players who guarded the center picked up fouls. Williams finished with four rebounds and two blocks as he did a fair amount of the dirty work for the Celtics on Friday.
That kind of performance led Brown to shower in praise.
"Grant has been humble all year long," Brown said. "It's been tough for him. He's a tremendous part of our team. We've challenged him in different ways. His maturity level, the ability to play his role, the ability to raise his level and get stops and do what's needed to get done regardless of his emotions and how he feels about certain situations is like — man, you can't ask for nothing better than that.
"Grant is a true professional. To not maybe play a lot last series and now to play more this series and accept that challenge put his life on the line for it — you see his head smash into the court and back up with a smile with his face — that's Grant Williams."
Sign up for Celtics updates🏀
Get breaking news and analysis delivered to your inbox during basketball season.