Celtics
Grant Williams received a few stitches after being stepped on by Joel Embiid
Williams also said he'll wear a mouthpiece moving forward.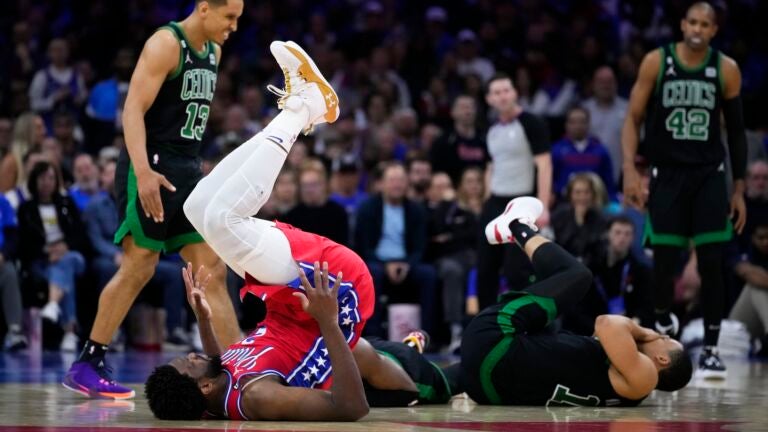 Grant Williams is feeling the effects of Joel Embiid stepping on his face a day later.
The Celtics forward told reporters that he has a swollen nose and "three or four" stitches in his mouth after the back of his head was on the wrong end of Embiid's foot, causing his face to smash into the court in Game 3.
Williams departed the game, but returned a minute later after team trainers checked him out. He admitted he was surprised that the injury wasn't worse than it was.
"I was happy," Williams said when asked by reporters on Saturday if he was surprised that the injury didn't end up being much worse. "It was one of those things where at first, you see my reaction, and I kind of went through all of the phases.
"I grabbed my face and I grabbed my nose to see if it's OK. I was feeling that it didn't hurt so I like, 'OK, my nose isn't broken.' I went to my mouth and I was bleeding a little bit. I looked at it and was like, 'That's not that much bood.' But when I stood up, the blood started leaking."
But Williams said he started to feel fine again not long after he went to the Celtics' bench, or at least fine enough to continue playing.
"I was ready to go back in," Williams said.
There was one thing Williams seemed to regret about what happened on Friday. He said that after wearing a mouthpiece his rookie season, Williams decided to ditch it over the last three seasons, to his parents' dismay. He ended up having to get some work done by the 76ers' team dentist, too.
"I thought it would be a smart decision to throw a mouthpiece in there," Williams said. "My parents have been getting on me for the past three years for not wearing a mouthpiece. Let's just say last night didn't help."
Williams's reaction to his injury on Saturday wasn't too far off from how he reacted after the game on Friday.
"I was like, 'Dang, I really got curb stomped,'" Williams said of when he first saw a replay of what happened. "It happens. He was falling backwards. I'm just thankful he didn't like fully just lean his weight onto it because he definitely got me pretty badly. But then I think he felt that he landed on something, so he picked his foot up. It hurts a little bit."
Williams was a pivotal part of the Celtics' Game 3 win, even if he didn't score a single point. He was one of the handful of players the Celtics threw on Embiid, helping to make sure the newly crowned MVP didn't take full control of the game.
Williams ended up with four rebounds and two blocks in 23 minutes, earning him praise from Celtics star Jaylen Brown.
"Grant has been humble all year long," Brown said. "It's been tough for him. He's a tremendous part of our team. We've challenged him in different ways. His maturity level, the ability to play his role, the ability to raise his level and get stops and do what's needed to get done regardless of his emotions and how he feels about certain situations is like — man, you can't ask for nothing better than that.
"Grant is a true professional. To not maybe play a lot last series and now to play more this series and accept that challenge put his life on the line for it — you see his head smash into the court and back up with a smile with his face — that's Grant Williams."
Sign up for Celtics updates🏀
Get breaking news and analysis delivered to your inbox during basketball season.