Celtics
Ten thoughts on the Celtics, who are 10 wins from a title
After losing Game 1, the Celtics have put together two tough, focused performances to regain command in this series.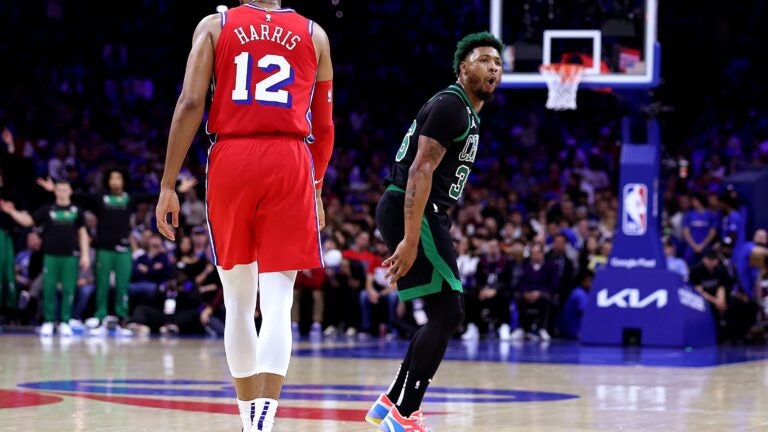 Ten thoughts on the Celtics, now 10 wins from a title …
1. When Al Horford had an amusing, somewhat awkward back-and-forth with a Boston television reporter during shootaround Friday morning, I think most longtime Horford observers recognized that his reaction was a sign of good things to come. Horford is proud in all the right ways, and the unintentional slight — the reporter got busted chuckling when Horford mentioned that he's an "elite shooter" — provided another jolt of motivation to a player who already loves to torch the 76ers after his unhappy stay in Philadelphia. Horford certainly was elite in Game 3, knocking down 5 of 7 3-point attempts, at least three of which came when the Celtics needed a make. He buried a three with 0.3 seconds left in the first half to put the Celtics up, 57-50; knocked down another with 4:35 remaining in the third quarter to build the lead to 77-72 after James Harden thudded a 3-pointer that would have given the 76ers the lead; and hit maybe his biggest shot of the night, another three with 3:25 left in the game that gave the Celtics a 103-96 lead. Elite Al, you say? Sure had a ring to it Friday night.
2. I suppose I should note that despite referencing the number of wins required to secure Banner 18, no one is counting victories before they hatch. I mentioned to my wife after Friday's game that the Celtics need those 10 wins for the title, and you'd think I'd had said that they need, oh, 473 more. "Ten?! Ten?! That's going to be stressful," she said. That might as well be the slogan of the NBA playoffs. But I do believe we can come away from Game 3 feeling as good about the Celtics as the built-in tensions of the postseason will permit. They played hard from the get-go (the 76ers shot 14 of 39 in the first half) and sustained their defensive intensity even when their shots weren't falling. Their offense was inconsistent, but as long as they resist allowing scoring ruts to affect them on the defensive end, they can and should win any game, at least in this series.
3. That was kind of a weird game for Jayson Tatum, wasn't it? He started off sizzling (hitting his first four shots), turned into a block of ice (making one of his next eight), made some stupefying decisions (including a blatant push of designated agitator P.J. Tucker in the fourth quarter that resulted in an offensive foul), then found his mojo in the most important moments, burying two high-difficulty daggers down the stretch, including a turnaround baseline jumper and a step-back 3-pointer that put the Celtics up 9 with 1:42 left. He needs to be better, or at least more consistent, but he was at his best when the Celtics needed him most.
4. I'd call that a quintessential Marcus Smart game, and that's mostly meant as a compliment. He shot 5 of 15, and 3 of 9 on threes — only Tatum, who hit 3 of 11, fired up more. It's generally not a good sign when Smart is hoisting up so many shots. But he was all over the place on defense, prodded and pestered Joel Embiid at any opportunity, and made one of the game's most enjoyable hustle plays when he swiped a pass in the backcourt and eventually ended the possession with a 3-pointer.
5. Among the many things to appreciate about Malcolm Brogdon's game is his unrelenting confidence in his shot. He hit just one of his first five attempts Friday, but he was there to knock down 3-pointers when the Celtics needed them, including a pair during an 8-0 run in the third quarter and a huge one with 5:25 left after the Sixers had cut the Celtics' lead to 5. Even on his off nights, I feel like every shot he takes is going in.
6. Grant Williams supplied the most admirable 0-points-in-23-minutes performance you'll ever see, bodying up the massive Embiid over and over again and making it difficult for the league MVP to fulfill his intentions on offense. Williams's strength and fearlessness in defending players such as Embiid and Giannis Antetokounmpo has been incredibly valuable to the Celtics during their playoff runs the past two seasons.
7. Oh, and how tough is Williams? He missed just over a minute after Embiid accidentally stepped on his head during a scramble late in the fourth quarter. Williams's mouth was bleeding and it's entirely possible that he has a new head shape now, but he did not back down.
8. Jaylen Brown usually starts and finishes strong, but 19 of his 23 points in this one came in the second and third quarters. He was actually 0 for 6 from the field in the first and fourth quarters. We should all be comfortable calling that an outlier. His most impressive stat of the night? Five assists.
9. I'm not sure I've ever seen a wider variance of performance from a player in a playoff series than I have with James Harden in this one. He scores 45 points in Game 1, and two games later he's in such a slump that he's passing up open shots in the lane.
10. After losing Game 1, the Celtics have put together two tough, focused performances to regain command in this series. If they can do it again in Game 4 — and get that Wins Needed number down to nine — we might just be able to take it as a sign that they really have learned their lesson.
Sign up for Celtics updates🏀
Get breaking news and analysis delivered to your inbox during basketball season.