Celtics
8 takeaways as the Celtics fall apart late in OT, drop Game 4 to 76ers
The Celtics had a great chance, but they made costly mistakes down the stretch.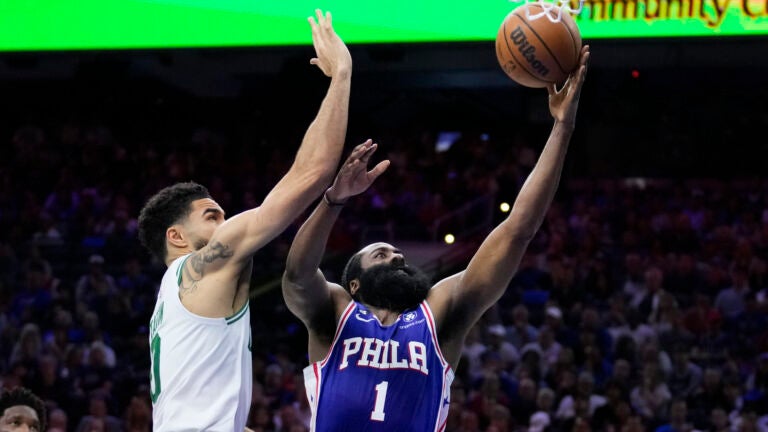 For the second time in their Eastern Conference semifinal against the 76ers, the Celtics fumbled a golden opportunity to seize control of the series and dropped a 116-115 loss in Game 4 on Sunday.
Here are the takeaways as the Sixers evened the series at 2-2.
1. The Celtics have struggled at times in late-game situations, but Sunday was an exception for the entire fourth quarter and for nearly all of the overtime period.
Then, on the final two possessions, things fell apart.
First came a defensive breakdown. Leading by two, Jaylen Brown made a ghastly decision to help off James Harden against Joel Embiid, who was being guarded by Jayson Tatum.
Admittedly, Tatum was mismatched against Embiid, but Brown's decision was a bad one. For one thing, Embiid wasn't playing particularly well at that stage, and there was no guarantee he would have made his layup. For another, the Celtics were up two — a layup would have tied the game (and the Celtics still had two timeouts), while Harden's 3-pointer gave the Sixers the lead.
Still, those timeouts could have — and should have — been put to use. Trailing by one with 19 seconds left, the Celtics walked the ball up the floor and took their time trying to get into a set. As a result, Tatum got into his action late, and when he drove and found the lane clogged, he kicked the ball out to Smart. Smart's 3-pointer went in, but it was immediately clear that he didn't get it off before the buzzer sounded.
"We just had to play with a little bit more pace," Joe Mazzulla said. "We had the right matchup. Jayson got downhill and made the right play at the rim. We just had to play with a little bit more pace there, but that was the play."
Mazzulla deserves heat for not using a timeout on an offensive possession that looked shaky and disorganized as soon as it started. The official play-by-play makes it look like the Celtics dribbled out the clock down by 1 with 19 seconds left … which, for all intents and purposes, is what they did.

Brown deserves (and — to his credit — accepted) heat for doubling off Harden.
"Just a bad read," Brown said. "That's it. It's a gamble at the wrong time. Big shot by James Harden. But that's my fault. I take full accountability."
The Celtics showed some encouraging flashes, but they dropped Game 4, and they probably got what they deserved.
2. After a slow start, Tatum turned his evening around and finished with a huge stat line — 24 points (9-for-20 from the field), 18 rebounds, six assists, four blocks and a steal. He put a lot of pressure on the Sixers' defense and made a number of smart reads that boosted the Celtics' offense. Defensively, he was a menace, and it might be worth experimenting with him on Harden at times in Game 5.
Tatum's early struggles were costly. With Joel Embiid and James Harden both cooking from the field, the Celtics went down by as many as 16 points and were forced to spend nearly the entire afternoon playing from behind.
But Tatum hit a jumper just before halftime, and that seemed to get him on track. That doesn't always happen when he starts cold from the field, and his rally in the second half helped the Celtics keep pace and then pull ahead.
"He didn't let the fact that he wasn't scoring affect his defense and his mindset, so I thought his presence was great, and I thought he chipped away," Mazzulla said. "I thought the whole team did."
3. Brown picked up two early fouls, but he scored 12 of the Celtics' first 14 points and shot 5-for-7 in the first quarter. He returned to the floor and was 2-for-4 in the second quarter.
Then he took just five shots total in the second half, and none in overtime. A reporter asked him what happened, and Brown paused for six seconds (which feels longer in real time than it sounds in writing) before answering.
"I guess I've got to demand the ball a little bit more," Brown said. "I thought good things happened when I had it in my hands, but I thought our offense was okay. I thought we chipped away, we made big-time shots, we got great looks all game long, and we just came up short in the end."
4. We should note that Harden — after struggling enormously in Games 2 and 3 — scored 42 points, including a floater that sent the game to overtime and the 3-pointer to win it. The Celtics need to find a way to put that lid back on.
5. What exactly happened here?
The answer, of course, is pretty simple: Embiid got behind the defense, and Harden saw it at exactly the right time. But the optics of Horford looking at Brown as the ball sailed over both of their heads for a layup that gave the Sixers a 16-point lead in the first half weren't particularly good.
6. Still, Horford was excellent against Embiid in the second half, performing the near-impossible task of defending the Sixers' star without fouling in the final few minutes as the Sixers tried to rally.
"It's a challenge, because he looks to draw fouls constantly," Horford said. "So it's definitely — the league is different, it keeps changing. The way that it was three years ago, five years ago, it's different. So as a defender you have to adjust and you have to go with things, and you probably can't be as aggressive as you want to be, and that's part of the game. But for me, it's just continuing to find ways that I can help our team win."
Glass-half-full fans might feel like Horford's turn-back-the-clock defense against Embiid is repeatable in Game 5. Glass-half-empty fans might wonder whether the Celtics will regret wasting a game in which Horford played that well against the league's MVP.
7. Doc Rivers was still heated about Tatum's last 3-pointer postgame, which he believed should have been waved off for an offensive foul.
"Jayson Tatum's 3 was awful, that that wasn't called," Rivers said. "Awful. … It was a push-off. The reason it bugged me, at the end of the game, there were these touch fouls. Jayson Tatum has a 360 foul. Marcus Smart and [P.J. Tucker] get tangled up, touch foul. If we're going to call it that way, then you have to call that.
"To me, you have to call that play. I know it's a big play, and I'm a big fan of refs not deciding, but that could have decided the game."
Here's a look at the play.
Our two cents? Rivers' case isn't particularly convincing. Tatum extended his arm, but it mostly looks like he knocked Maxey backward with the force of his drive. Meanwhile, both of the plays Rivers referenced were defensive fouls. Officials made ticky-tack calls against defensive players throughout the evening (Rivers sounds a little rich complaining about touch fouls when he coaches Embiid), but they didn't call many (any?) ticky-tack offensive fouls.
Frankly, Game 4 is a little late for a coach to start lobbying for a friendlier whistle. We're surprised it took this long.
8. The Celtics got the one road win they needed to reclaim home-court advantage. They will look to get off to a good start in what is now a three-game series at home on Tuesday.
"I'm pretty encouraged by our group," Horford said. "I saw something. I saw some growth in our group, things we haven't been able to do all year, and be able to do them tonight on this type of stage. I'm very encouraged for our group."
Brown agreed.
"We still have an opportunity to come out on our home floor and play basketball," he said. "And that's what it comes down to. The slightest details can cost you a game and the slightest details can help you win a game. We've got to make sure that we're the team that comes out on top."
Sign up for Celtics updates🏀
Get breaking news and analysis delivered to your inbox during basketball season.