Celtics
'Awful': Doc Rivers's 76ers got the last laugh over Celtics in Game 4, but he was upset over a non-call on Jayson Tatum
"I know it's a big play, and I'm a big fan of refs not deciding [the game], but that could've decided the game."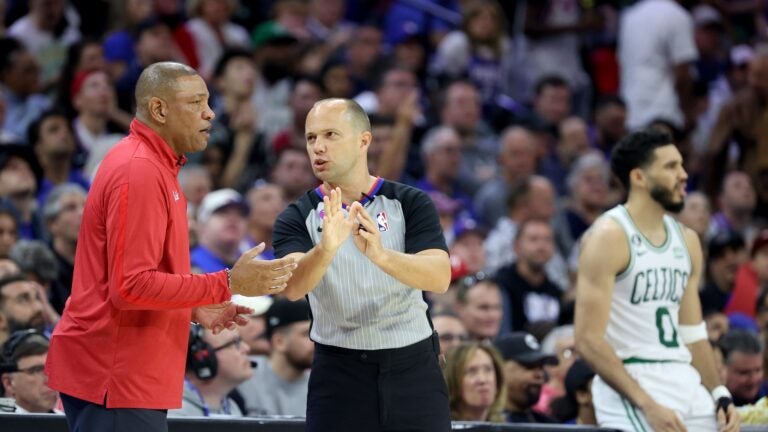 The 76ers walked out of Sunday's Game 4 with a win, but there was one thing that left Doc Rivers unhappy.
Philadelphia's head coach was in the middle of answering a question on what he thought the win meant for his team when he expressed his frustration over a foul not being called on Jayson Tatum, believing he got away with a push-off on his 3-point make in the final minute of overtime.
"Jayson Tatum's 3 was awful that wasn't called. Awful," Rivers said.
Rivers asked a reporter if he thought Tatum got away with a push-off, too.
"Did you? Did you think it was a push-off? I'm asking you," Rivers said. " … Be committed. Did you think it was a push-off? It was a push-off."
On the made shot by Tatum, it appeared he used his right arm to make some separation between himself and 76ers guard Tyrese Maxey before making a shot that put the Celtics up by two with 38 seconds left.
That wasn't the only call, or lack thereof, by the refs that frustrated Rivers.
"The reason it bugged me was because at the end of the game, there were these touch fouls. Jayson Tatum had a 360[-degree] foul," Rivers said, presumably talking about the free throws he got after he spun around while his shot was contested by 76ers center Joel Embiid late in the fourth quarter. "Marcus Smart gets tangled up, touch foul.
"So, if you're going to call it that way, you have to call [the push-off on Tatum]. To me, you've got to call that play. I know it's a big play, and I'm a big fan of refs not deciding [the game], but that could've decided the game."
Rivers was asked why didn't challenge the Tatum play and brought up that he lost his challenge earlier in overtime on a play that Embiid was called for a charge, barreling over Smart. But Rivers wouldn't have been able to challenge the possible push-off on Tatum anyway because coaches can only challenge plays that a foul was called on, along with a few other things.
Obviously, Rivers got the last laugh as James Harden sank a 3-pointer on the possession after Tatum's 3-pointer to put the 76ers up, 116-115 with 18 seconds left.
Harden was able to make the 3-pointer when Embiid got Tatum on him with a screen set by Tobias Harris to get Marcus Smart off him. Brown, who was guarding Harden on the play, opted to double Embiid in the post, leaving Harden open in the corner for the 3-pointer.
Rivers said the play went exactly as he designed it.
"We thought if Tobias curled over the top — they've been switching everything," River said. "We told Tobias, 'If they don't switch, you're going to have a layup.' If they do switch, whoever's guarding Tobias is going to be on Joel. That's good for us. We told James to, 'Stand right there [in the corner]. If they come, get ready to shoot.'
"It's all about trust. That's what it's all about right there."
With Rivers's play working, along with some help from the Celtics, the 76ers evened the Eastern Conference semifinal series, 2-2.
The former Celtics coach has yet to make it to the conference finals with any of the two teams he's coached since he departed Boston in 2013. He'll get a chance to move a win away from doing that in Game 5, which will take place at TD Garden on Tuesday.
Sign up for Celtics updates🏀
Get breaking news and analysis delivered to your inbox during basketball season.