Celtics
'I thought good things happened when I had it in my hands': Jaylen Brown's shots dissipate in crunch time during Game 4 loss
"I guess I gotta demand the ball a little bit more."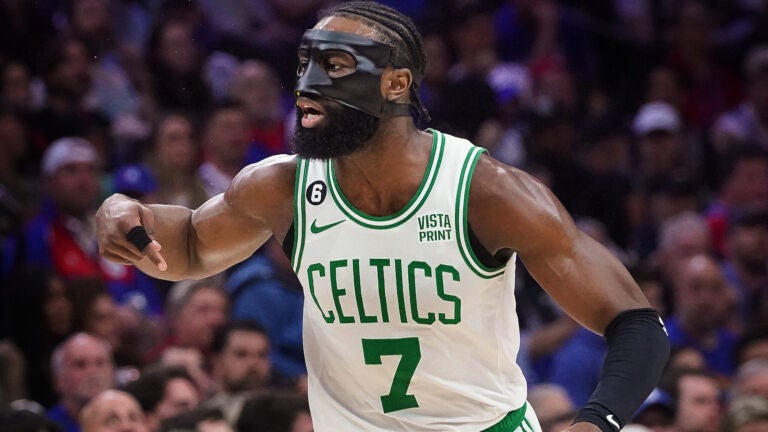 There were multiple lapses in execution and miscues in crunch time that played into the Celtics' disappointing loss to the 76ers on Sunday evening.
With Game 4 of the Eastern Conference semifinals on the line and the seconds draining from the clock at Wells Fargo Center, twice the ball landed in the hands of Marcus Smart.
Twice, the Celtics failed to get a bucket.
Smart's first shot at the end of regulation didn't convert, leading to overtime. His second attempt from beyond the arc swished through the hoop — but just a split-second too late, as time expired in OT and sealed a Philadelphia win.
Perhaps Boston's fortunes would have changed had Jaylen Brown earned one of those looks.
Brown's final stat line in Sunday's defeat was as expected for a player of his caliber. Over 44 minutes of work, Brown finished second behind Jayson Tatum in scoring with 23 points. He connected on 10 of his 17 shot attempts.
The only issue? Brown easily could have bolstered his scoring output if Boston handed him the ball more as the game carried on.
Even though Brown (12 points on 5-of-7 shooting) kept Boston afloat in a very quiet first quarter, his usage dwindled as the Celtics clawed back into the contest.
In the fourth quarter alone, Brown only attempted three shots. In overtime, he didn't throw up a single attempt at the basket.
"I guess I gotta demand the ball a little bit more," Brown said postgame, per video posted by CLNS Media. "I thought good things happened when I had it in my hands. But I thought our offense was OK. I thought we chipped away, we made big-time shots, we got great looks all game long and we just came up short in the end."
Even though Brown's looks dried up, the Celtics' offense revived itself after halftime. Tatum scoring 22 of his 24 points in the second half contributed to that late surge. Still, Brown has occasionally found himself on the outside looking in at touches during critical stages of postseason matchups.
Even in Philadelphia's Game 1 victory over Boston at TD Garden last week, Brown only attempted 10 field goals. Seven of those came in the first quarter, when he scored six baskets en route to 14 points.
Of course, Brown is also not without fault for Boston's current 2-2 series deadlock with Philly in the Eastern Conference Semifinals.
With less than 30 seconds remaining in overtime and Boston holding onto a 115-113 lead, Brown opted to double Joel Embiid as the Sixers' big man battled down in the paint with Tatum. With Brown shifting over, it left James Harden wide open in the corner.
Rather than fight through a double-team down low for the tying basket, Embiid made the wise move to feed the ball back over to Harden. The Sixers guard sank the open look to give Philly a lead it would not relinquish.
"Just a bad read. That's it," Brown said of his defensive lapse. "It's a gamble at the wrong time and big shot by James Harden. That's my fault. I took full accountability. Just a bad read."
Brown and the rest of his teammates will need to shore things up at both ends of the court in order to earn a 3-2 series edge in Game 5 on Tuesday night.
But so far, getting Brown more touches has yet to backfire for a Celtics offense hindered by stretches of stagnant play this postseason.
"We all felt great about ourselves and we were able to chip at the lead slowly," Brown said. "Then we actually took the lead, had it and we had that game in our grasp. Rebounds, defensive breakdowns, there was a lot of things that went into why we didn't come out on top."
Newsletter Signup
Stay up to date on all the latest news from Boston.com