Celtics
Red Sox' Alex Cora explained why he's been impressed with Celtics' coach Joe Mazzulla
"There's a lot of conviction behind him."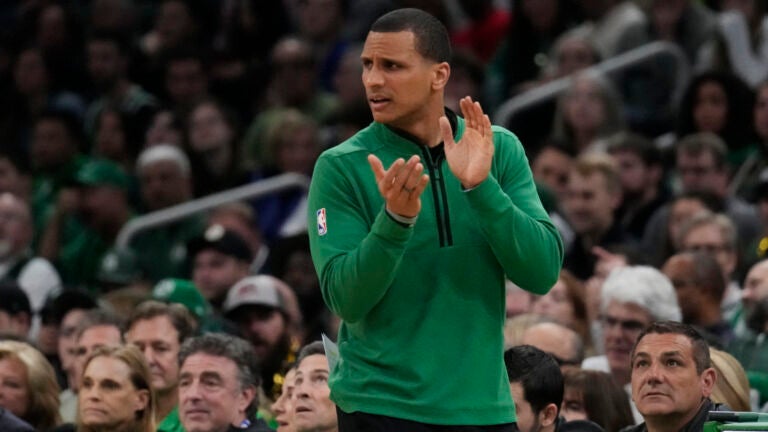 With one World Series title under his belt, Alex Cora has already reached the summit of his profession as a manager.
Joe Mazzulla is trying to make the same ascent this spring with the Celtics, with the first-year coach looking to join a small fraternity of individuals responsible for leading one of Boston's teams to a championship.
And with the Celtics granted an off day in Philadelphia on Saturday, Mazzulla opted to pick Cora's brain as a guest during the Red Sox' road tilt against the Phillies.
Cora, who shared some words with Mazzulla during batting practice at Citizens Bank Park, said that the Celtics coach had some questions about how the Red Sox orchestrated their run to a title back in 2018.
"He asked me a lot about '18. A lot," Cora said, per MassLive.com's Chris Smith. "How did I handle it? The family part of it. I think my biggest advice … enjoy it as a family. I know his wife was here. Just have a blast with them because you don't know what can happen.
"I told him for me, it was like Legion baseball. My mom, my sisters, and everybody were traveling all over the place. It was expensive but we didn't care. We had a blast."
Even though Cora seemingly pushed all of the right buttons to help lift his team back in October 2018, every coach differs in terms of how they run their locker room or clubhouse.
No team is the same, even year to year within the same organization. And with the Celtics entering the 2022-23 season with plenty of distractions in the wake of both Ime Udoka's season-long suspension and last year's Finals defeat, Mazzulla's resolve has impressed Cora.
"He's in a good spot. He's a good guy," Cora said of Mazzulla. "I respect the fact that he's very consistent in what he does. There's a lot of conviction behind him. I think that's what they needed and hopefully he can pull this off."
Sign up for Celtics updates🏀
Get breaking news and analysis delivered to your inbox during basketball season.