Celtics
Joe Mazzulla admits his mistake, says he 'should've called' timeout at end of OT
"Definitely learned from that," the 34-year-old rookie coach said.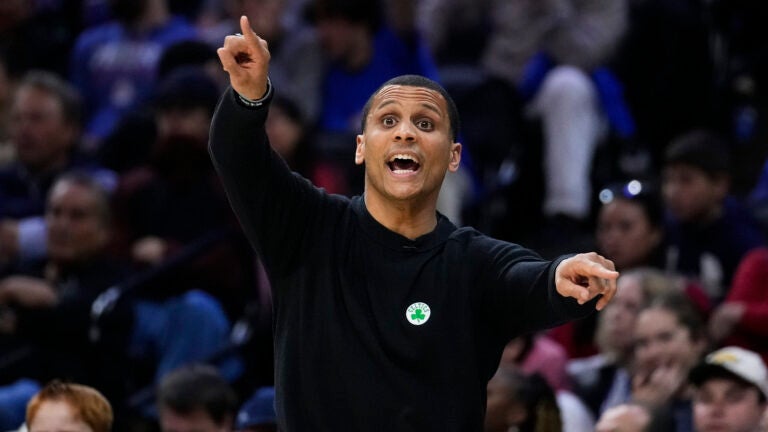 Late in Sunday's Game 4 between Boston and Philadelphia, the Celtics had the ball and were down by one point with less than 20 seconds left on the clock after James Harden drained a series-shifting 3-pointer.
Celtics coach Joe Mazzulla, showing his confidence that his team could come up with an answer on the offensive end without the aid of a timeout, let Boston play.
The Celtics got a good look out of it. Marcus Smart knocked down what would have been the game-winning 3-pointer if he got it off a split-second earlier. But the shot was too late, and the Celtics took the loss.
Looking back at it a day later, Mazzulla said that he should have called a timeout in that situation.
"At the end of overtime, hindsight is 20-20," Mazzulla told reporters Monday on a Zoom call. "I should have called it to help us get a 2-for-1 or get a couple more possessions. And so obviously with 14 seconds left, down one, you want to get as many chances as you can. Definitely learned from that."
The 34-year-old coach has faced criticism throughout this season for not using enough timeouts. He stuck with his style until the end of Game 4. This lesson unfolded in real time on national television.
"It's something we've talked about all year," Mazzulla said. "I trust our guys to make the right play, prevent a team from getting matchups off the floor, preventing a team from getting their defense organized."
Mazzulla made a mistake, but the team's execution on the final possession also played into the final result. Even if playing right away to keep an opponent from setting up its defense was the right call, it's on the players to get a shot off quicker.
"I think the two lessons that you learn from that is call (the timeout) right away and get a 2-for-1," Mazzulla said. "Get two shots, get a couple extra possessions or we have to have a clear understanding as a team that we have to go fast to get a shot. We've done both over the course of the season, we just didn't execute either one in that particular situation. Once we are losing pace, I have to call it so we can get a shot up earlier."
The close loss sets up a tiebreaking Game 5 at TD Garden on Tuesday night. Harden has averaged 43.5 points during the Sixers' two wins. The Celtics left him open to drill the go-ahead 3-pointer in Game 4.
Late-game execution will have to be better from both Mazzulla and his team if the Celtics are to pull ahead in this series.
Sign up for Celtics updates🏀
Get breaking news and analysis delivered to your inbox during basketball season.