Celtics
Magic Johnson said Joe Mazzulla made a 'mistake' by not calling timeouts at the end of Game 4
Mazzulla let the Celtics play at the end. The end result was a loss.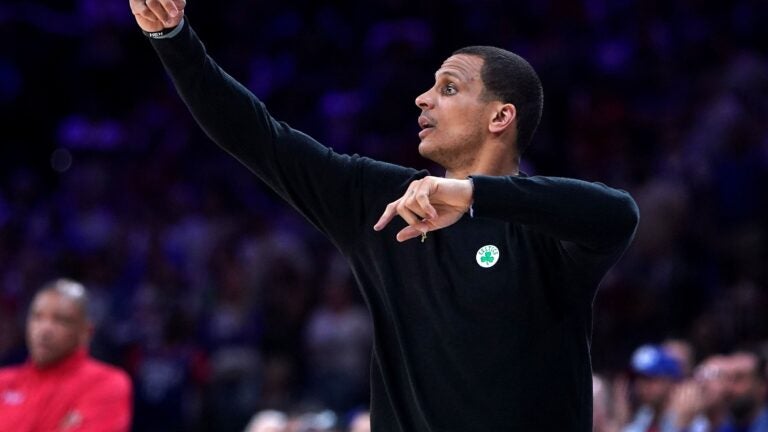 Joe Mazzulla let the Celtics play out two of their most important late-game possessions Sunday without calling a timeout.
On the final one, Marcus Smart buried a potential game-winning 3-pointer, but the Celtics took too long to get the shot off and Philadelphia snagged a 116-115 win in Game 4 of the Eastern Conference semifinals.
The series is now tied at 2-2 and returns to Boston on Tuesday.
Many have been critical of Mazzulla's decision to not call timeouts. Los Angeles Lakers legend Magic Johnson is among them. He called the decision a mistake.
While the Celtics opted not to draw up an after-timeout play, they did get a clean look that happened to be a split second too late.
Right or wrong, Mazzulla likes to let his team play through situations and figure things out themselves.
"He wants us to take full responsibility," Celtics center Robert Williams III told NBC Sports Boston earlier this week. "He'll tell us sometimes, 'I'm not going to call a timeout just because y'all made some stupid mistakes.' Own up to it, see what the problem is."
A problem that played a big part in landing the Celtics in this predicament was Jaylen Brown's decision to double-team big man Joel Embiid on Philadelphia's final shot attempt.
Boston left James Harden, who scored a game-high 42 points, open in the corner to hit a 3-point dagger. Brown took responsibility for the move after the game.
"Just a bad read," Brown said. "That's it. It's a gamble at the wrong time. Big shot by James Harden, but that's my fault. I take full accountability."
The Celtics have made giving up big shots at the end of close games a habit during this postseason.
Harden closed out Game 1 with a stepback 3-pointer over Al Horford before sinking Boston in Game 4 with his big shot from the corner. Trae Young sized up Brown from 30 feet out and stole a game at TD Garden during the Hawks series.
And while Mazzulla's decision to skip the late-game timeouts is both unconventional and questionable, a timeout wouldn't have stopped any of those three shots from going in.
Sign up for Celtics updates🏀
Get breaking news and analysis delivered to your inbox during basketball season.