Celtics
'Everything went wrong': 7 takeaways as Joel Embiid, 76ers push Celtics to the brink with Game 5 win
"Everything went wrong for us that can go wrong."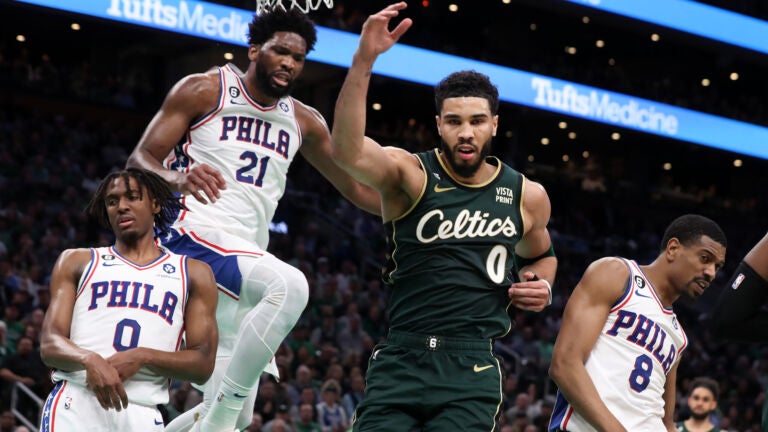 The Celtics played a listless, uninspired game at a terrible time for a listless, uninspired game while the 76ers submitted one of their best performances of the season on Tuesday to claim Game 5 with a 115-103 win.
Here are the takeaways as the Sixers return back home looking for to close out the series.
1. For a streaky team like the Celtics, this was always a possibility.
All season, the Celtics have placed an enormous emphasis on generating great looks from deep, and the results were undeniable during the regular season — the Celtics had off nights with bad results, but they were the No. 2 seed in the Eastern Conference with the league's best net rating and a ton of spacing on the offensive end. In the NBA, the 3-pointer reigns supreme, and the Celtics are right to rely heavily on it (and even if they weren't, the 76ers aren't exactly an easy team to attack in the paint).
But when the postseason rolls around, odd things can happen.
Odd things, like Al Horford — who is one of the best 3-point shooters in the NBA — finishing 0-for-7 from behind the arc.
Odd things like the Celtics as a team shooting 9-for-33 from behind the arc until the bench mob checked in and put together a mini-rally by shooting 3-for-5.
Odd things like James Harden jet-packing into the atmosphere in Games 1 and 4, leaving the Celtics highly vulnerable in an icy cold Game 5 performance.
Odd things like Tyrese Maxey scoring 30 points and Tobias Harris finishing 7-for-10 from the field, despite both players struggling historically against the Celtics.
The Celtics are a streaky basketball team, and streaky basketball teams sometimes get burned.
"Everything went wrong," Smart said. "They made every right play. They made every hustle play. Everything went wrong for us that can go wrong."
2. None of this should take away from what the Sixers — and especially Joel Embiid — accomplished on Tuesday. The Sixers got enormous performances from their stars, including 33 points and four blocks by Embiid and a 17-point, 10-assist outing by Harden.
The Sixers pummeled the Celtics on both ends in Game 5. There's still time to rally, but the Sixers got everything they wanted in the last two contests, which doesn't bode well moving forward.
3. Jayson Tatum started slow once again, going 0-for-5 in the first quarter, but once again, he bounced back over the next three quarters and finished with 36 points, 10 rebounds, and five assists. Twice in a row now, Tatum has brushed off a slow start and played well.
The difference this time was that no one came along with him.
"It's a long game," Tatum said. "Shots eventually going to fall and we got some of them to go down. Just didn't necessarily start in the first quarter how I would have liked. But we've just got to keep playing, and that's why it's four quarters and it's a long game."
4. Horford's disappearance as a shooter in the postseason has been both mystifying and costly. His 0-for-7 performance from deep range hurt the Celtics' offense, and his defense against Embiid didn't close the gap like it did in Game 4.
Meanwhile, Robert Williams hasn't made up the difference. He struggles to defend Embiid, and his vertical spacing hasn't come into play with the paint clogged up by Embiid. The Celtics' centers were never going to outplay Embiid, but they have been beaten badly.
5. To what extent was effort an issue? That depends who you ask. Mazzulla believed the Celtics' attention to detail was the problem.
"I think when you have the intentions of really, really wanting to win, it doesn't work out very well sometimes," Mazzulla said. "I thought we had the intentions of really, really wanting to win and trying to win it, and sometimes when that happens, it has a negative effect. I think we just have to play with a freer mind, take a deep breath, and regardless of the situation, we just have to be ready to play."
Smart didn't agree.
"The energy wasn't right," he said. "It could have been better, way better. We know that, we understand that. And tonight speaks volumes. It shows that, if you're not ready, you're going to go come out, any given moment, this can happen, so you tip your hat off and move on to the next one."
6. Marcus Smart scored 14 points, largely thanks to an 8-for-10 performance at the free-throw line. Aside from Tatum and Brown, he was the only Celtics player to score double digits.
7. The series isn't over. The Celtics often play well with their backs against the wall, and this group rallied from a 3-2 deficit before — look no further than last year's Eastern Conference semifinal against the Bucks. They aren't likely to shoot that poorly from 3-point range again.
"It's a true dogfight, scratching and clawing, biting, blood, everything," Smart said. "And if you're not willing to pretty much get dirty, if you're not willing to bleed, if you're not willing to break something, willing to tear something, going hard, then you shouldn't be on that court because that's what it is. That's what the playoffs are about. Hopefully you stay safe, but that's the mentality. You've got to go, you've got to be willing to risk it all for these games. And that's the mentality we've got to have."
Still, Game 5 didn't look encouraging. If the Celtics don't fix a lot of things very quickly, a second favorite in the Eastern Conference will head home much earlier than expected.
"We've been in this position before, and we're a confident group because we've done it," Tatum said. "We know what it takes and we should be confident, right? Everybody believes in themselves, believes in the work they've put in so it's nothing impossible, it's just one game. Just take it one game at a time and be ready on Thursday."
Game 6 tips off at 7:30 p.m.
Sign up for Celtics updates🏀
Get breaking news and analysis delivered to your inbox during basketball season.