Celtics
Why Doc Rivers said James Harden had a 'perfect game' against Celtics in Game 5
Harden only took eight shots Tuesday night. It was enough to pick the Celtics apart.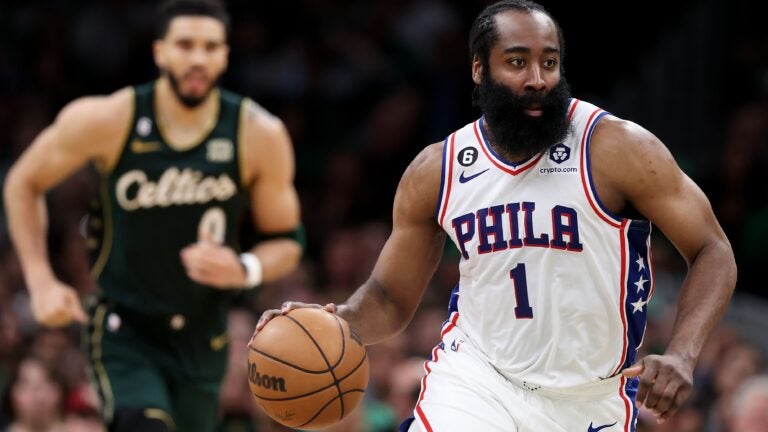 Perhaps the scariest part of the Celtics' brutal loss at TD Garden Tuesday night is that for the first time this series, Philadelphia won without a colossal scoring output from James Harden.
He scored 45 in Game 1, and 42 in Game 4, hitting clutch shots in both games that buried the Celtics when it mattered most.
Depending on that kind of performance from a player who missed all but five shots in Games 2 and 3 didn't feel sustainable.
But Philadelphia is certainly capable of repeating what they did in their 115-103 win during Game 5 of the Eastern Conference semifinals.
Harden only took eight shot attempts from the field, but he added an efficient 17 points. He also dished out 10 assists, and let league MVP Joel Embiid wreak havoc.
Harden performed like a magician Tuesday night, 76ers coach Doc Rivers said. He compared Harden's decision-making to that of a catcher in baseball, controlling the game by guiding the direction of where the ball flows.
"He called a perfect game," Rivers said. "He was aggressive early on when he needed to be aggressive. And then he kind of sat back and played and got everybody else involved. I thought he was unbelievable."
Embiid, who poured in 33 points and grabbed seven rebounds despite playing on a sprained LCL, is playing at an MVP level again. He averaged 33 points and 10 rebounds during the regular season, which means a similar performance isn't out of the question in Game 6.
Tyrese Maxey knocked down 6 of his 12 3-point attempts, chipping in 25 points. He's typically a 20-point per-game scorer. The Sixers have won all three games in this series when he scores 14 points or more.
The wildcard was Danuel House, who scored 10 points off the bench on 5-7 shooting in 15 minutes. Rivers said he wasn't sure if he was going to play House at all before the game. But House's familiarity with Harden as a former Houston Rockets teammate factored into the decision.
Harden, who has been known for disappearing from playoff games in the past, has stepped up big for the Sixers so far.
"As a team that's trying to compete for something special, that's all you can ask for," Harden said. "We know who we are. Obviously, we have the MVP on our team and everybody else is just trying to figure it out. Whether that's me scoring the basketball or that's me facilitating, or whether that's me moving the ball."
Sign up for Celtics updates🏀
Get breaking news and analysis delivered to your inbox during basketball season.