Celtics
Joe Mazzulla on Celtics' Game 5 loss at TD Garden: 'That was our first really, really bad game of the playoffs'
"Everything went wrong for us that can go wrong."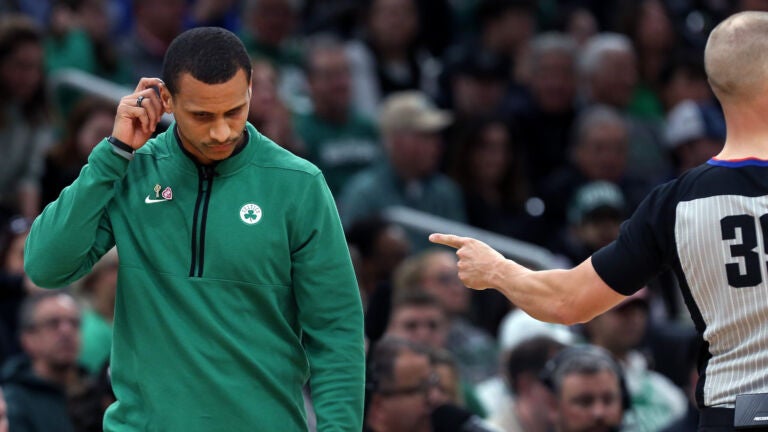 The optics that played out Tuesday night on Causeway Street were far from ideal.
As the Celtics made their way off the parquet floor, the scattered fans still present within the TD Garden stands filled the air with a discouraged chorus of boos.
It was a fitting stamp on a 115-103 loss to the 76ers in Game 5 of the Eastern Conference Semifinals.
As ugly as those final minutes were for Boston, the consequences in the wake of a pivotal home defeat are far more grave.
Tuesday's shooting woes (39.8 percent from the field), sluggish start, and defensive lapses against Philadelphia's pick-and-roll now have Boston just a game away from elimination.
Boston needs to win two straight against the Sixers to keep their season alive, including Thursday's Game 6 showdown at Wells Fargo Center.
But the Celtics have repeatedly failed to capitalize against the Sixers this series. Be it a Game 1 home loss without Joel Embiid in Philly's lineup or a Game 4 overtime defeat marred by a lack of urgency and execution, Boston has had many failed chances to take control of the series.
But for Celtics coach Joe Mazzulla, Tuesday's defeat stands as the lone outlier so far in Boston's playoff push.
"That was the first game of the playoffs that we didn't play well, in my opinion," Mazzulla said postgame. "So we can't lose our perspective of we played really good basketball. And that was our first really, really bad game of the playoffs. Doesn't come at necessarily the best time. But we just have to shift our perspective and get ready for the next game."
Mazzulla is right that the Celtics will likely want to burn the tape following Tuesday's disappointing performance.
Whether it be Al Horford failing to sink several wide-open looks from deep (0-for-7 from 3-point range), Malcolm Brogdon (3-for-9) missing layups in the paint or Jayson Tatum going 0-for-5 in a sleepy first quarter, Boston's offense struggled to gain its footing at the Garden.
Some of that can perhaps be chalked up to the streaky nature of Boston's shooting tendencies.
But missing nine free throws and letting Embiid consistently sink mid-range jumpers are frustrating examples of Boston both failing to adjust and sabotaging its own gameplan.
"Everything. Everything went wrong," Marcus Smart said. "They made every right play. They made every hustle play. Everything went wrong for us that can go wrong."
Mazzulla might try to cast aside Tuesday's result as a one-off, opting for a clean slate ahead of a do-or-die Game 6 in Philadelphia.
But the margin of error afforded to Boston is now razor thin. It's an unenviable situation to be in for the Celtics, and it's one primarily of their own doing.
"I thought our intentions were good," Mazzulla said. "I thought we tried to play hard. I thought we tried to play the right way, especially on the offensive end. I thought we got a lot of good looks early that didn't fall. And theirs did. And then I think when you're in that situation, you're just trying to win it back. Like I said, it's the first time that we just didn't play well, and we just got to regroup and get ready for the next game."
As disheartening as another loss on home court might be, the Celtics are in the same spot they were in last May.
After dropping a 110-107 result to Giannis Antetokounmpo and the Bucks in Game 5 of the 2022 Eastern Conference Semifinals, Boston needed to win the next game at Fiserv Forum to keep its title hopes intact.
The Celtics bested Milwaukee in Game 6 on the road, 108-95, and then promptly dispatched them back at TD Garden in a 109-81 blowout in Game 7.
A 3-2 series deficit is far from a death sentence, especially for a Celtics roster with plenty of postseason mettle.
But that doesn't mean that Boston can just rest on their laurels and expect a similar script to play out on Thursday night in Philadelphia.
"Last year's over with," Jaylen Brown said. "This year we gotta come out and be better than we were tonight or we'll have a different ending. Obviously, we are still in this series and we gotta muster up whatever we've got left to be better for Game 6."
Newsletter Signup
Stay up to date on all the latest news from Boston.com