Celtics
Joe Mazzulla and Doc Rivers have shown completely different temperaments this series
Rivers is calmly navigating the 76ers through the series. The Celtics have had a much choppier ride with Mazzulla.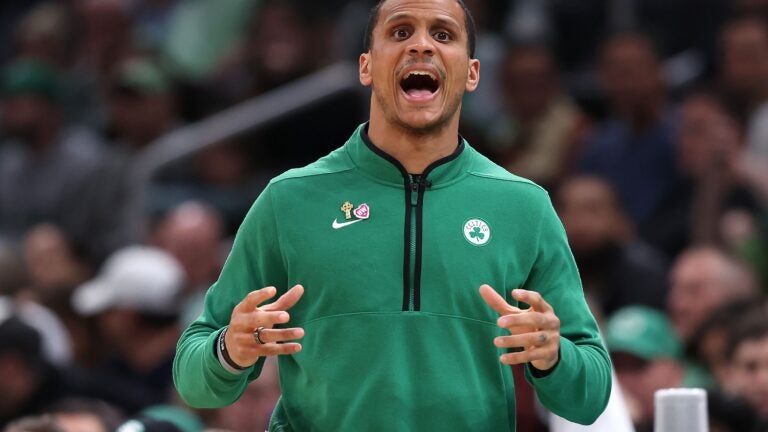 Joe Mazzulla is under the biggest spotlight of his young NBA career, and he doesn't seem very comfortable in it.
It shows in how he second-guessed himself after Game 4, saying that in hindsight he should have managed the end of overtime differently.
It shows in how he tried to drop the mic at the end of his Game 2 press conference, asking whether reporters wanted to ask about the adjustments he made after the Celtics won a home game they were favored in.
It certainly showed with how uptight and shaky the Celtics looked Tuesday night during a miserable home loss in Game 5.
Some of this is natural for a 34-year-old coach who had never been a Division I college head coach, let alone a head coach on an NBA title contender before this season. Overall, he's done a solid job, guiding the Celtics to six more regular season wins than last year and earning Coach of the Year considerations.
But as the Celtics climb deeper into the playoffs, his growing pains are on display for all to see.
Contrast that with 61-year-old Doc Rivers, who won a title with the Celtics in 2008, and is approaching the series with a much more relaxed temperament. Despite having his own long list of playoff struggles, the more experienced coach with the underdog team is up 3-2 in the series.
Here are a few quotes that show the difference between the two coaches' approaches during this series.
Seeking validation from others
Interviews can be like conversations at times, with room for back and forth between reporters and stars. Mazzulla listened to the criticism after the Celtics dropped Game 1 and called out the media for asking different questions after the Celtics rebounded in Game 2.
"Nobody wants to ask about all the adjustments we made from Game 1 to Game 2?" Mazzulla asked as he walked off the podium.
If the Celtics pulled off a major upset, that would be one thing. But responding that way after simply staving off a potential 2-0 series deficit at home as the favorites showed that the commentary around the games is getting to him.
Versus…
Being intentionally oblivious about what others have to say
Rivers, on the other hand, seems to be making it a point to tune out the noise. His postgame pressers have had a much calmer, laid-back vibe.
"Maybe I'm older, I don't know. I love coaching, but it's different now," he told Heavy Sports. "I'm different. I swear to God. You can see it, and the guys talk about it. I'm just oblivious to a lot of the small stuff. You know, just do the job. Just coach."
---
Second-guessing a key decision
James Harden hits a go-ahead 3-pointer. There are 18.2 seconds left to play. Mazzulla feels that it's the right call to let the Celtics move the ball up the floor and go for the win without calling a timeout. He's coached this way the entire year.
"That was the play, we just had to play with a little more pace," he said. "We had the right matchup. Jayson got downhill and made the right play at the rim. We just had to play with a little more pace there. But that was the play."
But, by the next day, he sang a completely different tune.
"At the end of overtime, hindsight is 20-20," Mazzulla said. "I should have called it to help us get a 2-for-1 or get a couple more possessions. And so obviously with 14 seconds left, down one, you want to get as many chances as you can. Definitely learned from that."
Versus…
Standing by the call
Rivers agreed with Mazzulla, saying that the right call in that situation was to try to take advantage of the matchups on the floor instead of giving the defense time to set up.
"I wouldn't have [called a timeout] if I was him," Rivers said. "You live with the decision you make. They have two incredible players and I thought Joe was right. It was a matchup advantage. He was just being nice."
---
Embracing the anger
When asked to sum up the team's mood during the 48 hours between Games 1 and 2, Mazzulla didn't hold back.
"Angry," Mazzulla said. "Pissed."
Mazzulla said he liked that the mood was that way. The Celtics bounced back and won Games 2 and 3 but were unable to maintain the momentum in Games 4 and 5.
Versus…
Lightening the mood
With the Sixers facing a make-or-break Game 4 at home after losing two in a row, Rivers attempted to lighten the mood by texting a gospel song to James Harden.
Harden responded with 42 points and a clutch 3-pointer that evened the series. Then, he added an efficient 17 points with 10 assists that helped put the Celtics away in Game 5.
"For a day and a half, he had to get himself back," Rivers said. "No one did that but James. The film's great and we talked and probably 15,000 other people probably talked to him, but James — I sent him a gospel song before the game and the title of it is 'Do You Know My Name?' and James Harden was James Harden [on Sunday afternoon]."
Sign up for Celtics updates🏀
Get breaking news and analysis delivered to your inbox during basketball season.