Celtics
Marcus Smart defends Joe Mazzulla following Celtics' Game 5 loss: 'We haven't lost faith in him'
"He has a game plan; it's on us to go out and execute it."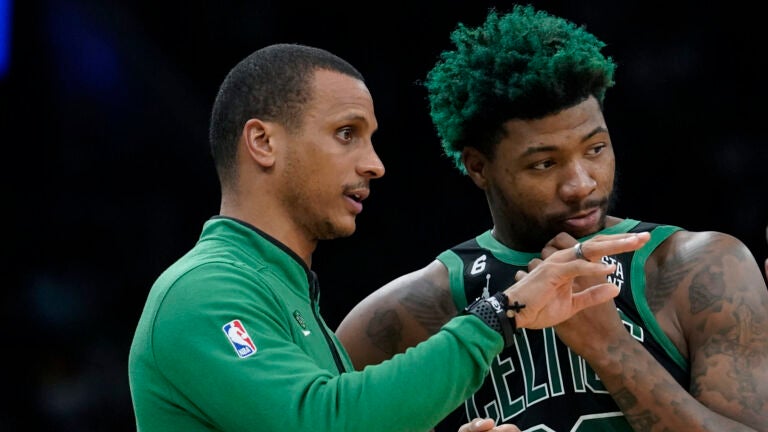 Following a disheartening home loss on Tuesday night, the Celtics sit just one game away from elimination in the Eastern Conference Semifinals.
It's an unenviable position to be in for the team with the second-best record in the NBA. As expected, there is plenty of blame to go around for Boston's current 3-2 deficit against the 76ers.
But throughout this season, most of the blame has fallen on the shoulders of first-year head coach Joe Mazzulla.
Plenty of those gripes are backed by valid examples of the Celtics' winning ways being hampered by a lack of timeouts, sluggish in-game adjustments, and head-scratching rotations.
But Celtics guard Marcus Smart is pushing back against the assertion that Mazzulla is the primary culprit behind Boston's current predicament.
"We still believe in our coach," Smart told Heavy.com's Steve Bulpett following Boston's 115-103 loss on Tuesday. "We believe in Joe to the fullest. We haven't lost faith in him and we won't. He has a game plan; it's on us to go out and execute it. We're the ones out there playing, so we've got to help him. He's been doing great."
Mazzulla is certainly not without his faults, as expected for a 34-year-old head coach thrust into a tough spot. Still, Boston's lopsided defeat in Game 5 was also spurred by a lack of execution on the court.
Along with another slow start from Jayson Tatum (0-for-5 in the first quarter), Al Horford didn't sink any of his seven shots beyond the arc. The guard trio of Smart, Malcolm Brogdon, and Derrick White shot a combined 7-for-22. Boston missed nine free throws.
"It's everybody. It happens," Smart said. "We get so much [expletive] talked about us as players, and we need to be held accountable. The coaches, too.
"But just because things aren't going right, it's not just one person's fault. It's not his fault, and it's not my fault, it's not Jayson's fault, it's not Jaylen's fault — it's everybody's fault. It's a full team, and we've got to figure it out together."
Mazzulla and the Celtics will look to keep their season alive in Game 6 on Thursday night. Tip-off from Wells Fargo Center is set for 7:30 p.m.
Newsletter Signup
Stay up to date on all the latest news from Boston.com