Celtics
8 takeaways as Jayson Tatum got hot late in Game 6 to save Celtics season
Tatum turned a nightmarish game into a memorable finish.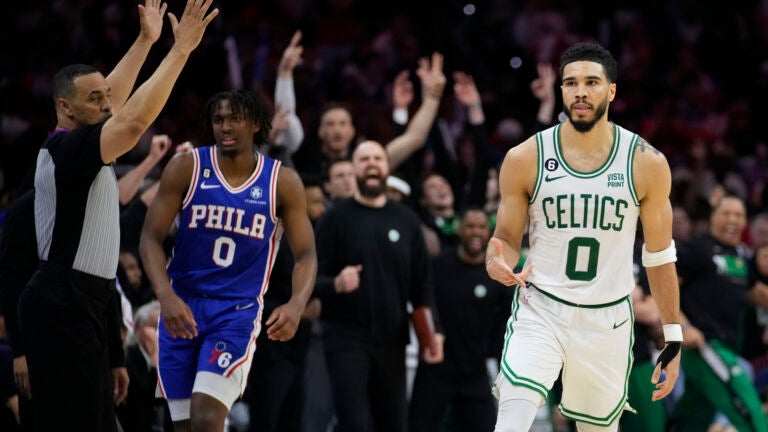 The Celtics survived a roaring Philadelphia crowd and three quarters of nightmare basketball from Jayson Tatum in Game 6 on Thursday, claiming a dramatic 95-86 victory to force Game 7.
Here are the takeaways.
1. Jayson Tatum was 4:14 away from a deeply uncomfortable summer full of questions about his ability to lead a team in the clutch and maybe even his status as a top player in the NBA.
Fresh off a nearly unanimous selection to the All-NBA First Team, Tatum was 1-for-13 from the floor as time ticked away on the Celtics' season. He couldn't find the range, the Celtics' offense was icy cold, and the Sixers looked like they were on the verge of taking control.
It might have been a little thing, but with 6:31 remaining, James Harden fouled Tatum and sent him to the line for two free throws. Tatum made both. The free throws were quickly forgotten — on the Celtics' next possession, Jaylen Brown turned the ball over and Tatum committed a costly clear-path foul that gave the Sixers two shots and the ball. But roughly two minutes later, Tatum lined up his first shot since the free throws — a 3-pointer in the corner over Joel Embiid.
He buried it. The Celtics led by one.
On the Celtics' next possession, Tatum shook off Tyrese Maxey with a nasty step-back dribble and lined up another triple.
He buried that one too. The Celtics led by four.
Two minutes later, Smart and Tatum ran a pick-and-pop, and Tatum fired again from three. He cashed that one out. The Celtics led by eight, and a deflated Sixers team never recovered. Tatum added one more 3-pointer for good measure in front of a quickly thinning Wells Fargo Arena crowd before the final buzzer sounded.
"I'm, humbly, one of the best basketball players in the world," Tatum told ESPN's Cassidy Hubbarth in his postgame interview. "Go through struggles, go through slumps, it's a long game. Thankfully, I got some great teammates that held it down."
Other takeaways:
2. Thursday's win may have done a lot to boost Mazzulla's job security beyond just staving off a disappointing elimination. After the game, Mazzulla told reporters his only message for Tatum during his struggles was "I love you."
"It's a pretty powerful statement," Mazzulla noted helpfully to reporters.
Tatum's response?
"In his first year, he's done an unbelievable job," Tatum said. "I know there's a lot of questions and doubts. I told him a lot of times like, 'Yo, I got you. I got your back. We in this together.' I love that relationship that me and Joe have."
With support like that from a player of Tatum's stature, expect to see Mazzulla around for a while.
3. Marcus Smart played one of the better postseason games of his career, supporting Tatum with 22 efficient points that helped the Celtics tread water long enough for Tatum to heat up.
Smart raised eyebrows postgame by noting that Mazzulla has been "killed" with criticism at times, "and rightfully so."
"It helps us as players," Smart said. "When you think about it in the grand scheme, we're teaching him, as well. We're teaching ourselves. We get to learn more about ourselves. It allows Jayson, it allows Jaylen [Brown], it allows me to be more vocal on the court and to go figure things out, we're doing it together.
"It's not going to be perfect – Joe's not perfect. He's been put in a very tough situation this year, and he's doing the best he can. That's all we can ask for. We're going to continue to go out there and work our tails off for him, just like he's going to continue to work his tail off for us."
4. Robert Williams re-entered the starting lineup, taking Derrick White's place, and the results were noteworthy. Williams finished with 10 points and nine rebounds – +18 in the box score – but his defense in support of Al Horford made the biggest difference. Embiid can go through Williams when they match up 1-on-1, but when Williams lurks behind Horford ready to leap and contest as part of a double team, he's a much more effective defender.
Going to the double-big lineup to start probably could have happened before this – Horford and Williams have only played 682 possessions together this year, per Cleaning the Glass, but they outscored opponents by 14.5 points per 100 possessions after posting dominant numbers last year. Williams struggled to stay healthy during the regular season, but it's worth remembering how high the defensive potential of that duo really is.
The Celtics were all notably happy to see Williams in the starting lineup.
"When Rob's not in there, I feel like a lot falls on my shoulders," Horford said. "When he's out there, I know that he's got my back and I can be a little more aggressive, I can do different things."
A Horford who feels empowered to be aggressive defensively against Joel Embiid is a positive for the Celtics.
"I was ecstatic about [the change]," Smart said. "To be able to have Rob in there, he changes the game a lot. Being able to have a lob threat, a rim threat, to be able to protect the rim on the other end. He is huge for us."
Brown added that the playoffs are like a chess match.
"It don't take a professional to see the difference that Rob makes," Brown said. "You put him similar in that role he played last year where he can trust his instincts, make plays, even him tipping the ball out on rebounds and stuff like that. I feel like Rob felt a lot more comfortable out there in that double big [lineup]."
5. Having Horford in the starting lineup sent Derrick White to the bench. He and Malcolm Brogdon were the only bench players who saw any time as Mazzulla trimmed his rotation down to seven for the first time in the playoffs.
Brogdon and White shot a combined 5-for-6 from 3-point range and scored 13 and six points in the first half respectively. White finished with just 19 minutes.
6. Joel Embiid was deeply frustrated throughout the game, barking at teammates and officials. Horford seemed to frustrate him enormously (perhaps because he could play more aggressively with Williams starting). Afterward, Embiid said the Celtics won in part because they got "a lot of run outs" and "lucky bounces."
"We stopped moving the ball," Embiid said. "I don't think I touched the ball in the last 4 minutes of the game. I didn't touch the ball at all."
Embiid also complained pointedly about a goaltending call in the first half, calling it a "stupid ass" call. In fairness to Embiid, it was – in fact – a very stupid call. In fairness to the officials, the Sixers' inability to score down the stretch combined with Tatum's late-game heroics probably played bigger roles in the result than a single admittedly mystifyingly bad whistle.
7. The Celtics recorded just their second sub-90 defensive rating of the year at 89.6. Last year, they did it 11 times between the regular season and postseason.
8. Brown had a pretty direct message for Celtics fans thinking about attending Game 7.
"Celtics fans, they love to call us out, right?" he said pointedly. "So I'm going to call you guys out this time. Energy in the Garden has been okay at best all playoffs. Game 7, if you're there or if you're not there, if you're watching at a bar, if you're watching down the street at a friend's house, I don't care. I need you to be up, I need you to come with the energy, because we're going to need every bit of it.
"So I'm calling you guys out. Let's make sure the Garden is ready to go."
Game 7 will take place on Sunday at 3:30 p.m.
Sign up for Celtics updates🏀
Get breaking news and analysis delivered to your inbox during basketball season.