Celtics
The Celtics were in this predicament last season and responded, but this feels different
This Celtics team, with the addition of sixth-man supreme Malcolm Brogdon, has a better roster, but worse habits.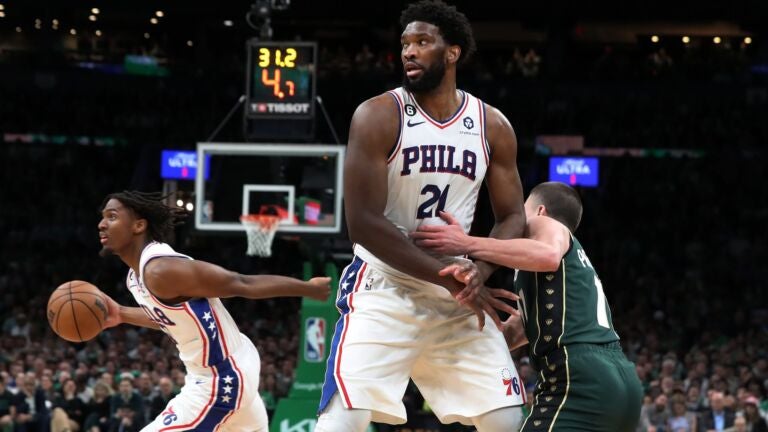 When the Celtics went haywire down the stretch and blew Game 5 to the Bucks at home to fall behind 3-2 in their Eastern Conference semifinal series last year, nerves were frayed, but local belief in them remained mostly intact.
Those Celtics held a 14-point lead with 10 minutes remaining in that game against the defending champion Bucks, and were still up 6 with 2:11 to go. That lead evaporated — Jrue Holiday dismantled Marcus Smart in the final minutes, and the Bucks prevailed, 110-107 — yet hope did not.
Submitted as evidence, here are a few lines from my postgame column that night:
This is a team that turned its season around three months ago when it would have been so easy to write them off …
What has been their greatest attribute this season? I'd answer that it's their uncommon resilience …
Don't give up on them. Because for all of those flaws and frustrations fresh in our minds, you know they're not going to give up on themselves …
As you might recall, last year's Celtics validated that trust, beating the Bucks behind Jayson Tatum's 46 points in Game 6, then rolling to a 109-81 victory in Game 7 at the Garden to eliminate the champs.
It turns out that their resilience was their greatest attribute, right up until their gas gauge dipped below empty in the six-game loss to the Warriors in the NBA Finals.
I can't tell you how much I'd like to be able to write something similar now.
Here we are, a year later, and the Celtics face a similar circumstance — down, 3-2, with Game 6 on the road — in their second-round series against the 76ers.
It's a familiar situation for Tatum, Smart, Jaylen Brown, Al Horford, and the rest of their returning core from last season.
Unfortunately, it is not the same. This year is not like last year. This Celtics team, with the addition of sixth-man supreme Malcolm Brogdon, has a better roster, but worse habits.
I'm not ready to say they will lose Thursday night. They have the most complete roster in the league and players who have risen to the moment before. (The Tatum-is-soft vocalists never seem to mention or even recall his tour de force in Game 6 last year.)
But I am saying it will count as a pleasant surprise if they do win Game 6, let alone this series. Their bright but inexperienced coaching staff is overmatched, and we're asking the players to break lousy habits now that they have had no honest inclination to fix all season long. It's a lot to ask. Maybe too much.
Last season, the Celtics started terribly, winning 18 of their first 39 games under Ime Udoka, a rookie head coach but a seen-it-all ex-player and former Gregg Popovich assistant. Udoka demanded that they share the ball on offense and fully commit to defense, and he dished out expletives like Bob Cousy dished out assists when he wasn't pleased with execution or effort.
It was exactly the treatment this group of talented, well-intentioned, but often misguided players needed to become a team. He was the right coach at the right time for these players.
Udoka demanded respect, received it, and remarkable results followed. The 2021-22 Celtics won 33 of their final 43 regular-season games and swept Kevin Durant, Kyrie Irving, and the Nets in the first round before eventually clearing the Bucks speedbump.
That team had an edge and an identity. Man, I miss watching them play the way they did at their best last season.
What do they have now? Well, they have a new coach, Joe Mazzulla, who took the reins with the interim designation after Udoka was suspended for violating team policies, then was elevated to full-time coach in February after the team and Udoka parted ways.
Naming Mazzulla the full-time coach looks premature. I understand why they did it — the Celtics jumped to a 21-5 start, and he rescued them after the Udoka debacle — but he has been overmatched in this series against the 76ers' Doc Rivers. That's alarming. Rivers won a title with the 2007-08 Celtics, of course, and he's as experienced as Mazzulla is raw, but he hasn't exactly been the second coming of Red Auerbach in the postseason. His teams have blown three 3-1 leads and three 3-2 leads through the years.
Yet he's flummoxed the Celtics over and over again in this series, whether by deploying a zone defense in Game 1 that still hasn't been solved, or expertly using his timeouts in Game 5 to stop the threat of a comeback, or rope-a-doping the Celtics on star Joel Embiid's health. (He sure doesn't look like a guy with a serious knee injury, does he? The Celtics' naps in the six-game first-round series with the Hawks — it should have gone five at the most — allowed Embiid extra time to recover.)
The Celtics aren't getting an advantage from their coach right now. Theoretically, they could overcome that. They're experienced, they have been here before, and supposed young players Jayson Tatum and Jaylen Brown have started a combined 161 playoff games. To a player, the Celtics claim they know what they have to do to win.
Now all we need is a reason to trust that they will actually do it. Unlike last year's Celtics team, this one regressed ever-so-slightly as the season wore on, going 36-20 after that 21-5 start. There's no need to rehash ad nauseum what their potentially fatal flaws are. We'll just say that their defensive intensity is sporadic and their offense is a predictable your-turn-to-shoot, my-turn-to-shoot dance starring Tatum and Brown, with way too many cameos from Smart. If their 3-pointers aren't falling, they will fall.
So what needs to happen for the Celtics to extend their season Thursday night. You know, and they do, too. Get Tatum started early. Don't forget about Brown late. Knock down those open looks. Play defense like you desperately want another game at the Garden this season.
Oh, and play the way your former coach demanded, not the way your new coach allows.
Do those things, and the season will continue. It wasn't too much to ask last year. If it turns out to be too much to ask this year, hey, at least you'll be off the hook in one way. There won't be another chance to ask again.
Sign up for Celtics updates🏀
Get breaking news and analysis delivered to your inbox during basketball season.