Celtics
Sportsbooks have the Celtics as heavy favorites ahead of Game 2
Most books have Boston's money line at -400.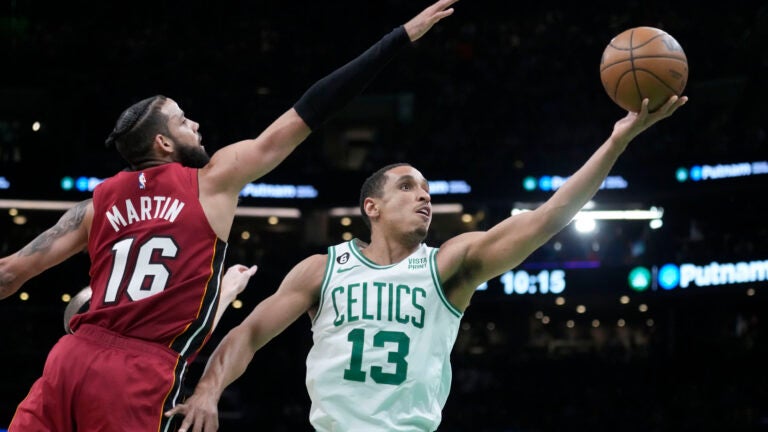 Sportsbooks do not appear to be worried after the Celtics lost Game 1 of the Eastern Conference Finals 123-116 on Wednesday.
The majority of betting websites feature Boston as -400 favorites or heavier, while anyone looking to take the Heat moneyline could find it in the +310-20 range.
FanDuel and Bet MGM each list the Celtics at -400, while DraftKings still has them very heavily favorited at -380.
When it comes to the series as a whole, all three sportsbooks still consider Boston the favorites but the odds become more even.
Bet MGM has the most confidence in the Celtics to win the Eastern Conference Finals at -225, with FanDuel next at -220, and DraftKings least certain at -210.
When it comes to the spread for this game, Boston is getting either -8.5 or -9 from the sportsbooks.
Individual performances
When it comes to the individual player props, the sportsbooks expect players on both sides to regress from their Game 1 scoring figures.
Jayson Tatum and Jimmy Butler are predicted to lead their respective teams in scoring with over/under points set at 29.5 and 28.5 respectively on both DraftKings and FanDuel.
For Tatum that mark is right on target with his 30 points in Game 1, but for Butler it suggests a decline after his 35 points in the series opener.
Around Butler, the sportsbooks are setting low bars for Miami's role players.
In Game 1, Max Strus, Caleb Martin, and Gabe Vincent each scored 15 points. The over/unders for Game 2 according to FanDuel are 10.5 for Vincent, 11.5 for Strus, and 8.5 for Martin. DraftKings' numbers are the similar except they have Strus at 12.5, and Martin at 9.5.
On the Celtics side, Rob Williams, Malcolm Brogdon, and Derrick White are all expected to score less than they did in Game 1, with Williams having the biggest dropoff.
Boston's center scored 14 points in Game 1 but his Game 2 over/under is just 7.5
Jaylen Brown is the only Celtic predicted to improve upon the first game in terms of scoring. His over/under for points is at 24.5 after scoring 22 in Game 1.
Sign up for Celtics updates🏀
Get breaking news and analysis delivered to your inbox during basketball season.