Celtics
'I don't even talk to him on the court': Bam Adebayo puts friendship with Jayson Tatum aside during Celtics-Heat series
"He's got on a green jersey, my jersey's red."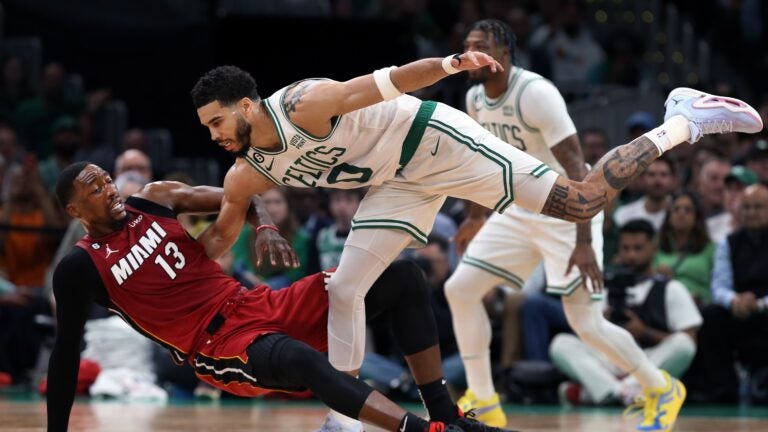 Celtics star Jayson Tatum and Heat star Bam Adebayo have been friends since long before they both made their NBA debuts in 2017.
The two friends have also become rivals on the court in recent years with the Celtics and Heat meeting in the Eastern Conference finals in three of the last four seasons. That rivalry supersedes the friendship for Adebayo, at least while the two teams are battling it out for a trip to the NBA Finals.
Ahead of Sunday's Game 3, Adebayo was asked if he talks with Tatum between games.
"[Expletive] no. I mean, uh … no," Adebayo told reporters. "I don't even talk to him on the court. He's got on a green jersey, my jersey's red."
Adebayo hasn't shied from sharing his thoughts on what he thinks about the Celtics. In February, Adebayo told Bleacher Report's Taylor Rooks why he doesn't like the Celtics.
"It's mainly because of JT. I've known JT since we were 12," Adebayo said. "Obviously, when we play each other, it's a dogfight. I want to be like, dog, I have more wins than you. That's how I am. It's a personal battle right there. At the end of our careers, be like, 'Well, when we played you this many times, when we played each other, Bam had more wins.'"
Adebayo also said that while he doesn't text Tatum before games, it's "all love" between the two once the game ends.
"He's still one of my great friends in the league," Adebayo told Rooks.
But Adebayo also recognized that the rivalry between the Celtics and Heat goes beyond himself and Tatum.
"It's got so much history with it," Adebayo said. "I feel like it started from the 'Big 3.' You've seen those battles. You've seen how ugly it gets. You've seen when Ray [Allen] went from Boston to Miami, and how they — I'm not going to say turned on him — but that's how it was back in the day. You're with them now; we don't [expletive] with you. So I feel like it's still there because we still have [Udonis Haslem]. UD went through that."
This year's Eastern Conference finals is the sixth playoff series between the Celtics and Heat, with all six occurring since 2010. The Heat have won three of those series and currently hold a 2-0 lead on the Celtics in this year's series.
The 2023 Eastern Conference is a rubber match between Adebayo and Tatum though. Adebayo's Heat squad won the 2020 Eastern Conference finals, with Adebayo making arguably the play of the series in Game 1 when he blocked Tatum's dunk that would've tied the game with seconds remaining.
Tatum evened up the personal playoff record between him and Adebayo last season when the Celtics outlasted the Heat in seven.
Sign up for Celtics updates🏀
Get breaking news and analysis delivered to your inbox during basketball season.