Celtics
We got a glimpse at the future of watching sports on television, and the picture wasn't pretty
We had a lost picture, multiple reasons to be concerned about the big picture, and as usual, no indications that what's best for fans is ever part of the picture.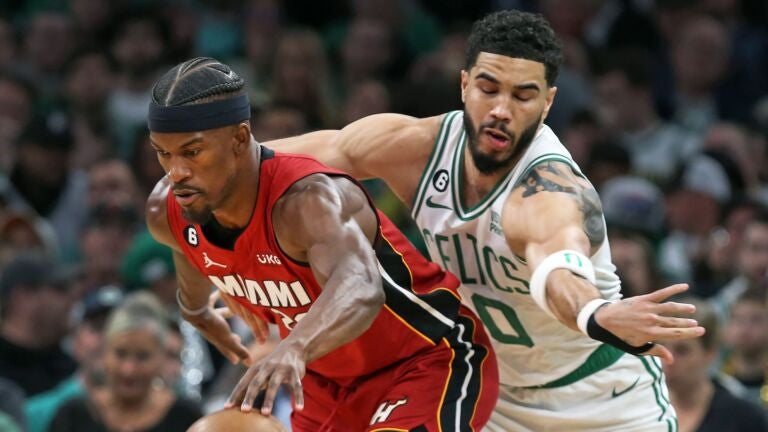 As nostalgic as we can be in this corner of the sports section, this past week's annoying plot twists in sports television weren't quite enough to make anyone long for the days of three channels, tinfoil-wrapped rabbit ears, and static during, say, a Channel 38 Bruins broadcast.
But the present and future of the medium sure did get buggy on us. We had a lost picture, multiple reasons to be concerned about the big picture, and as usual, no indications that what's best for fans is ever part of the picture.
If you were watching the fourth quarter of Game 1 of the Celtics-Heat Eastern Conference finals on TNT Wednesday night, Reggie Miller's analysis was only the second-most annoying thing you endured.
With 4:47 remaining and the Heat leading, 114-109, the broadcast went to a break when Miami called a timeout. A trailer for the film "The Little Mermaid" aired … then looped back and started again … and again … and again …
The glitch, which YouTube TV attributed Thursday to "elevated rebuffing rates" but never fully explained, prevented fans from watching the remainder of the game, a 123-116 Heat victory.
A popular suspicion was that the trailer was coded to prevent fast forwarding, somehow triggering the problem, but it turned out the issue wasn't unique to TNT. Other channels on the streaming service later had the same complication.
Maybe this wasn't exactly the modern equivalent of the famous "Heidi" game, when in November 1968, NBC broke away from its coverage of a Raiders-Jets game to begin airing the movie by that name. The Raiders rallied for a pair of touchdowns in the final minute to win, 43-32.
The Celtics melted down and turned the ball over four times while YouTube TV was glitching, so perhaps some Boston fans were grateful afterward not to have witnessed that.
But the overall frustration with YouTube TV was real and valid, and for more reasons than just TNT's transition into The Little Mermaid Trailer Network for 15 minutes Wednesday night. YouTube TV's rates have gone up even as its offerings for sports fans have dwindled. Parent company Google raised its monthly rate to $72.99 per month in April — up from $64.99, and way up from its $34.99 price when it launched in 2017.
Google cited increasing content costs as the reason for the latest price hike. That justification should also be of great interest for sports fans — and not just because it fringes on the hypocritical given how it has dropped regional sports networks, including NESN, as well as channels such as MLB Network.
In December, YouTube TV won the rights to the NFL's coveted Sunday Ticket package, which offers out-of-market broadcasts for all teams, with a winning bid of seven years at $2 billion per season. The base Sunday Ticket package will cost YouTube TV subscribers $349 per season and nonsubscribers $449. You didn't expect them to pay for those "increased content costs" without diving headfirst into your bank account, did you?
Also this past week, the NFL announced that Peacock (which has the worst interface of any streaming service I use) will be the home of the first streamed playoff game when it airs the Saturday night wild-card game this coming season. At least that game will also be available on the over-the-air network — NBC and its affiliates — in the local markets of the participating teams.
Still, it does not go unnoticed that the NFL likes to mention whenever it can that it is the only major sports league that still presents all regular-season and postseason games on free television in local markets. I take that as a hint that it's probably not going to last much longer and we best appreciate it while we can.
At least Peacock and NBC are good about answering to their viewers. It's notoriously difficult to get an actual human being to respond to consumer and product issues at Google and YouTube TV. But if Sunday Ticket crashes this fall the way TNT did Wednesday night, good luck to them avoiding millions of angry fans from more than 20 markets on a given Sunday.
I don't want that to happen, but I'm sure curious how YouTube TV would handle it beyond pithy, vaguely apologetic tweets.
And yet losing the picture late in one sporting event isn't nearly as annoying as what the big picture in sports television portends.
Sign up for Celtics updates🏀
Get breaking news and analysis delivered to your inbox during basketball season.