Celtics
What Jayson Tatum thinks the Celtics need to do to beat Heat's zone and stop Jimmy Butler in Game 3
"It's just about making the right play."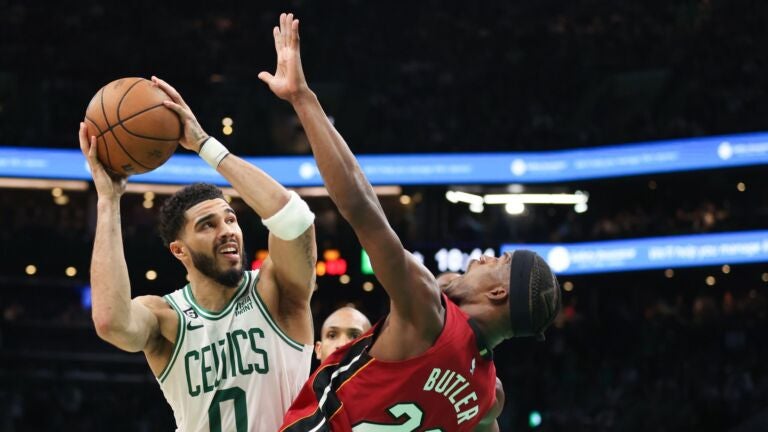 Ahead of Game 3 of the Eastern Conference finals, the Celtics find themselves in a similar situation that they did three years ago when they faced the Heat through the first two games in the same round.
Just like in 2020, Boston lost both games, blowing double-digit leads in each loss. A big reason for that was Miami's ability to slow its offense down, deploying a zone defense just like it did three years ago to enable comeback wins.
The zone defense, in particular, has been tough on Jayson Tatum. The Celtics star has yet to hit a shot in the fourth quarter of this series, shooting 0-for-3 from the field (though he's scored 11 points at the line) with five turnovers over the two fourth quarters, a stark dropoff for a player who is scoring 32 points per game and is shooting 51.4 percent from the field through the first two games.
Tatum has received a good deal of the blame for the Celtics' first two losses because of his fourth-quarter play in the first two games. He explained Sunday that he isn't looking to force a shot though as he's dealt with some double teams from the Heat as well.
"It's just about making the right play," Tatum told reporters. "They're a really good defensive team. I draw a lot of attention. We're getting good shots. Some of them we haven't made or made them at the clip that we normally do. So, it's not necessarily about me shooting more.
"It's about making the right plays. Sometimes that's for me. Sometimes that's for one of the other guys."
Tatum also doesn't believe the Heat's zone necessarily slowed them down in Game 2, though he does think there are things the Celtics can do to perform better against that defensive set.
"Honestly, I think we got some good shots. We just didn't make them," Tatum said when asked about the Celtics' struggles against the Heat zone. "I think we can't be hesitant. Their zone is designed for you to stand still or be hesitant. So, you've got to be aggressive. You've got to move. You can't stand still."
The Celtics have struggled to generate more open looks through the first two games of the Eastern Conference finals though. They're averaging just 13 wide-open shots, which is when the closest defender is at least six feet away from the shooter, through Games 1 and 2. That's nearly nine fewer than what they took per game during the regular season (21.8) and nearly six fewer than what they took through the first two rounds of the playoffs (18.9), per NBA stats.
On the other end of the court, Jimmy Butler has been the Celtics' biggest issue. The Heat star scored 20 points in the second half of Game 1 and nine points in the fourth quarter of Game 2.
Many of Butler's clutch shots down the stretch of both games came when he targeted a specific Celtics defender, using a pick to get an isolation against a perceived weaker defender.
Tatum's been the Celtics' primary defender on Butler through the first two games, but Butler has typically asked for a screen to be set on Tatum in order to get a guard or a slower-footed defender on him. Butler's taken just five shots over the 18:06 Tatum's guarded him, scoring only four points, per NBA stats.
Tatum realizes that he might have to be more aggressive in being a help defender when Butler gets the matchup he wants.
"We just can't leave guys on an island, Tatum said. "We've got to show more of a presence — be long and help. And it varies because we switch a lot, so, depending on who you're guarding, that determines how much you do or don't."
The Heat's defense and Butler are the catalysts for putting the Celtics in another playoff hole, something they aren't unfamiliar with over the last two seasons. Boston's typically performed well in these moments, too. The Celtics are 12-6 on the road over the last two postseasons but are only 10-11 at home during that same span.
Tatum thinks that the road situations the Celtics have found themselves in over the last two postseasons have naturally brought out the best in them as they hope to add another playoff road win on Sunday.
"Usually when we go to the road — this year and last year — we've had no other choice," Tatum said. "It was either win or our season was over with. Kind of that back-against-the-wall, gotta figure it out. For the most part, we've done that."
Sign up for Celtics updates🏀
Get breaking news and analysis delivered to your inbox during basketball season.