Celtics
NBA insider: Celtics are staring at 'significant' roster decision ahead of pivotal offseason
"When you are looking at making a $600 million investment in a duo, it is not necessarily a rubber stamp at this point."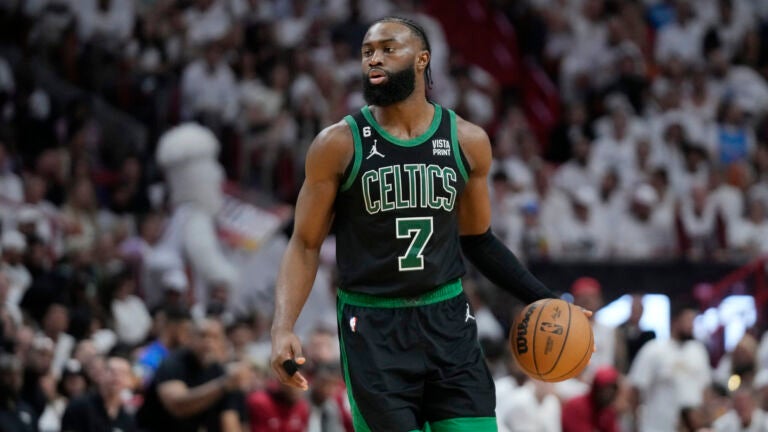 The odds aren't exactly on the Boston Celtics' side at this point in the Eastern Conference Finals.
Boston currently trails the Miami Heat 0-3 in the best-of-seven series. Prior to the Celtics, there have been 149 teams in NBA history facing a 0-3 deficit in a playoff round. All 149 squads lost their respective series.
The first order of business for Brad Stevens and Boston's front office this offseason might involve Joe Mazzulla's future. But Boston's roster will likely not be spared from a potential overhaul.
ESPN insider Brian Windhorst touched on the questions facing Stevens and the Celtics this summer on Monday morning.
"They have to make a pretty significant decision with Jaylen Brown this summer," Windhorst said on ESPN's "Get Up." "He's eligible for a contract extension now of over $280 million. He won't really know the full number until the salary cap comes out, but it's going to be a huge, huge number. And Jayson Tatum also qualified, although he can't sign it this year; he'd have to sign it next year.
"Here's the thing: I absolutely think that the Celtics should keep these guys together. But when you are looking at making a $600 million investment in a duo, it is not necessarily a rubber stamp at this point, [with] the way this season has ended and the way last season ended. And you've got to make a decision if you're the Celtics: Is this a very good pairing, or is this a great pairing?"
The duo of Brown and Tatum have achieved plenty of success together in Boston, peaking with the Celtics' run to the NBA Finals last year.
If the Celtics wanted to dole out hefty new contracts to both Brown and Tatum over the next two summers, Boston's core will arguably be one of the best in the NBA. Having two All-NBA players as your headliners give you a pretty solid base to retool and retrofit your roster in the coming years.
But Brown and Tatum's eligibility for supermax contracts has the potential to be a double-edged sword for Boston.
Even though the Celtics now have the fiscal flexibility to offer both players more money and term than other franchises, allocating nearly $600 million to the pair could hamstring the team's ability to build a strong supporting cast around them moving forward.
For Boston, it might come down to whether or not Stevens and Co. believe that the Celtics can win a title with both Tatum and Brown standing as their top options on the court.
"I don't know that you can invest 600 million in 'very good'. Jaylen Brown is highly, highly desired in the market, so I think it just makes everything be reevaluated by the Celtics," Windhorst added. "I'm still of the belief that we get to July (and) Jaylen Brown's going to get that offer. But man, it's really hard to think that just running it back is the thing to do for Boston at this point."
Both Tatum and Brown struggled in Sunday's Game 3 blowout loss to the Heat, combining for just 26 points and sinking one of 14 attempts from beyond the arc.
Brown in particular has had a forgettable series against the Heat. Over three games, Brown is averaging just 16.7 points per game, almost 10 points below his regular-season scoring average (26.6).
Brown's inefficiency and miscues have further thwarted Boston's ability to keep up with the Heat. The 26-year-old wing is shooting just 37.7% from the field, including a dreadful 10% from 3-point range.
Any roster anchored by both Tatum and Brown should be a playoff lock for the next decade. But is that core good enough to elevate the Celtics to be a consistent title contender?
Stevens will have to make that decision over the next couple of months.
Newsletter Signup
Stay up to date on all the latest news from Boston.com