Celtics
Charles Barkley, Magic Johnson, and other former NBA players blast Celtics following embarrassing Game 3 loss to Heat
"I feel like the Celtics have quit on their coach. Let's call it what we really see."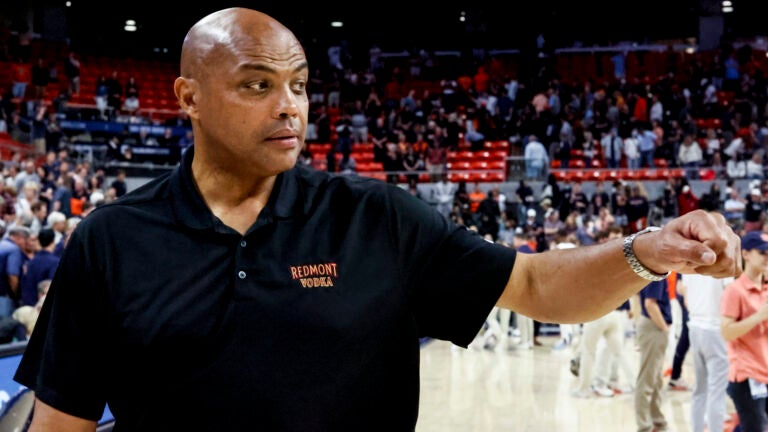 NBA Hall of Famer Shaquille O'Neal posed a simple question before TNT's "Inside the NBA" crew started to break down the "highlights" in Boston's blowout loss to the Heat in Game 3 of the Eastern Conference Finals.
"Since the Celtics quit, can we quit?" O'Neal asked.
O'Neal's dragging of the Celtics was a sign of things to come, as multiple former NBA players opined about Boston's dreadful showing in a critical playoff matchup on Sunday night.
Whether it be the C's star players Jayson Tatum and Jaylen Brown failing to deliver (26 total points) or their defensive fortitude eroding against a Heat team that shot 54.5% from the field, the TNT crew had a field day picking apart Joe Mazzulla's squad.
"That was humiliating," fellow Hall of Famer Charles Barkley noted.
"We welcome you to 'Inside the NBA', presented by Kia," host Ernie Johnson said. "Though it feels a lot more like a 'Forensic Files 'episode after watching that."
"Wait, we've got to show the highlights of that thing," Barkley joked.
Barkley, who predicted that the Celtics were going to win Game 3 ahead of tip off, blasted Boston during halftime for their lack of effort. The Celtics trailed Miami, 61-46, at the break.
"I'm embarrassed for the Celtics," Barkley said during TNT's halftime report. "That display of basketball — no mental toughness. Complaining on every single call. They made the refs mad because they complain on every single call.
"The lack of mental toughness is embarrassing. I've been fortunate and blessed to play against the Lakers and the Celtics, the two best organizations in NBA history. That was an embarrassment for the Celtics. Paul Pierce, Kevin Garnett, Larry Bird, M.L. Carr, Kevin McHale, the best player I played against. That was embarrassing as a Celtics fan."
One NBA legend who battled against Bird, McHale, and some of the Celtics greats of yesteryear concurred with Barkley.
In my 44 years of being associated with the NBA, I never thought I'd see a Boston Celtics team, a franchise with 17 Championships, quit," Magic Johnson tweeted. "I know Celtics fans all over the world must be disgusted and devastated. The Miami Heat blew them 128-102 out in Game 3."
Isaiah Thomas, who willed the Celtics to multiple fourth-quarter comebacks during his time in Boston, agreed that the team called it quits long before the final seconds mercifully ticked off the clock at Kaseya Center.
"Damn they really tappin out! Smh," Thomas tweeted.
On NBC Sports Boston's postgame show, former Celtic Eddie House wondered whether or not the players on the court have started to tune out Mazzulla.
"The biggest takeaway is the Miami Heat are just more prepared," House said. "Damn that, let me say this: I feel like the Celtics have quit on their coach. Let's call it what we really see. I feel that those guys out there don't believe in what their coach is doing."
Even though Mazzulla assumed most of the blame during his postgame presser, both Barkley and O'Neal stressed that the players on Boston's roster need to also be held accountable.
"First of all, Coach, quit saying 'me.' Let's say 'we — We were not ready to play.' I know he's trying to do the right thing, take a bullet for the team," Barkley said of Mazzulla. "But he can't be saying 'me.' … That was embarrassing for the Boston Celtics, one of the greatest franchises in sports history. But he took all the bullets. … He can't take all the blame for what these Celtics are doing."
"I respect Joe Mazzulla for taking all the blame. But I don't want to hear that," O'Neal added. "As a superstar, I cannot go 6-for-17. Chuck, as my other superstar, he can't go 6-for-18. Let's just keep it real — The Celtics are way too cool for me. They're too cool. … Jimmy [Butler] and them, they come out, they're playing good, clean basketball. … Celtics came out with no sense of urgency. The Heat knew what they had to do. And they're committed to doing it. They've been doing it all year."
Despite the 0-3 hole that the Celtics find themselves in, Heat guard Gabe Vincent added on TNT that Boston has too much talent to roll over in Game 4.
"They've got stars. They're not going to quit," Vincent said.
"Clearly you didn't watch the game tonight," Barkley responded.
Newsletter Signup
Stay up to date on all the latest news from Boston.com