Celtics
Celtics stars Jayson Tatum, Jaylen Brown fail to deliver in crushing Game 3 blowout loss to Heat
"I feel like we let our fanbase, our organization, down. We let ourselves down."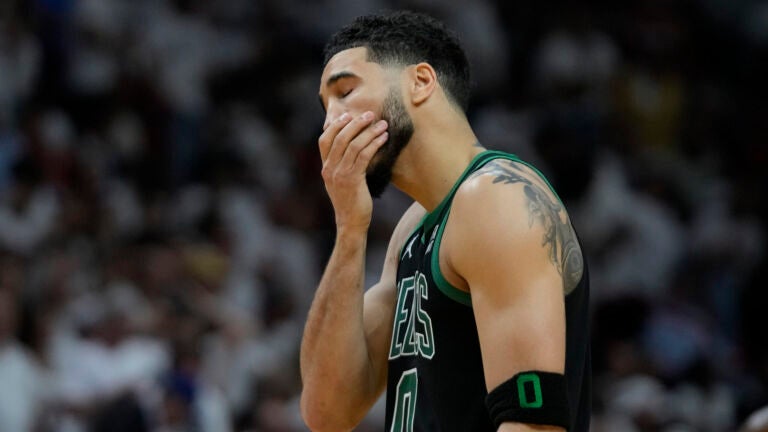 Jaylen Brown extracted a sliver of optimism in the wake of the Celtics' disheartening home loss to the Miami Heat on Thursday night.
"I think both of these two games they have been able to come out on top, but who is to say we can't come out on top in the next two games," Brown said after Boston fell into an 0-2 deficit in the Eastern Conference Finals. "We just got to come ready to play basketball, can't lose our confidence. It's the first to four. It should make for a better story."
Just two days later, not even Brown could try to frame Boston's Game 3 result in any positive light.
"I don't even know where to start," Brown said following Boston's 128-102 defeat at Kaseya Center. "It's an obvious letdown. I feel like we let our fanbase, our organization down. We let ourselves down. And it was collective. We can point fingers, but in reality — it's just embarrassing."
Brown's musings were a succinct summary of one of the more lackluster playoff performances from Boston in years. Little went right for the Celtics down in Miami on Sunday, with more shooting woes, lackluster defense and poised execution from the Heat leading to a lopsided final score.
But in a game that Boston needed to have in order to right the ship, the play of the Celtics' two stars in Brown and Jayson Tatum stood as arguably the most disappointing failing of a team now stuck on the ropes.
"Tonight was tough," Tatum noted. "I think from the beginning of the game, we were turning the ball over. We didn't shoot the ball well. They shot the ball extremely well. Just kind of felt like we never recovered, honestly. And that's on all of us as a unit. We didn't play well at all. And obviously the final score, it showed."
In total, Tatum and Brown combined for just 26 total points in Sunday's defeat. The duo of All-NBA talents only shot 12-of-35 from the field, including a horrid 1-for-14 mark from 3-point range.
Down the other end of the court, the Heat's undrafted pair of contributors in Gabe Vincent and Duncan Robinson teamed up for 51 total points on 18-of-25 shooting, including 11 3-pointers.
Vincent alone outscored Tatum/Brown with 29 points in Game 3. The 26-year-old point guard is now averaging 17.7 points in the Eastern Conference Finals with a 60.7 FG% and a 55.6% shooting mark from beyond the arc.
Brown over these same three games? The All-Star is averaging 16.6 points per game while only sinking 37.7 percent of shots. Of his 20 3-point attempts, only two have swished into the net.
"I think Miami played extremely well," Brown said. "They made shots. We didn't make shots. That put pressure on us. And it was just tough after that. They're coming out, they were together. They were physical, they set the tone and we didn't match the energy. And it it was a complete letdown, to be frank."
It'd be one thing if both Tatum and Brown's faults in Game 3 were centered around a poor shooting night. But their lack of urgency and lapses in defensive details spread across a Celtics team-wide effort that resulted in Miami sinking 56.8 percent of his field-goal attempts in Game 3.
The Heat, who ranked 27th in the NBA during the regular season with a 34.4% shooting percentage from 3-point range, have connected on 47.8% of their 3-pointers against the Celtics in these last three games.
"I think we just got to be connected more," Tatum said of Boston's defensive woes. "I think five guys all on the same page competing at the same level, talking and just being there for one another.
"Every possession is not perfect. You're going to get beat, mistakes happen. But we just have to do a better job of being there for one another. Having each other's back and just being a little bit more connected on defense."
The Celtics don't exactly have history on their side when it comes to their current predicament.
In NBA history, there have been 149 teams who have found themselves stuck in an 0-3 series deficit. None of those 149 teams came back to win their series.
If the 2022-23 Celtics have any shot of rewriting the record books, it will have start with both Tatum and Brown playing like the superstars they were from October through April.
"That's not what I'm about. I'm gonna fight to the end," Brown said of Boston accepting defeat going into Tuesday's Game 4 rematch. "So try to get our guys ready for the next game and we come out and we put our best foot forward. At the end of the day, that's what we got to do. And that's just how I see it. Series isn't over yet. It's looking bad, but you come out, have some pride about yourself and put your best foot forward."
"We just got to win on Tuesday," Tatum added. "That's just the message and mentality that we have is — get a win on Tuesday and we figure the rest out from there."
Sign up for Celtics updates🏀
Get breaking news and analysis delivered to your inbox during basketball season.