Celtics
5 disrespectful Jimmy Butler moments that set the tone for this Celtics series
He said "Hell no" when asked if Grant Williams was the answer, and threw Al Horford's celebration back at him.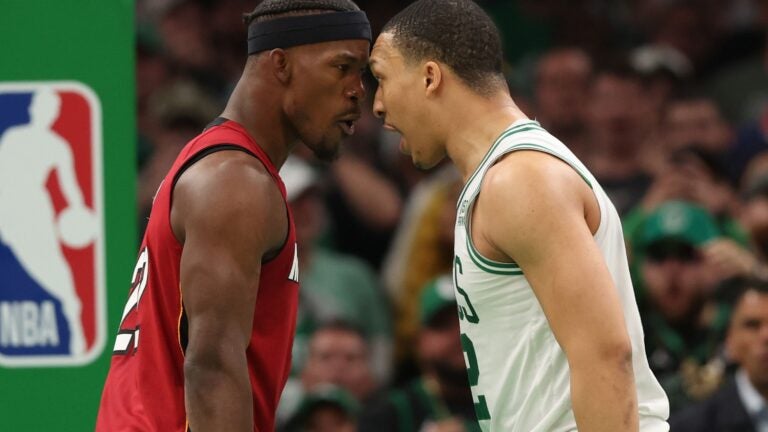 The Heat clearly have no fear of the Celtics.
They're up 3-0 because they're playing with confidence and swagger. They believe in their head coach Erik Spoelstra. They are committed to giving maximum effort consistently. And they're knocking down their 3-point shots.
The player who embodies Miami's fearless approach the most? That would be six-time All-Star Jimmy Butler.
Butler found even more motivation than usual when Grant Williams got in his face during Game 2. He said that those kinds of confrontations really bring out his competitive spirit.
Butler has shown that spirit, not just by leading his team to blowout wins, but also embarrassing the Celtics in the process.
Here are five moments that highlight Butler's disrespect during the series.
"Hell no," Grant Williams isn't the answer.
After Joe Mazzulla decided to put Williams on him during Game 2, Butler had a message for the Celtics coach.
As he walked off the TD Garden floor after the game, Butler yelled, pointed to cameras, and told anyone who would listen that Williams was not a viable defensive answer for the Celtics.
When asked a follow-up question about his comments in his postgame press conference, Butler said "Hell no. He wasn't (the answer)."
Mocking Al Horford's timeout celebration
Throughout the season, Al Horford has mocked opposing teams by pretending to call a timeout for them when the Celtics are on a big run.
Well, the tables have turned on the Celtics, and Boston has been getting thoroughly outclassed by Miami on a consistent basis.
So, Butler decided to throw Horford's celebration back in his face after Gabe Vincent sunk a 3-pointer on a big run. Butler pointed his fingers, looked around, and then pretended to call a timeout for the Celtics.
Pointing at Grant Williams after an And-1
Butler wasn't done messing with Grant Williams after Game 2. He scored an and-1 basket over Williams in Game 3, crashed to the ground, and pointed to Williams before he got up.
Williams pointed back and threw his hands up.
Wearing a Matthew Tkachuk jersey
Maybe it's a coincidence, and Butler is simply supporting a fellow South Florida professional sports team.
But could it be a subtle shot at Boston that Butler worked out in a Matthew Tkachuk jersey after the Panthers eliminated the Bruins in the first round of the Stanley Cup playoffs?
TD Garden, where Game 5 will be if it is needed, hasn't been kind to the Bruins or Celtics this postseason. Both teams have lost more than they've won there.
Telling the Celtics they're too small
The "too small" celebration has been used by multiple players in the NBA. Butler broke out the celebration after scoring on Williams. He's been open about the fact that he thinks Williams can't guard him.
Sign up for Celtics updates🏀
Get breaking news and analysis delivered to your inbox during basketball season.