Celtics
Joe Mazzulla says Celtics have 'lost' the defensive identity they had under Ime Udoka
The have lost three straight against the Miami Heat.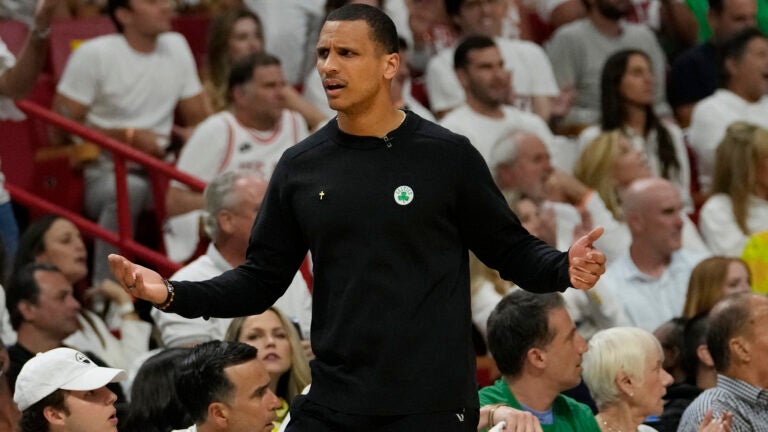 The Celtics have big problems that were on display during a 128-102 blowout loss to Miami in Game 3 of the Eastern Conference finals.
Coach Joe Mazzulla took the brunt of the blame after the game.
"I just didn't have them ready to play," Mazzulla said. "I just didn't have them execute the proper game plan. I didn't put them in the right mentality to be ready. It's my job to make sure that they're connected and ready to play and I didn't do that."
When asked if there was a disconnect between him and the players, Mazzulla said that there is one.
"Yeah, it's why I need to be better to figure out what this team needs," Mazzulla said. "To make sure they're connected, they're physical, and they're together by the time we step on the floor."
Mazzulla was asked what caused the disconnect and said "I'm not sure."
The Celtics are getting demoralized by the Heat's shot making in this series, Mazzulla said. The Heat shot 57 percent from the floor and 54 percent from three.
"Yeah, I think it starts with we have to defend," Mazzulla said. "We have to get stops, and yes when you do not execute on the defensive end and they make shots then it affects the way you play offense. So, we just have to put our identity into our defensive execution first."
Mazzulla said that some of the defensive identity that got the Celtics to the NBA Finals last year under Ime Udoka has been "lost" and that it's his job to get it back.
When does Mazzulla think the defensive identity has been lost?

"Just these last couple of games," Mazzulla said. "I think it's just the execution. We're not connected. Usually at our best we're together. We're physical on the defensive end and we don't have that right now.
"The most important thing is how can we get our defensive identity?" Mazzulla said. "How can we get a clear understanding of what it looks like? And on the offensive end just keep it as simple as we can so that we're connected and we're physical and we play with the right mindset and play together."
The Celtics trail Miami 3-0 in the series and are one loss away from elimination.
Sign up for Celtics updates🏀
Get breaking news and analysis delivered to your inbox during basketball season.