Celtics
The Celtics got one win. Don't let them get two.
Boston sports fans know what it feels like to start dreaming down 3-0.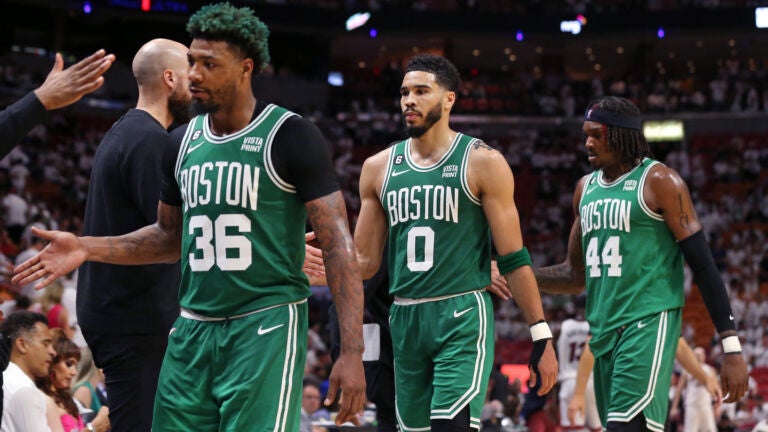 COMMENTARY
Can you imagine if the Celtics pulled this off?
Of course you can. You're reading this story about a Boston sports team on Boston.com, which – per the Google metrics – means there's an incredibly high statistical chance that you are a Boston sports fan.
That means you probably watched the Red Sox pull off something miraculous against the Yankees in 2004. You know what it feels like when a team goes down 3-0 and then gets one win. You have looked ahead at the next game and thought to yourself, "wait a minute, what if they win that one too?" in the past. Maybe you saw members of the 2004 Yankees team Alex Rodriguez and Derek Jeter on the TNT broadcast in the Miami crowd on Tuesday, and maybe you thought to yourself, I mean, this is almost too on the nose.
You know how to justify it in your head. After all, you remember Kevin Millar's famous quote to the Boston Globe's Dan Shaughnessy: "Don't let us win today." You knew — because Millar knew — that if the Red Sox got one, they had Pedro in Game 5 and Schilling in Game 6.
You may have heard both Jaylen Brown and Marcus Smart at shoot around on Tuesday paraphrasing Millar slightly.
"Don't let us win one."
If you've been following this team all year, that quote might have made you roll your eyes a bit. Don't let the Celtics win one? Of course they can win one. They have better players than the Heat. They should have won at least one game already prior to Tuesday. All they needed were some 3-pointers to fall, and then all they need going forward is 3-pointers to fall again, and again, and again. Four times. An excellent-but-inconsistent Celtics team that can only win if they outshoot the opponent from 3-point range needed to outshoot the Heat from behind the arc four times in a row.
Then they did it on Tuesday. If you've been following this team all year, chances are you followed them last year as well. If you did, you also might remember Brown's famous tweet on Jan. 31: "The energy is about to shift."
After that tweet, the Celtics morphed from a .500 squad that appeared on the verge of collapse and divorce into the best team in the NBA in the second half of the season. They stormed to the Finals. They had a real chance to win it.
Brown has looked hurried and harried at every turn by Heat defenders whose best attribute has nothing to do with talent or athleticism and everything to do with effort and energy. Jayson Tatum has scored at a high level, but the same could be said of him.
Still, Brown noted that, for the first time in the series, the Celtics found ways in Game 4 to attack a Heat defense that brings its primary defenders up high to hide the lesser players. He and Tatum both pointed out that their patience was better. Joe Mazzulla – who called a game-changing timeout in the third quarter – praised the team's pick-up points defensively against Heat star Jimmy Butler.
But set aside X's and O's for a minute.
What if the energy is about to shift? Brown has a history of sensing the tides – of feeling the vibrations around a team twanging a certain tune. Maybe he was simply trying to speak something into existence when he said "Don't let us win one," but maybe he thinks that the Celtics just needed to win one to get their rhythm back. Maybe he feels that the Heat – whose entire playoff run has been one swaggering, blistering guitar solo – just needed to miss a few notes to ruin their song.
If you are reading this, chances are you've considered it. On Tuesday afternoon, you probably thought about the fact that if the Celtics could steal Game 4 in Miami, they'd go back to TD Garden. The Celtics haven't been particularly inspiring at home during the playoffs, but presumably, you remember Game 7 against the Sixers, one of those pivotal moments in which a city and the franchise superstar are perfectly aligned. Tatum delighted the crowd by scoring 51, and he appeared to intentionally connect with and draw strength from the frenzied, rabid cheers.
What happens when the Jumbotron plays Kevin Millar's message on Thursday? What happens when they pair it with Brown and Smart saying the exact same thing? What happens when Tatum makes a 3-pointer and the cheers get rabid again? What happens … if the energy shifts?
Then, if you are being realistic, you would remind yourself of the historically high chance that the Heat still win this series. No team has ever rallied back from 3-0. A lot of teams have lost three games in a row, won one, and then bowed out. The term "a gentleman's sweep" was coined for a reason, and you might have seen Jimmy Butler flash a sly grin to reporters after Game 4 before telling them, "We're going to get one on the road."
"We've still got a long uphill battle to go," Tatum said postgame.
But if you dug a little deeper, you may have noted the shift in tone from the Celtics as well.
"Tonight was a good start," Tatum said.
"Now we've just got to win another one," Smart said. "That's all that matters."
You may have also heard Butler say, "All year long, we've been better when we had to do things the hard way."
Maybe an alarm bell went off in your head, because the truth is, the Heat have not been better all year when they have to do things the hard way.
In fact, the Heat had the 25th-best offense and the 27th-best 3-point percentage in the NBA during the regular season. They've been riding a streak of hot, timely shooting against the league's best teams that will mystify NBA historians when they look back at this run in any detail.
The Heat offense has been at its best when the role players shoot like carefree superstars, but the Celtics just applied some pressure for the first time in the series. What does that look like? What if the 3-point shooting from the role players hits a statistically inevitable cool stretch now? What happens if Butler – who just said the Heat were going to get one the road – is wrong on Thursday What happens if a team whose belief in themselves has been utterly unshakeable partly because they've had very little reason to doubt themselves to date suddenly has a reason for doubt?
All the Heat need is one win – one night when their shooters rediscover their range and the Celtics can't find their own. Erik Spoelstra is the king of adjustments, and he will find new ways to bother the Celtics going forward. Butler is a big-game player. That one win could absolutely happen in Game 5, at which point all the narratives that were briefly silenced by Game 4 will come roaring back.
But this is no longer a 3-0 series. Now it's 3-1.
What happens if the Celtics win Game 5?
"If that happens," Brown told reporters, "I feel like we're going to feel good about ourselves. The next one should be fun. Should be a big one."
To paraphrase Brown: Don't let the Celtics get two.
Sign up for Celtics updates🏀
Get breaking news and analysis delivered to your inbox during basketball season.