Celtics
Stephen A. Smith, other ESPN personalities aren't ruling out an improbable comeback for Celtics
"Someone's got to break through. This is the team to do it."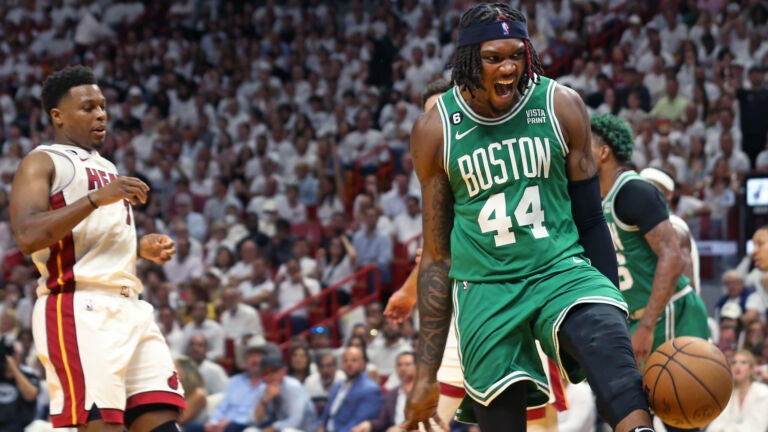 The Celtics still have a long climb ahead of them in the Eastern Conference Finals against the Miami Heat. Boston is the 150th NBA team to fall into an 0-3 deficit in a playoff series. The first 149 teams all eventually lost their series.
But a few ESPN personalities aren't counting them out quite yet in the team's pursuit of an improbable comeback.
After Boston kept its season alive with a Game 4 victory down at Kaseya Center on Tuesday night, ESPN's Stephen A. Smith believes that the pressure is starting to shift toward an eighth-seeded Heat team moving forward.
If Boston can continue to turn momentum in its favor with a win on its home court Thursday night, Smith isn't ruling out Boston becoming the first team in NBA history to pull off a series win after dropping the first three games.
"I think their chance is slim, but I certainly can't say none," Smith said on ESPN's First Take on Wednesday. "Here's the reason why. You've got Game 5 coming up. Obviously, they have to win that game or they go home. They're 10-11 at home [in the postseason] over the last two seasons, 4-5 this season. If, somehow, they manage to win, they've actually been better on the road. So, it's conceivable that if Boston wins, the pressure obviously shifts to Miami in Game 6 because you were up 3-0, now you'd only be up 3-2 and then you've got Game 6 on your home court with the specter of a Game 7 and history being made if you lose a 3-0 lead.
"The chances are slim, but I still say, 'Wait a minute.' Game 5 obviously is everything, but that shifts the pressure. If Boston wins Game 5 on Thursday night — if you're Miami you do not want to have a Game 7 forced in Boston after having a 3-0 lead when nobody in the history of the sport has ever surrendered a 3-0 deficit."
Even though the Garden has generally been a house of horrors for both the Celtics and Bruins this postseason, Boston has enough talent on its roster to punch back against the Heat once again in Game 5.
Less than an hour after Boston beat the Heat in Miami, TNT's Charles Barkley predicted that Game 5 will "be a cakewalk" for the Celtics.
Boston's renewed defensive identity and 3-point shooting success in Game 4 has also made a believer out of ESPN's Mike Greenberg.
While Smith believes Boston still has a slim shot at pulling off this comeback, Greenberg offered a far bolder proclamation on Wednesday.
"The impact that the coach has had in this series — Erik Spoelstra — has been disproportionate to what we usually see in the NBA, which is to say I think he has coached circles around Joe Mazzulla from the beginning of the series," Greenberg said Wednesday. "But there comes a point where you run out of tricks, you run out of things you can do.
"At the end of the day, the beauty of a seven-game series is that you have to earn it every single time. At the end of the day, if these teams just go out there and play, the Celtics should win every single game. They're just better in every single game."
So long as Boston's 3-point shooting continues to steady itself and usually dependable scorers like Jaylen Brown and Malcolm Brogdon start to heat up, a path to victory is there for Boston — as daunting as the odds may be.
"If Jayson Tatum and Jaylen Brown can figure out how to get this thing together, I'm sitting here telling you right now I believe history is about to be rewritten," Greenberg said. "It's about to be 150 against one instead of 150 against none. I'm old enough to remember when a 16-seed had never won an NCAA Tournament game. It's happened twice in the last four or five years. Someone's got to break through. This is the team to do it."
Newsletter Signup
Stay up to date on all the latest news from Boston.com