Celtics
An off-day gathering 'galvanized' a Celtics team not ready to call it quits against Miami
"We want to make sure that we stayed together."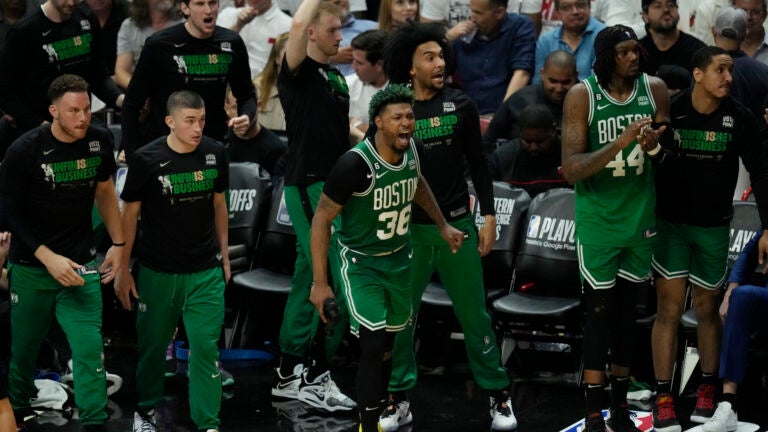 Jaylen Brown and the Celtics were well aware of the stakes involved on Tuesday night down in Miami.
Beyond a crushing season-ending defeat, the Heat had the opportunity to usher Boston into a painful (and potentially transformative) offseason.
At various points during Game 4 of the Eastern Conference Finals, the Celtics could have withered against the expected surges schemed up by Erik Spoelstra, Jimmy Butler and the Miami Heat.
It could have been the final game for at least a few regulars on this Celtics roster.
But rather than accept an embarrassing four-game sweep against an eighth-seeded opponent, Boston kept its season alive by way of a 116-99 win down at Kaseya Center.
It was a collective effort, with Jayson Tatum's takeover performance in the second half complemented by bench weapons like Grant Williams and a team-wide buy-in on the defensive end.
The Celtics' play on the court Tuesday night helped extend their season for at least a few more days.
But even before the ball was tipped down in Miami, Brown acknowledged that Boston's confidence wasn't wavering despite their three-game deficit in this best-of-seven series.
"We didn't want to go out like that," Brown said. "So we galvanized last night and we all wanted to come out and win. And to be able to come out and execute and do it is big."
The odds still don't exactly favor the Celtics, even in the wake of Tuesday's lopsided win.
This 2022-23 Celtics squad is the 150th NBA team to fall into an 0-3 deficit in a playoff series. The first 149 teams all lost their respective series.
Beyond the math, falling into such a hole can often shred whatever chemistry and cohesiveness is left in a locker room.
According to Brown, the opposite happened during Monday's team meeting.
"When you get to this point down 3-0, you see locker rooms and teams start to go in the other direction," Brown said. "We want to make sure that we stayed together. We wanted to make sure that we looked each other in the eye and came out today and put our best foot forward — and I'm proud of our group for doing that because you see teams with their back against the wall and you see they just collapse."
While Brown did not offer concrete details regarding the manner in which the Celtics "galvanized" on Monday, NBC Sports Boston's Chris Forsberg reported that Boston went to Topgolf after their film session.
Perhaps the Celtics just needed to drive a few balls to let out their frustrations following Game 3's blowout. Or maybe Brown and Co. needed an avenue to channel their anger amid multiple critical reports hovering over the team.
Following Sunday's defeat, ESPN reported that Boston's roster "never got over" the dismissal of former head coach Ime Udoka. Just ahead of Game 4, Kevin O'Connor of The Ringer said, "I've had a source tell me in the past week that this Celtics team feels like a group that's tired of fake liking each other."
"Obviously we underperformed in the last three games, and you start to hear all these stories come out about X, Y and Z," Brown said. "Who knows where it actually comes from — 99% of them is not true at all."
On Tuesday, the Celtics have echoed the same tunnel vision mantra repeated by players on the 2004 Red Sox.
"Don't let us get one," Brown said during Tuesday's morning shootaround.
It's a measured and realistic approach for a team staring at seemingly insurmountable odds.
But regardless of what transpires in Thursday's Game 5 rematch in Boston, the Celtics indeed to see this season through as one unit.
"We wanted to stay together," Brown said of Boston's mindset in Game 4. "I think that was the emphasis last night before we played today, was making sure we was on the same page. We didn't want to come out and lay an egg.
"We wanted to come out and play together, wanted to come out and trust each other, come out and play some defense, have some pride about yourself and find a way to win a game. We're all more than capable of doing it."
Sign up for Celtics updates🏀
Get breaking news and analysis delivered to your inbox during basketball season.