Celtics
Charles Barkley predicts Game 5 will be a 'cakewalk' for the Celtics
The series returns to Boston after a big Game 4 win for the Celtics.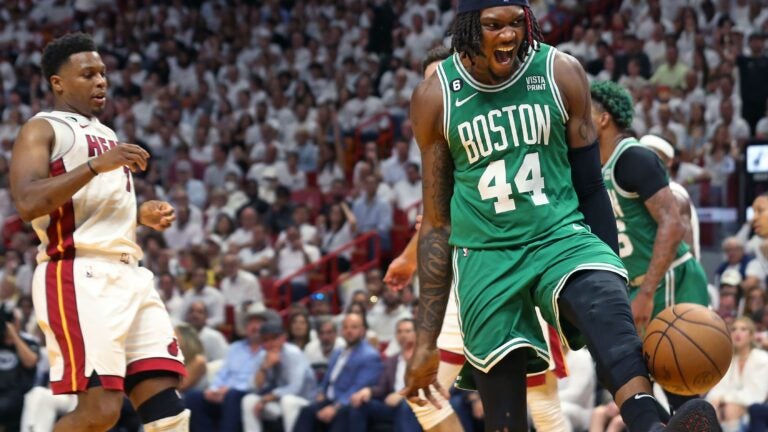 The Celtics found their shooting stroke and extended their season with a 116-99 win over Miami in Game 4 of the Eastern Conference Finals on Tuesday night.
After dropping the first three games of the series, Boston now trails 3-1.
No team has ever come back from trailing 3-0 in an NBA playoff series. One hundred and fifty teams have tried. All have failed.
Could the Celtics be the team to break the mold and make history? It's not out of the question, according to TNT analyst Charles Barkley. Boston will host Miami in Game 5 at TD Garden on Thursday night.
"I think Game 5 is going to be a cakewalk for the Celtics," Barkley said. "I think they're going to have so much energy because not getting swept is not an accomplishment, they don't get a cookie. But now they get to go back home and that place is going to loud, it's going to be incredible. I think they're going to kill Miami next game."
Barkley said if the Celtics win Game 5, the following game will carry a heightened level of importance.
"And I'm going to tell you something else, Game 6 in Miami is going to be Game 7 for Miami," said Barkley.
Fellow analyst Kenny Smith has a different view. He thought Game 4 was easier than Game 5 will be for the Celtics.
"This is my reasoning," Smith said. "When you go home, you're not going to get chastised. You're getting pats on the back. So now you can feel like 'we didn't get swept' and you can relax and not feel the urgency that your season is over if you lose again. They have to get rid of that feeling."
Barkley said he was impressed with Jayson Tatum's performance. Tatum scored 33 points on 14-of-22 shooting. Barkley said Jaylen Brown needs to play better for his prediction to come true. Brown had 17 points on 7-of-16 shooting.
"You've got to ride this emotion off this game tonight if you're the Celtics," Barkley said. "Brown has to pick it up. Tatum played great tonight, but Brown is the guy who has to pick it up. Tonight was a one punch, it's got to be a 1-2 punch."
Sign up for Celtics updates🏀
Get breaking news and analysis delivered to your inbox during basketball season.