Celtics
Celtics rout Heat, 110-97, behind stellar performances from Derrick White, Marcus Smart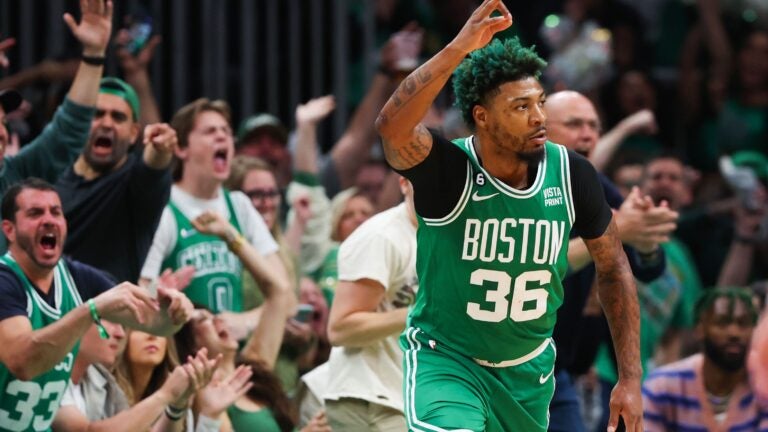 On Thursday night at TD Garden, the Celtics reminded everyone watching why they're favorites to win the NBA title.
Derrick White led all scorers with 24 points and Marcus Smart added 23 as Boston routed the Miami Heat, 110-97, in Game 5 of the Eastern Conference finals to move the series to 3-2.
Jayson Tatum and Jaylen Brown both scored 21. Tatum added 11 assists. And with two minutes to go in the game, chants of "Celts in seven!" rained down from the rafters.
How the Celtics played — from the way they swarmed their defense to smother the Heat's red-hot shooters, to the way they chased down second-chance opportunities to the tune of xx points  — felt about as far as you could get from their performance in the first three games in this series.
The Celtics shot 41 percent from 3 — the second consecutive game in which they were at or over 40 percent after severely struggling in the first two games.
Jimmy Butler was limited to 14 points. Bam Adebayo led the Heat with 16, and added eight rebounds.
Game 6 is in Miami on Saturday. The winner of this series will advance to face the Nuggets in the NBA Finals, which are scheduled to begin June 1.
Celtics-Heat: Game 5 live updates
Celtics 102, Heat 86 — 10:32 p.m.
Celtics 102, Heat 86 | 4:37, fourth quarter
KT: Tatum, Brown, and White all have 21.
Joe Mazzulla 🤝 timeouts — 10:25 p.m.
Celtics 96, Heat 78 | 7:58, fourth quarter
Update: Challenge was successful
NY: Joe Mazzulla has been on-point tonight with his timeouts. Any time the Celtics try something a little crazy (that behind-the-back pass/turnover from Jayson Tatum just now and the absurd Marcus Smart lob pass earlier), he calls one, even with his team up 20.
He means business. He's challenging a foul on Jaylen Brown, with the Celtics up 18 and 8 minutes to go.
Zappe 🤝 McLovin — 10:22 p.m.
CR: McLovin shaking hands with Zappe? Mac Jones in shambles.
Celtics 96, Heat 72 — 10:19 p.m.
Celtics 96, Heat 72 | 9:40, fourth quarter
CF: Reggie Miller just dropped an "I guess he can coach" line about Joe Mazzulla. Thanks for reading the Globe, Reggie.
CR: A "Beat the Heat" chant breaking out at TD Garden.
NY: Now Erik Spoelstra pulls Butler, with the Heat down 24 and nine minutes to go.
Celtics 92, Heat 72 — 10:15 p.m.
Heat 92, Celtics 72 | 11:15, fourth quarter
CF:I love that Mazzulla has Tatum out there to start the fourth. Usually sits the first few minutes.
End of third quarter: Celtics 90, Heat 72 — 10:10 p.m.
Marcus Smart leads all scorers with 21 points, followed by Derrick White with 19.
Your thoughts? — 10:06 p.m.
CR: Might be the right move for the Heat at this point.
CF: Smart and White are a combined 9 of 12 from 3 and have 40 total points.
NY: Celtics fans keep getting mad every Heat player that hangs on the rim isn't called for a tech. But Jayson Tatum got one because he was barking at the officials while (and after) he was hanging on the rim.
Brogdon doubtful to return — 10:04 p.m.
NY: Malcolm Brogdon is doubtful to return with right forearm soreness. His injury status is definitely something to monitor moving forward. The Celtics have had near perfect injury luck prior to Brogdon.
Celtics 84, Heat 65 — 10:01 p.m.
Celtics 84, Heat 65 | 1:45, third quarter
KT: What do we think of Mazzulla's and Brown's comments on the Celtics losing their defensive identity in hindsight? Seems like once they actually said it out loud and owned it they've been on point.
CF: I think it was just stating the obvious. It's so easy to identify what their mindset is by how much defensive commitment they make early in a game. It's one of the most frustrating things about this team, but at least they can amp it up whenever necessary.
NY: Derrick White's performance seems so tied to his confidence. Huge for the Celtics that he's found a groove again.
CF: I was thinking the same thing, Nicole. He shot that little floater with confidence. He gets into the habit of aiming that when his shots haven't been falling.
KT: McLovin is in the building!
Celtics 77, Heat 59 — 9:58 p.m.
Celtics 77, Heat 59 | 4:09, third quarter
CF: It's crazy how Bam can look unstoppable one game and like he has two left feet in the next.
NY: I agree! Some games he looks Giannis-esque, others, he looks unplayable.
KT: Also crazy how different the Celtics look when they're hitting 3s. They have a completely different swagger once those first few shots start falling.
CF: Bam has six points since I typed that.
What was that? — 9:54 p.m.
CF: Celtics are getting a little loose. That Smart lob was ill-advised, and Jaylen has had blinders on (Van Gundy criticized his shot selection a bit on the broadcast). Keep doing what got them the lead.
CF: Bontemps must not be familiar with Jaylen's passing.
CR: I don't think even Wembanyama would have thrown down that pass from Smart.
CF: I think that pass hit Banner 17.
Celtics 65, Heat 46 — 9:49 p.m.
Celtics 65, Heat 46 | 8:48, third quarter
NY: Nobody loves that baseline jumper as much as Jimmy Butler.
KT: Derrick White lost a shoe after getting bumped by Kyle Lowry. Jayson Tatum picked it up for him.
Second half underway — 9:44 p.m.
Jayson Tatum picks up his second personal foul within 30 seconds.
Halftime analysis — 9:37 p.m.
CF: Halftime analysis: Keep playing exactly like that.
NY: The Heat really need Bam Adebayo to step up if they want a chance in this game (or beyond).
He's having much less success offensively, turning the ball over and not playing as aggressively.
CF: Bam has 4 of the Heat's 10 turnovers. Celtics have 5 as a team.
KT: Jimmy Butler has a quiet 8 points. The Heat are going to need him to at least double his scoring output in the second half.
CF: I like how Scal described the first half on NBC Sports Boston: "I feel like everyone is doing their job and they're being a star in their role."
NY: Spoken like Brad Stevens.
KT: Dorchester's own Cousin Stizz is performing at halftime and he has a lyric that feels appropriate for the C's performance so far: "I remember when you doubted me, now I'm rolling like the lottery." Celtics certainly are rolling.
CF: It will go under the radar because of how well White, Smart, Jaylen, and Jayson played offensively, but I thought Al Horford had a great half even though he was just 2 of 5 from the field. He was fighting for every rebound, moved the ball decisively, and playing with so much energy.
At the half: Celtics 61, Heat 44 — 9:30 p.m.
Stat check:
Brown: 15 points, 2 rebounds, 2 assists
Tatum: 12 points, 4 rebounds, 4 assists
Smart: 13 points, 2 rebounds, 1 assist
White: 14 points, 3 rebounds, 1 assist
Robinson: 10 points, 1 rebound, 1 assist
Butler: 8 points, 3 rebounds, 3 assists
Martin: 9 points, 3 rebounds
Celtics 61, Heat 41 — 9:26 p.m.
Celtics 61, Heat 41 | 1:16, second quarter
Celtics 53, Heat 40 — 9:22 p.m.
Celtics 53, Heat 40 | 2:59, second quarter
NY: The Heat had a chance to cut the lead to single digits, but the Celtics have maintained their 15-point advantage thanks to those extra possessions created by offensive rebounds.
CF: The new scourge of the NBA is officials waiting until they see if a shot falls before calling a foul. Also, Scott Foster is a good ref and I wish he were working this game. That concludes Chad's Officials Corner.
KT: Give Jimmy Butler a tech for hanging on the rim, refs.
NY: The Celtics have 13 second-chance points. The Heat have zero.
Also, Duncan Robinson has three fouls, which feel significant given the limitations of Miami's rotation. Robinson is already not a great defender without foul trouble.
Celtics 49, Heat 38 — 9:16 p.m.
Celtics 49, Heat 38 | 4:31, second quarter
CF: Celtics have more made 3s (9, on 17 attempts) than the Heat have attempts (8, and they've made 4).  That's the kind of stat that will make Joe Mazzulla giddy.
CR: Offensive boards and second-chance points have been huge for Boston tonight.
KT: Hustle stats. They seem to care tonight.
Brutal — 9:12 p.m.
Celtics 45, Heat 30 — 9:07 p.m.
Celtics 45, Heat 30 | 8:11, first quarter
NY: With Gabe Vincent out, Miami's rotation is much tighter: Jimmy Butler, Bam Adebayo, Caleb Martin, and Max Strus are all going to have log big minutes to keep the Heat within range. Kevin Love/Cody Zeller/Kyle Lowry are all liabilities.
NY: Charlie Baker is here. Not sure how many people recognized him on the jumbotron.
CF: Tatum was the engine, but what a first quarter for White. He's now 15 for 25 for 3 in the series.
NY: To my previous point about the rotation, Haywood Highsmith is checking in for his minutes of the series.
End of first quarter — 9:00 p.m.
Celtics 35, Heat 20
CF: I thought Caleb Martin might be cooling off — he went 0 for 3, all from 3, in the second half of Game 4. But he's off to a pretty good start tonight, hitting 2 of his first 3 shots.
KT: How about Rob Williams rejecting a Jimmy Butler 3-point attempt? That's big time.
CF: Rob gave him a hard time in Game 4 too.
CR: 11 points for Derrick White in the first quarter. 3-for-3 from 3-point range.
NY: Derrick White hits a three at the first-quarter buzzer to maintain Boston's 15-point lead. Couldn't ask for a better start from the Celtics. Their defense is on-point, their 3-point shot is falling, and the Heat look spooked.
Cody Zeller finally getting exposed — 8:55 p.m.
CR: That pass from Butler to Caleb Martin was Miami's first assist of the game. There's under 3 minutes to go in the first quarter.
Oh my god, Jayson Tatum — 8:52 p.m.
Celtics 28, Heat 13 | 3:18, first quarter
NY: Jayson Tatum already up to 12 points — headlined by that slam.
KT: A little Jayson Tatum-Robert Williams pick and roll action at the top of the key gets Tatum another slam dunk. Aggressive JT, the one who isn't settling only for 3s, has shown up tonight
CR: Gotta like the Celtics chances if Tatum is cooking like this … and the Celtics keep shooting *checks notes* 71.4% from 3-point range.
CF: Tatum appears to be in attack mode. Will report back upon further evidence.
NY: Matthew Slater and Devin McCourty in the house!
Can you handle the Truth? — 8:50 p.m.
Celtics 23, Heat 7 — 8:46 p.m.
Celtics 23, Heat 7 | 4:45, first quarter
KT: Two huge offensive rebounds by Al Horford lead to a wide-open Jayson Tatum 3 to make it 18-5.
CF: My favorite sequence of the season.
KT: Horford missed his putback attempt but stayed active, kicked it out, and the ball made its way to the open man.
CR: 5 turnovers already for the Heat. Celtics are sinking their 3-pointers, but their defense is also swarming.
Celtics 15, Heat 5 — 8:44 p.m.
Celtics 15, Heat 5 | 6:56, first quarter
CR: Celtics defense is swarming right now.
NY: No doubt that the Celtics are playing with the right level of energy. I know I'm getting ahead of myself, but it really feels like the Heat missed their chance in Game 4, when the Celtics did not open with the same level of urgency they are showing tonight.
KT: Going 3-4 from 3-point range to start the game certainly helps. Marcus Smart is 2-2. When this team is rolling, they can pour it on quickly.
NY: This start is also exactly what the Celtics needed at home. The fans are very engaged, loud and on their feet.
CF: Three 3s in 71 seconds. The defense is swarming, and they're running after every turnover. The way they're supposed to play.
Jaylen from 3? — 8:39 p.m.
Celtics 9, Heat 5 | 7:47, first quarter
CF: If Jaylen's hand or elbow is bothering him, he has to be smarter about his shot selection. He's 3 for 26 from 3 in this series.
Jayson Tatum gets the dunk … and the tech — 8:37 p.m.
Celtics 6, Heat 5 | 8:42, first quarter
NY: Jayson Tatum just got T'ed up after arguing with the ref while hanging on the rim. He thought he got fouled by Kyle Lowry on his way to the basket.
KM: And, unsurprisingly, the "Refs, you suck!" chants rain down.
And we're off … — 8:32 p.m.
KT: This is the loudest I've heard the Garden start out this playoffs — including Game 7 of the Sixers series.
Celebrity sightings? — 8:25 p.m.
CR: So which 2004 Red Sox is going to show up tonight? Feels like a Mark Bellhorn kinda night.
KT: How about Pedro Martinez AND David Ortiz?
KM: There is no way Ortiz is not here on Monday if they make it 7.
Your prediction for tonight? — 8:20 p.m.
CF: I've had a bad feeling about it all day, but that's probably just normal tension on the day of an elimination game. The Celtics, as unpredictable as they can be, have won three elimination games already. Here's to four, and if they do win tonight, the Heat will have to start getting very nervous.
NY: It is very difficult to make predictions about this Celtics team, but I'm convinced they are not only going to win Game 5 but win the series.
KT: Still not convinced the Celtics will get it done. They finally found their shooting stroke and things went well for them on Tuesday, but overall they've shown too much lackadaisical effort and inconsistency for comfort. Celtics lose.
CR: Celtics push this series to six games. It's a simple gameplan for Boston — take care of the ball and sink the 3-pointers you've hit all season along. Add in some expected regression from Miami's shooting from 3-point range, and I think this heads back to Kaseya Center.
What's one thing that needs to go right for the Celtics (or wrong for the Heat) for Boston to win? — 8:10 p.m.
CF: There are two things they can control. Their defensive intensity, and the pursuit of good shots rather than the maddening first-player-past-half-court-fires-it approach that they sometimes take. If they remain locked in and connected on defense and share the ball while seeking good, in-rhythm looks from 3, they should be close to the best version of themselves, and the best version of these Celtics is the best team in this series.
NY: Three-point shooting. After Game 4, Celtics improved to 35-2 when they make at least 40 percent of their threes. The Heat also cooled down significantly, making just 25 percent of their attempts from deep. These numbers are much more reflective of the two teams during the regular season.
When Miami's role players are not shooting the lights out, the onus falls on Jimmy Butler and Bam Adebayo to create offense.
KT: If the Celtics hit threes, it'll be a long night for Miami. When Boston's shot wasn't falling in Game 3, it affected both ends of the floor. The offense became stagnant as the ball movement slowed down. They lost focus and defensive intensity when they saw the shots weren't getting in. Look at the difference in Game 4. They finally looked like the team we've been watching all year. If they come out hitting shots tonight, especially if Jayson Tatum has it going, the Celtics will be in good shape.
CR: The Celtics need more lineup regulars to contribute, especially on offense. Malcolm Brogdon is reportedly dealing with an elbow injury, but he's been a net negative so far in this series. He's shooting just 10% from 3-point range over the last three games. The Celtics would also be a much better spot if Jaylen Brown put together a breakout performance tonight. He's still shooting just 39% from the field and 12% from 3-point range in this series. He's due, to put it lightly.
Gabe Vincent is out. What does this mean for Boston? — 8:00 p.m.
Heat guard Gabe Vincent, whose scorching shooting in the Eastern Conference finals against the Celtics has helped his team to a 3-1 series lead, has been ruled out for Game 5 Thursday night with a left ankle sprain.
What does this mean for the Celtics? We asked our staff:
CF: Over the past two games, Vincent has 46 points on 16-of-24 shooting in 63 minutes on the court. Other than Caleb Martin, who suddenly thinks he's Paul George, Vincent has been the best supporting castmate for Jimmy Butler in this series. He's a major absence Thursday night, and in the bigger picture should the Celtics extend this series, I'm starting to wonder if the Heat can be worn down. They're basically down to six usable players right now, and random Zeller brothers don't count.
NY: Vincent is a big loss for the Heat. Not only has he been making shots and playing big minutes, but the Celtics can't pick on him defensively. Vincent's absence likely means more Kyle Lowry, who has looked his age this series. That being said, the Celtics also lost to the Hawks without Dejounte Murray.
KT: It's a big loss for the Heat, but what makes Miami such a tough matchup for the Celtics is its mindset. They're committed to playing hard on both ends consistently and it's not like they were playing with a bunch of stars outside of Jimmy Butler to begin with. Still, 3-point shotmaking is key in this league and it is something the Heat did better in this series than the Celtics … until Game 4. Vincent has been at the forefront of that and Miami will miss his presence.
CR: It's a significant loss for the Heat. One of the reasons why Miami built a 3-0 series edge against Boston was due to its absurd 3-point shooting percentage. Vincent led the way by sinking 50% of his 3-point attempts through four games. Kyle Lowry is a downgrade as the next man up in Miami's backcourt.
Kevin Millar sends a message to the Celtics — 7:50 p.m.
By Conor Ryan
Ahead of the Celtics' Game 5 matchup against the Miami Heat on Thursday night, former Red Sox first baseman Kevin Millar offered up a familiar rallying cry.
Millar and the 2004 Red Sox became the first team in MLB history to erase an 0-3 deficit when they came back to beat the Yankees in the ALCS. Boston went on to win its first World Series title in 86 years less than two weeks later.
"All right Boston, Kevin Millar here. Celtics, what I'm talking about is we got to believe," Millar said in a video posted to Twitter by WBZ's Dan Roche. "We were down 0-3, now we got one in Miami. This is Game 5 at the Garden. I wanna hear you 'Cowboy Up!' Let's go!"
Watch the full video here.
The Celtics need a miracle. In Italy, there's a shrine for that. — 7:35 p.m.
By Alex Speier
Even with their Game 4 victory over the Heat, the Celtics remained in need of a basketball miracle.
It is one thing to win a single game after dropping the first three in a best-of-seven series. It is quite another to win four straight — something that has never happened in the 76-year history of the NBA playoffs.
One-hundred-fifty other teams fell into a 3-0 hole in a best-of-seven series. All lost.
So where might the Celtics or their fans turn in the face of dire odds?
"They must go to Porretta Terme," said professor David Hollander, who teaches a course at New York University called "How Basketball Can Save the World" and has written a book of the same title. "There could be no better place for a Celtic."
Shaq finally got caught — 7:20 p.m.
By Katie McInerney
The law comes for all of us.
For months, former NBA star and "Inside the NBA" host Shaquille O'Neal has been dodging process servers attempting to notify him that he is being sued in a class-action filing by people who invested in the failed cryptocurrency company FTX.
The 15-time All-Star, who spent one season with the Celtics, was a spokesperson for FTX, which is involved in a fraud case after founder Sam Bankman-Fried was arrested and the company fell apart.
O'Neal is not the only notable name to be swept up in the collapse of the cryptocurrency company.
Tom Brady and his ex-wife Gisele Bündchen, MLB star Shohei Ohtani, tennis star Naomi Osaki, and Warriors guard Stephen Curry have all been named in the class-action lawsuit filed by investors. The suit claims the stars "lured unsophisticated investors and cost them their fortunes," per the Washington Post.
But O'Neal apparently was the hardest to track down.
The Post reported O'Neal had been followed through multiple states, tracked down at TNT's Atlanta studio, and even had papers thrown at him while in a moving car. An attorney told the Post it cost than $100,000 to try to reach the big man. O'Neal, of course, is not hard to spot — he's 7-foot-1.
"I haven't heard of anything like this in 30 years," Adam Moskowitz, an attorney representing the group of investors, told the Post. "This is a defendant who's well-known. He's not fleeing another island. He's in America, and he's on TV every day — but we can't get near him and serve him. It's insane."
Until now.
O'Neal was finally served during Tuesday's Heat-Celtics game, for which he was on site as part of his analyst coverage for TNT. O'Neal, Charles Barkley, Kenny Smith, and Ernie Johnson sat at a desk right in the middle of the action, on the lower-level of the arena, for all of their television appearances during the Celtics' win. O'Neal reportedly got the process server kicked out of the arena, but the incident was captured on video.
O'Neal was served the papers at Miami's Kayesa Center … formerly known as FTX Arena.
"It was a bit of poetic justice," said Moskowitz told the Post.
What Joe Mazzulla had to say before Game 5 — 7:05 p.m.
Joe Mazzulla was asked about his mindset entering Game 5.
"Just win or die," he said simply.
The Globe's Gary Washburn asked Mazzulla to elaborate on how the Celtics coach has kept his perspective amid the pressure. His answer was fascinating.
"Honestly? I met three girls under the age of 21 with terminal cancer, and I thought I was helping them by talking to them, and they were helping me," he said. "So having an understanding about what life is really all about and watching a girl dying and smiling and enjoying her life, that's what it's really all about, and having that faith and understanding.
"The other thing is you always hear people give glory to God and say 'thank you' when they're holding a trophy, but you never really hear it in times like this. So for me, it's an opportunity to just sit right where I'm at and just be faithful. That's what it's about."
Putting the Celtics' long odds into perspective — 7:00 p.m.
The Celtics are 10-11 at home during the postseason since last year.
They're 4-5 at home during the postseason this year.
Both the Celtics and the Bruins are 2-8 at home since April 19.
None of the 150 teams that lost the first three games of a seven-game NBA (or Basketball Association of America, a precursor to the NBA) playoff series has come back to win the series. A hefty 92 of those 150 teams (61 percent) got broomed away into four-game oblivion.
For the ones that avoided a sweep … 44 of the 150 teams (29 percent) were done in 5 games.
Eleven of the 150 teams (7 percent) claimed two wins before getting eliminated in Game 6.
Three of the 150 teams (2 percent) forced a Game 7 and then lost.
Heat guard Gabe Vincent ruled out — 6:45 p.m.
By Adam Himmelsbach
Heat guard Gabe Vincent, whose scorching shooting in the Eastern Conference finals against the Celtics has helped his team to a 3-1 series lead, has been ruled out for Game 5 Thursday night with a left ankle sprain.
Vincent suffered the injury with eight minutes left in the third quarter of the Celtics' Game 4 win in Miami Tuesday when he had his 3-point attempt from the left corner blocked by Jayson Tatum. Vincent leapt to retrieve the loose ball and twisted the ankle on his landing.
During this series, Vincent is averaging 17.5 points and connecting on 57.9 percent of his shots overall and 50 percent of his 3-pointers. He will likely be replaced in the starting lineup by veteran point guard Kyle Lowry, who is averaging 6.8 points on 35.5 percent shooting.
The Heat's backcourt is already undermanned, with star guard Tyler Herro sidelined with a broken hand and backup Victor Oladipo out for the season with a knee injury.