Celtics
Kendrick Perkins isn't ready to give the Celtics credit despite Game 5 win
Perkins explained why he still thinks the Heat will win the series.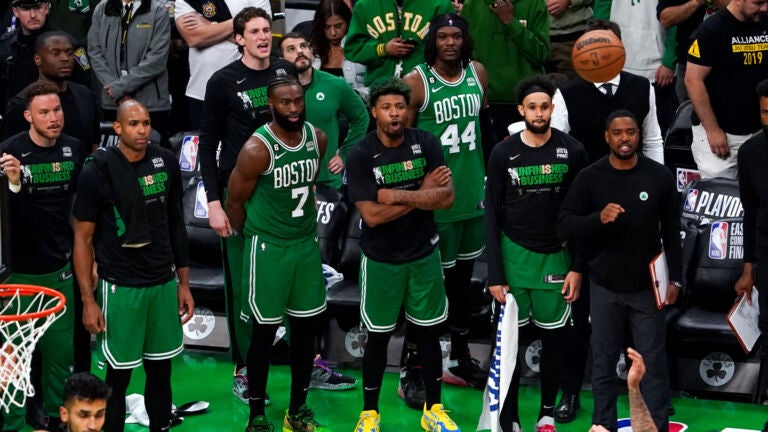 The Celtics got off to a strong start and secured a comfortable 110-97 season-saving win over the Heat in Game 5 of the Eastern Conference Finals on Thursday. Boston, having trailed in the series 3-0, now heads to Miami for Game 6 on Saturday night (8:30 p.m.) down 3-2.
The Red Sox begin a three-game series tonight in Arizona against the Diamondbacks at 9:40 p.m.
Kendrick Perkins on the Celtics' chances: Following the Celtics' Game 5 win to keep the Eastern Conference Finals going — and force a Game 6 in Miami — plenty of basketball analysis credited Boston for making a (mini) comeback in the last two games.
Still, one former Celtic isn't quite ready to add his praise. During a Friday morning appearance on ESPN's "First Take," Kendrick Perkins gave his old team some tough love.
"Let me start off by saying this: Why should we give any type of props to the Boston Celtics?" asked Perkins. "They don't need no damn applause. What did they do, besides avoiding a sweep in Game 4 and finally winning a Game 5 at home? They have been horrible at home, and have blown multiple Game 5s this postseason, against the Hawks and against the Philadelphia 76ers.
"When I look at the Celtics right now, Derrick White is making shots. Jayson Tatum is consistently, in back-to-back games, finally looking like the best player on the floor," Perkins added. "But do I have them coming back to win this series? Hell no."
Perkins took issue more with the Heat's performance (and injuries to players like Miami guard Gabe Vincent).
"Listening to Jimmy Butler, he basically guaranteed a win [in Game 6] last night," said Perkins, indicating that he believes the Heat could clinch the series at home on Saturday.
"I believe that Eric Spoelstra found something last night with [Haywood] Highsmith, with his athletic ability to guard," Perksins explained. "Jimmy Butler will be more aggressive, and take more than just 10 shots."
Perkins acknowledged that the Celtics defense had improved, but reiterated that the pre-series favorites still have a ways to go before they deserve credit in his opinion.
"If you want me to give the Boston Celtics a cookie for avoiding a sweep in Game 4, and finally winning a Game 5 in front of their home crowd? Congratulations. Kudos."
Trivia: Can you name the last team in a major North American sports league to pull off a 3-0 series comeback (and win)?
(Answer at the bottom).
Hint: It happened in the NHL. The team went on to win the Stanley Cup that year (2014).
More from Boston.com:
On this day: In 1987, the Celtics (topically) needed a miracle. Trailing the Pistons 107-106, Boston squandered what appeared to be a last chance at a winning bucket, with an out-of-bounds deflection leading to a turnover.
All the Pistons had to do was successfully inbound the ball, hit foul shots, and they would clinch an improbable win at the Boston Garden, taking a 3-2 lead in the Eastern Conference Finals.
As Isaiah Thomas would later say of that moment, "everything just went in slow motion." The Pistons' leader, perhaps feeling the pressure to get the ball inbounds, tried to hurry up and threw a hasty pass that Larry Bird anticipated.
Bird left the player he had been guarding and sprinted towards Bill Laimbeer (Thomas' target). Knifing in front, Bird intercepted the pass, spun on his toes, and passed to a Dennis Johnson (who hit the layup).
Just like that, Boston led 108-107 (eventually winning the by the same score). The Pistons were stunned, but the Celtics had improbably emerged with a clutch win. For Bird, it stands among his most iconic moments.
One of the more interesting perspectives on the play comes from Thomas, the player who not only thought he'd just hit the game-winning shot for Detroit moments earlier, but then made the inexplicable game-losing turnover.
"This is probably one of the most incredible plays I've ever witnessed," Thomas would later say. "Two people [Bird and Johnson] being in sync and just Bird playing every second. That's what the Celtics taught us, not to play 47 and a half minutes, but to play a full 48."
Daily highlight: Tatum helped set the tone early in Game 5 with an emphatic dunk.
Trivia answer: Los Angeles Kings
Sign up for Celtics updates🏀
Get breaking news and analysis delivered to your inbox during basketball season.