Celtics
Watch: Shaquille O'Neal and Charles Barkley take their best shots at a Boston accent
The 'Inside the NBA' crew tried to sound like Bostonians.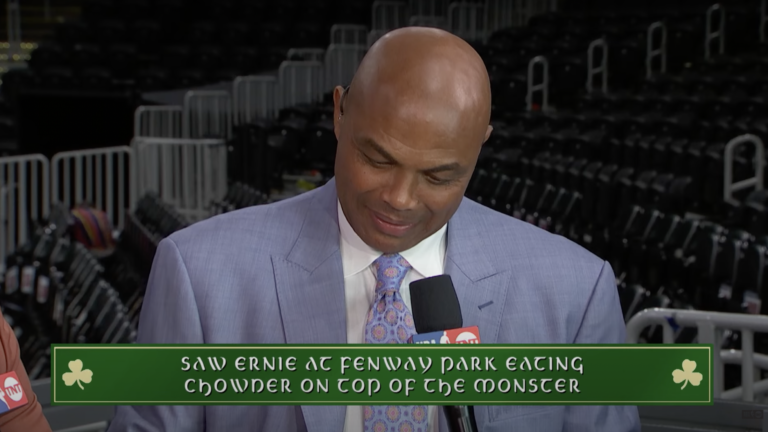 Have you ever wondered what Alabama native Charles Barkley, who speaks with a thick southern drawl, would sound like trying a Boston accent?
Wonder no further. Barkley, Shaquille O'Neal, and Kenny Smith gave it a shot on "Inside the NBA" after the Celtics' Game 5 win over Miami at TD Garden.
For Ernie Johnson's "EJ's Neat-O Stat of the Night" segment, the TNT crew tested their Boston accents against locals.
O'Neal went first. He was tasked with saying: "Shaq's car ran out of gas in Harvard Yard."
"Not bad," Smith said of O'Neal's impression.
O'Neal is the only member of the group who played for the Celtics.
"I'm known as the Big Shamrock around these parts," O'Neal said. "Sudbury, Massachusetts, stand up."
Smith's impression sounded more like an Irish accent, O'Neal said. He tried to say "Kenny's party is always a real ripper." But, the ripper part sounded like "reaper."
Barkley's attempt drew instant laughter. "I saw Ernie at Fenway Park eating chowder on top of the (Green) Monster," Barkley said, sounding like Cookie Monster from Sesame Street as he pronounced Johnson's name.
"The word you really had trouble with was my name. Is that how you say my name in Boston?" Johnson asked.
"Why are y'all doing this to this guy?" Smith wondered.
Barkley said he's never been to Fenway Park, and one of his goals is to attend a Red Sox game and sit in a seat in the Green Monster seats.
Smith began the segment with a shoutout to the North End restaurant The Daily Catch, saying "that food is bananas."
"Why don't you take us there on Sunday fool?" asked Barkley, hinting at the fact that TNT would televise Game 7 in Boston on Monday night if the Celtics win Game 6.
Sign up for Celtics updates🏀
Get breaking news and analysis delivered to your inbox during basketball season.