Celtics
Derrick White's putback at the buzzer wins Game 6 for Celtics and forces Game 7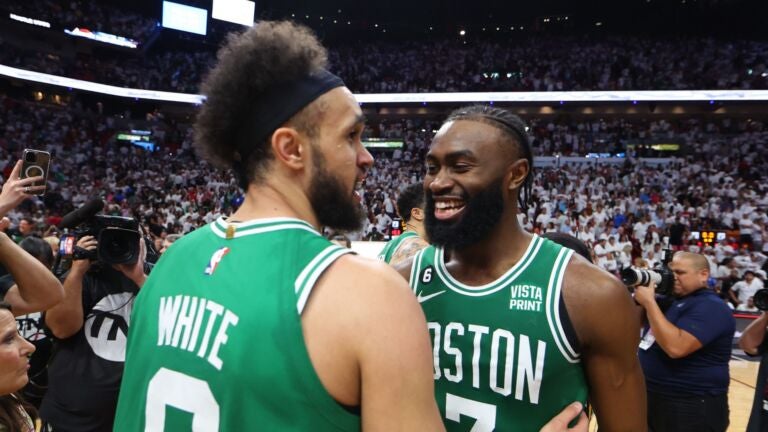 The Celtics beat the Heat, 104-103, on a last-second tip-in by Derrick White to force a Game 7 in the Eastern Conference finals.
After a quiet night, Jimmy Butler scored 10 points in the final 2:04 to give Miami the lead with under 3 seconds to play.
But White was there when Marcus Smart's shot bounced out of the hoop to tip it in as time expired. The series, tied at 3-3, will culminate with a winner-take-all Game 7 on Monday at TD Garden.
Behind a 16-5 run in the fourth, Boston rebounded after Miami briefly took the lead with under eight minutes to play.
And it happened without much help from Jayson Tatum in the second half. Tatum, who lit up for 25 points on 7 of 13 shooting in the first two quarters, did not score in the third before adding 6 points in the final frame. He finished with 31 points despite missing all eight of his three-point attempts,
Celtics 102, Heat 100 — 11:09 p.m.
Celtics 102, Heat 100 | 2.1, fourth quarter
NY: I think everybody is getting major déjà vu from last year's Game 7.
CF: I thought Butler was going to pull up from 3, just like last year. I think he was looking for it, too.
Celtics cannot allow an offensive rebound here. It would be a great time to remember how to back out.
Celtics 100, Heat 96 — 11:02 p.m.
Celtics 100, Heat 96 | 2:04, fourth quarter
Celtics 98, Heat 91 — 11:00 p.m.
Celtics 98, Heat 91 | 3:04, fourth quarter
CF: If you remember in Game 7 against the Heat last year, the Celtics almost blew the lead because Smart got shot-happy and they lost their poise. We'll see now if they've learned from that.
Celtics timeout — 10:57 p.m.
The Celtics are up, 98-88, with 3:57 to play.
CF: Do you think Brad makes Mazzulla wear a buzzer than he can zap whenever he should call a timeout?
NY: I know everybody was saying the Celtics should be up by 20, but the Heat have to be livid they're going to lose this game. The Celtics are 7 of 32 from three, including Jayson Tatum and Jaylen Brown going a combined 0 of 11. Tatum has four second-half points. Miami's role players are making their shots. If only Jimmy Butler and Bam Adebayo showed up …
Celtics 98, Heat 88 — 10:52 p.m.
Celtics 98, Heat 88 | 4:56, fourth quarter
CF: Marcus leaving Duncan Robinson to double Lowry, Sheeeesh. Robinson hits a 3.
And then Smart gets beat backdoor by Robinson. He needs to stop trying to be a hero and wake up.
KT: Even though they're in danger of gagging this game away, could the Celtics have dreamed a better scenario than Butler and Adebayo going a combined 7-35 deep into the fourth quarter?
CF: Love and trust.
Celtics 89, Heat 83 — 10:49 p.m.
Celtics 89, Heat 83 | 6:54, fourth quarter
KM: Jimmy Butler is 3 for 19 shooting.
Horford's big block — 10:46 p.m.
AL HORFORD HUGE BLOCK 🔒

He rises up for the rejection as Boston look to force Game 7… tight contest on TNT with 7 minutes to play!#NBAConferenceFinals presented by @GooglePixel_US pic.twitter.com/QJS2O0xAJM

— NBA (@NBA) May 28, 2023
NY: This block was crazy.
KT: Playoff Al rises again. He's gotten some points off of pure hustle, running the floor too.
Celtics 86, Heat 83 — 10:41 p.m.
Celtics 86, Heat 83 | 7:37, fourth quarter
KM: Jimmy Butler puts the Heat up for the first time since early in the first quarter, but Brown quickly responds.
NY: The Celtics will now be in the bonus for the final 7:37 of the game.
Celtics 82, Heat 78 — 10:36 p.m.
Celtics 82, Heat 78 | 10:01, fourth quarter
CF: Why the bleep is Tatum on the bench?
What to watch entering the fourth — 10:33 p.m.
NY: The Heat enter the fourth quarter down 7, which is a doable deficit, but seems unlikely given the way Jimmy Butler and Bam Adebayo are playing. Plus, they have to be exhausted by now.
CF: Good shots, rebound, push the pace, win a loose ball once in a while. Maybe make a couple of 3s, too. The recipe isn't complicated.
Tatum has 25 at halftime and has 25 at the end of 3. He needs to attack and get to the line in the fourth.
NY: The Celtics are just 5 of 25 from 3-point range and lead by 7. Nuts.
KT: It's the simple recipes the Celtics struggle with. They can do all the complicated stuff.
CF: So true, Khari.
End of third quarter: Celtics 79, Heat 72 — 10:29 p.m.
CF: Celtics are doing a nice job on the boards, but need to play with more poise on offense.
NY: Jimmy Butler and Bam Adebayo are a combined 5 of 27 from the field. Inexcusable for Miami's stars given the stakes.
Pulling away — 10:23 p.m.
NY: The Celtics have a chance to go up 13 with 3:27 remaining in the third. This game could be getting out of hand soon for the Heat, especially now the Kyle Lowry is checking back in.
Celtics 76, Heat 65 — 10:20 p.m.
Celtics 76, Heat 65 | 3:58, third quarter
NY: Jaylen Brown and Jayson Tatum continue to hit some tough mid-range shots. If anything, the Celtics are finally showing they have found alternative ways of scoring besides the three.
KT: Those aren't really the shots you want, but they're going in.
Celtics 69, Heat 65 — 10:13 p.m.
Celtics 69, Heat 65 | 5:34, third quarter
NY: Robert Williams is going to the scorer's table to check back in.
Smart is hot from 3 — 10:12 p.m.
CF: Smart is 4 of 6 from 3. Same as he was in Game 5.
NY: Caleb Martin has now been burned twice because he's closed out too aggressively on a Marcus Smart three.
KT: Smart held his follow-through and shook his head after that last 3. He's feeling it.
That's a good thing for the Celtics … for now. Whether he's to be trusted shooting those down the stretch remains to be seen.
Marcus Smart is 4 for 6 from three and the rest of the team is 1 for 15, naturally.

— Adam Himmelsbach (@AdamHimmelsbach) May 28, 2023
Celtics 62, Heat 60 — 10:09 p.m.
Celtics 62, Heat 60 | 7:24, third quarter
KT: Gabe Vincent lost a shoe and took a while to get it tied.
CF: Celtics are now 4 of 20 from 3 and 18 of 26 from 2.
NY: Jimmy is not a 3-point shooter. The Celtics should let him take that shot all day.
Ouch — 10:06 p.m.
#Celtics are 1 for their past 11 from the 3pt line

— gary washburn (@GwashburnGlobe) May 28, 2023
CF: Somebody other than Tatum had better start hitting shots.
Celtics 62, Heat 58 — 10:05 p.m.
Celtics 62, Heat 58 | 8:33, third quarter
NY: Now Miami will be in the bonus for the final 9:12 of the third quarter. The Heat are 10 of 36 (27.7 percent) on 2-pointers, but they should continue to drive to the basket and try to draw contact.
CF: Smart is 3 of 5 from 3. The rest of the Celtics are 1 of 13.
Brown with four fouls — 10:01 p.m.
Celtics 59, Heat 55 | 9:49, third quarter
NY: Jaylen Brown just picked up his fourth foul with 9:49 to go in the third quarter. Grant Williams just checked in for him. The Heat drew three fouls on the Celtics that possession.
Challenge successful — 9:57 p.m.
Celtics 59, Heat 55 | 11:19, third quarter
NY: Interesting, so the refs deemed the contact by both players marginal. No foul on either player. Basket counts. Jaylen Brown stays in the game (even though it definitely seemed like he hooked Martin and should have picked up a foul).
CF: What a weird call.
The biggest result there is the Heat are out of challenges in a close Game 6.

— Adam Himmelsbach (@AdamHimmelsbach) May 28, 2023
Miami challenges — 9:54 p.m.
NY: Erik Spoelstra is using his challenge at the beginning of the third quarter. Both he and the players seemed very upset that Jaylen Brown wasn't called for an offensive foul as he made his way around Caleb Martin.
Also of note: the Heat have just two timeouts remaining.
This review is important because Jaylen Brown would pick up his fourth foul if the call is overturned.
Looking ahead — 9:50 p.m.
CF: Things the Celtics need to clean up:  Heat have nine offensive rebounds … Celtics are 3 of 15 from 3, and Smart has two of them … Smart has no assists and three turnovers .
Jaylen might be the key to this game. Started great, hit first five shots, has missed all three of his attempts since. He must play under control.
They're going to need some big 3s from White and Horford.
NY: Still two minutes on the clock before play resumes, but no Robert Williams on the court for warmups coming out of the half. Also no update on his status from the team.
Robert Williams just came out with a wrap on his left wrist. He definitely seems to be favoring that side.
What to make of the first half — 9:42 p.m.
NY: The Celtics should feel confident based on Jayson Tatum's performance alone. He definitely has it tonight and could enter takeover mode in the second half. That being said, Robert Williams's status looms large.
I expect fatigue to be a potential issue for both teams, but mainly the Heat because they have weaker depth and older players.
KT: Jayson Tatum has 25 at the half despite missing all four of his 3-point attempts. He's finding a variety of ways to score, which bodes well for Boston. He could break this game open if his 3s start falling.
NY: The Heat finished the first half shooting 60 percent on their threes and 28 percent on their twos. They griped with officials on several of their missed twos, but started to get some calls down the stretch of the second quarter.
At the half: Celtics 57, Heat 53 — 9:37 p.m.
KM: The Celtics led by as many as 11 in the first half. What momentum for Miami.
Celtics 55, Heat 49 — 9:30 p.m.
Celtics 55, Heat 49 | 2:00, second quarter
NY: The Heat role players are making their shots. They need Jimmy Butler and Bam Adebayo to show up.
KT: Celtics have left Strus wide open a lot. And Caleb Martin is doing his job.
NY: Gabe Vincent, too.
CF: Heat are 9 of 14 from 3 and 8 of 27 from 2.
CF: Jaylen has done nothing since Lowry smacked his hand.
Timeout trouble — 9:27 p.m.
Adebayo burns another timeout trying to save a possession and now they're down to three with 3:27 left in 2Q. Butler also appeared to tweak his ankle on the play. #Celtics #Heat

— gary washburn (@GwashburnGlobe) May 28, 2023
KT: Also Van Gundy: "If Jimmy Butler keeps playing like this, the Heat can't win this game."
CF: Tatum has 14 points in the last 4.5 minutes.
Celtics 52, Heat 41 — 9:25 p.m.
Celtics 52, Heat 41 | 4:15, second quarter
Powerful finish by Rob there.

Jaylen also got away with fouling Bam that led to it.

52-41 Cs.

— Adam Himmelsbach (@AdamHimmelsbach) May 28, 2023
CF: Tatum has it tonight — he's scored the last 10, so that's pretty obvious, I guess and he's playing under total control.
KT: Van Gundy: "Tatum is dominating the matchup with Jimmy Butler and that's the difference in the game right now."
NY: Jimmy Butler starting the game 1 of 7 from the field is quite shocking to me. I totally thought we were due for a statement game from him. He's going to have to show up in the second half if the Heat want a chance.
CF: Heat take a timeout after another Tatum bucket — he now has 21 on 6 of 9 shooting and NINE free throws — and so I'll take the opportunity to say I love seeing both Larry and Magic in the NBA Finals commercial. Larry doesn't do much of that stuff these days.
Heat have to be terrified that they're +12 from the 3-point line and down by 11.

— Adam Himmelsbach (@AdamHimmelsbach) May 28, 2023
Celtics 46, Heat 39 — 9:16 p.m.
Celtics 46, Heat 39 | 6:31, second quarter
CF: And White comes back in for Williams. Celtics could use a couple of 3s from him.
KM: Tatum already has 17.
Cs in the bonus — 9:12 p.m.
Celtics will be in the penalty for the final 8:50.

Two fouls on Butler.

Real chance for the Cs to extend this lead here.

— Adam Himmelsbach (@AdamHimmelsbach) May 28, 2023
NY: The Heat players are definitely getting frustrated with the lack of calls on their end. Gabe Vincent had a case on his last drive to the rim.
CF: One thing Lowry is doing: Annoying the Celtics. Jaylen has been a little out of sorts (his first missed shot and a turnover) since Lowry whacked his hand.
Grant needs to settle down a little bit.
Celtics 40, Heat 38 — 9:10 p.m.
Celtics 40, Heat 38 | 9:04, second quarter
NY: Kyle Lowry has been awful for the Heat. Miami had beautiful ball movement when Hauser was on the floor, but the possession ended with an ugly 3-point miss from Lowry. The problem for the Heat is they don't have any other options.
CF: Celtics are fortunate to be up 2. Ducking screens and not closing on 3s — need to pick up the intensity on D. And Miami is shooting better from 3.  Miami is 7 of 11 from 3, Celtics are just 3 of 10.
Good timeout from Joe Mazzulla, consecutive breakdowns lead to open Gabe Vincent threes. Too much emphasis on defending Butler. #Celtics #Heat

— gary washburn (@GwashburnGlobe) May 28, 2023
Celtics 38, Heat 32 — 9:05 p.m.
Celtics 38, Heat 32 | 10:10, second quarter
Jimmy Butler rested 80 seconds. #Celtics #Heat

— gary washburn (@GwashburnGlobe) May 28, 2023
CF: Celtics have not been closing on perimeter shots as aggressively as they did in Game 5. Brown was a half-step late on a Robinson 3 that cut the lead to 35-32.
Jaylen Brown has 10 points so far — 8:54 p.m.
Does Jaylen Brown have a memorable playoff moment or game ?

— Mike (@MikeAdxx) May 27, 2023
NY: I feel like Jaylen Brown saw this tweet.
CF: Celts are on a 6-0 run here, but wanted to note a smart play Butler made a minute ago, pulling the ball out and attacking Rob Williams with acceleration. Rob has given him some trouble point-blank, but Butler found a different way to create space.
Interesting that Butler is starting to take threes. He's taken 12 in the first five games and two in the first 10 minutes tonight. Also, #Celtics defending without fouling much in opening Q. #Heat

— gary washburn (@GwashburnGlobe) May 28, 2023
Celtics 20, Heat 18 — 8:49 p.m.
Celtics 20, Heat 18 | 3:37, first quarter
NY: Jaylen Brown cannot miss right now.
Who will take Brogdon's minutes? — 8:47 p.m.
KT: With Brogdon out, is it more likely that Mazzulla sticks with a seven-man rotation with just Grant and Rob off the bench? If not, who is the best candidate to sneak in for some extra minutes?
NY: It has to be Payton Pritchard or Sam Hauser. My guess would be Pritchard, given Joe Mazzulla's previous decisions. Hauser seems like the better choice to me, but I can see why giving him his first minutes of the series in an elimination game on the road may not be the best idea.
CF: I've been preaching that Hauser should get 6-8 minutes a game in this series. He had twice as many 3s as Duncan Robinson this year. See if he can knock down a couple of shots over the zone. He should definitely get a nod over Pritchard. He holds up better defensively, too.
Heat 11, Celtics 11 — 8:43 p.m.
Heat 11, Celtics 11 | 5:51, first quarter
CF: I need a replay of that Horford-Strus skirmish where neither wanted to let the other up.
NY: Miami's decision to start Caleb Martin is paying off midway through the first quarter. He is 3 of 3 from the field with 6 of the Heat's 11 points. My guess is both teams are going to run very tight rotations tonight.
CF: Jaylen Brown and Caleb Martin are both 3 of 3. Good sign from Jaylen, but not good for the Celtics if they battle to a draw.
Heat 5, Celtics 4 | 9:00, first quarter
KT: Jaylen Brown just made an obvious push off on his second basket of the game. He's lucky they didn't call it. Aggressive start for JB though, scoring the Celtics' first four points.
NY: The Heat were fired up about that non-call, and also thought Al Horford should have also been whistled for an offensive foul on Boston's next possession. It's definitely a physical game, fitting for the circumstances.
And we're off … — 8:32 p.m.
Game 6 is underway.
How will we look back at this series? — 8:25 p.m.
If the Celtics finish this series off and advance, how do you think we will look back on this moment and this team?
NY: I think it's difficult to answer that question without knowing how they fare in the Finals. A championship changes everything.
If the Celtics advance and lose in the Finals, coming back from 0-3 is more a statistical oddity. (They are the second seed and the Heat are the eighth seed, after all.) If the Celtics come back and win a title? Then, I'm sure this series will be considered a turning point for not just this team but the franchise moving forward. A championship would eliminate all the questions about the future of Joe Mazzulla and the viability of this core.
CF: At the very least, if they come back and win this series, it should permanently silence any remaining
skeptics about Jayson Tatum's determination and priorities.
KT: If the Celtics complete the comeback and win four in a row, we'll wonder why on earth they didn't sweep this Heat team if they were capable of it all along. Maybe they just enjoy the drama of Game 7s at the Garden like the rest of us.
Gabe Vincent is back — 8:20 p.m.
Gabe Vincent, who missed Game 5 with an ankle injury, will return to the starting lineup tonight. Miami is also starting Caleb Martin over Kevin Love. With their best five players on the court to open the game, the Heat need to get off to a fast start.
Predictions for tonight? — 8:15 p.m.
NY: Celtics win. The past two games are why I picked Boston in five. That prediction obviously looks foolish now, but the Celtics are clearly the superior team on paper and finally playing like it. The talent gap is too big for even Erik Spoelstra to overcome.
CF: Celtics win … and big if Jeter and A-Rod are in the building again.
KT: The energy appears be shifting in the Celtics' favor. They're playing the right way on defense and they've found their 3-pt. shooting stroke. Celtics win.
It's been a tough go for Grant Williams, but Joe Mazzulla has his back — 8:00 p.m.
By Adam Himmelsbach
Celtics coach Joe Mazzulla and forward Grant Williams developed a strong relationship during Mazzulla's time as an assistant, and that bond has helped them navigate some challenging circumstances for Williams over the course of this year.
The forward's opportunities have been inconsistent, with him going in and out of the rotation. Even during these playoffs, he did not play in five of the Celtics' first 14 games and received just spot minutes in several others.
But he has emerged as a central piece of the rotation recently. He entered Saturday night's game averaging 27.8 minutes per game, and he has taken advantage of the opportunity, connecting on 58.3 percent of his shots and 53.3 percent of his 3-pointers.
"I appreciate his humility and professionalism to understand how it works and always being ready to play," Mazzulla said. "We have each other's back. We have a level of communication and trust with each other that we can just communicate exactly what's going on. So from day one, he's had a trust factor, he's had a humility and a professionalism."
Williams said his approach does not change whether or not he is playing.
"Just being there for your teammates, that's the No. 1 thing, whether it's on the floor or off," he said. "For me, it's just trying to stay mentally disciplined in my regimen, making sure I'm prepared both on and off the court, both diet and also with the actual workouts and stuff that I'm doing to stay consistent. And I think that I've been very fortunate to have a lot of great teammates throughout this year, and they've had my back throughout anything that's happened. It's my job to do the same for them."
Why all the pressure is on the Heat — 7:50 p.m.
By Tara Sullivan
Jimmy Butler never uttered the word "guarantee." But make no mistake: The Heat star promised his team would close out this suddenly tight Eastern Conference final series Saturday night in Miami.
"We're going to keep it very consistent, knowing that we're going to win the next game,'' Butler said Thursday night, shortly after he and his teammates suffered a 110-97 Game 5 defeat that wasn't nearly as close as the score indicated, a thoroughly one-sided TD Garden affair that pulled the Celtics within a game of tying a series they once trailed, 3-0.
Jaylen Brown didn't use the word "guarantee" either. Nor did he frame his thoughts as a direct response to Butler. But when Brown later sat behind the same microphone and calmly said, "These next two games should be fun," his promise was just as clear. The Celtics expect to take this series back to Boston for a winner-take-all Game 7.
The odds still say the Celtics' job is tougher — because they are still down in the series, because they are still on the brink of elimination, and because they will play the next game on the Heat's hostile home court. But it sure does feel like these last two games have flipped the series script. The heat has been turned up on the Heat.
Malcolm Brogdon ruled out — 7:35 p.m.
By Adam Himmelsbach
Celtics guard Malcolm Brogdon was ruled out for Game 6.
Brogdon, who last month was named NBA's Sixth Man of the Year, was listed as probable prior to Game 1 before eventually being cleared to play, and he scored 19 points in Boston's loss. He added 14 points and 4 rebounds in the Celtics' Game 2 loss, but has struggled mightily in the three games since, totaling just two points on 1 for 13 shooting.
He sat out the second half of the Celtics' Game 5 win due to the injury and has declined interview requests during the Celtics' last two open media availabilities. Coach Joe Mazzulla hasn't shed much light on his status, either.
Mazzulla said about 90 minutes before tipoff Saturday that Brogdon was going through a workout to determine his availability, and he was officially ruled out about 30 minutes later.
This season Brogdon averaged 14.9 points, 4.2 rebounds and 3.7 assists while connecting on 44.4 percent of his 3-pointers, serving as the anchor of Boston's second unit. His absence will likely lead to increased playing time for guard Derrick White, and backup guard Payton Pritchard, who had a brief stint in the second half of Game 5 in place of Brogdon, could be in line for another opportunity.
Heat guard Gabe Vincent, who missed his team's Game 5 loss because of a sprained ankle he suffered in Game 4, has been cleared to return on Saturday.
He knew Joe Mazzulla as a player. What does he think of him as a coach? — 7:30 p.m.
By Tara Sullivan
Taking a job as an assistant coach in college often means inheriting recruits from a previous coach, with part of the job spent establishing a relationship with a high school player who might or might not still be a fit for the school in question. It can be a delicate transition, with questions and concerns on both sides of the equation about whether they still make a good match.
Back in 2006, when Mike Maker joined John Beilein's West Virginia staff, one of the players he was tasked with recruiting was a smallish, athletic point guard in Rhode Island, a floor general out of Bishop Hendricken who had a high basketball IQ and an offer from his own Atlantic 10 state school. It was up to Maker to help decide if the kid could play in the Big East.
A year later, Joe Mazzulla was a freshman guard helping the Mountaineers win an NIT championship. Years later, that same kid is trying to guide the Celtics to an NBA championship.
Malcolm Brogdon status update — 7:20 p.m.
Joe Mazzulla did not rule Malcolm Brogdon out for Game 6.
"He's got to warm up, do his shooting time and kind of see how he feels from there," Mazzulla told the media before the game.
Brogdon exited Thursday's Game 5 win with right forearm soreness. He is averaging 6.8 points in 21.2 minutes per game in this series.
'History is at our doorstep': Jaylen Brown talks 2004 Red Sox and more ahead of Game 6 — 7:15 p.m.
By Trevor Hass
As the Celtics keep chipping away against the Miami Heat, the comparisons to the 2004 Red Sox continue.
The 2004 Red Sox famously overcame an 3-0 series deficit to outlast the Yankees in the ALCS and eventually capture their first World Series in 86 years.
The Celtics are two wins away from becoming the first team in NBA history to advance after dropping the first three games of a series.
Jaylen Brown, in a pre-game interview with NBC Sports Boston's Abby Chin on Saturday, acknowledged that the Celtics have discussed the comparisons between the two teams. ESPN's Zach Lowe noted in his podcast that the Celtics are watching game-by-game clips of the Red Sox' comeback along the way.
"History is at our doorstep, and we gotta respond."

Jaylen Brown talks with @TVAbby about the comparisons to the 2004 Red Sox, among other things.

WATCH Abby's full interview during our coverage of Game 6, which begins at 7pm on @NBCSboston ☘ pic.twitter.com/doasj3Jzcq

— Celtics on NBC Sports Boston (@NBCSCeltics) May 27, 2023
"The more games that we win, the more the fans talk about it, the more the coaches are bringing it up in the locker room, saying it's possible and it can be done," Brown told Chin. "We believe, too."
Brown told Chin that the Celtics believe they're the better team but haven't played like it. He said they feel as though it's their destiny to advance, much like the Red Sox did 19 years ago.
He and Marcus Smart channeled their inner Kevin Millar by indicating before Game 4 that the Heat shouldn't let the Celtics win one. They did, then they let it happen again in Game 5, and now the Celtics are halfway there.
"History is at our doorstep," Brown said, "and we've got to respond."
Through five games, Brown has had a relatively quiet series by his standards, averaging 17.6 points while shooting just 20 percent from 3-point range.
Brown, who had a bag of ice on his left wrist while chatting with Chin, said the injury has nothing to do with watering plants. He said everyone has injuries this time of year, and he'll never make excuses. His focus is on Game 6.
He said the Celtics need to leave chance out of it, expect physicality and intensity from the Heat, and be mentally tough enough and strong enough to persevere through it.
"It felt like everything was going wrong the first three games," Brown said. "The last two, it felt like the momentum switched a little bit."
While the Celtics know the past won't do them any good, they do believe that their experience erasing 3-2 deficits can only help as they face their steepest challenge yet.
"We feel good," Brown said. "I think the belief is strong."
This Celtics team seems to be writing its own anything-is-possible story — 7:00 p.m.
By Chad Finn
There's no secret here. Never has been with this Celtics team. We know what they have to do to be at their best. They do too.
When they dedicate themselves to playing relentless defense without wavering, play with pace and purpose, and share the ball so that everyone is shooting in rhythm, they are a delight to watch and extremely difficult to beat.
When they don't? When they are inexplicably disjointed and disconnected? Then they are nothing short of exasperating, and disappointment seems inevitable.
Comeback juice — 6:45 p.m.
Maybe these are their lucky jerseys? — 6:40 p.m.
Remember when the Red Sox won seven in a row wearing their yellow City Connect jerseys?
Well, the Celtics are hoping to even the series and win their third straight wearing their green "icon" jerseys tonight. Boston has a 6-1 record in them this postseason.
Sign up for Celtics updates🏀
Get breaking news and analysis delivered to your inbox during basketball season.