Celtics
'History is at our doorstep': Jaylen Brown talks 2004 Red Sox and more ahead of Game 6
"We believe, too."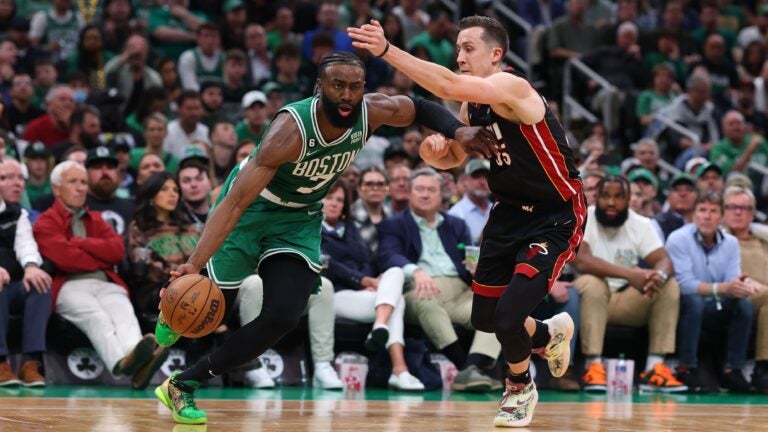 As the Celtics keep chipping away against the Miami Heat, comparisons to the 2004 Red Sox continue to grow by the day.
The 2004 Red Sox, of course, famously overcame an 0-3 series deficit to outlast the Yankees in seven games and ultimately capture their first World Series in 86 years.
The 2023 Celtics fell in an 0-3 hole against the Heat and found a way to win Game 4 on Tuesday and Game 5 on Thursday. They're two wins away from becoming the first team in NBA history to advance after dropping the first three games of a series.
Game 6 is set for Saturday at 8:30 p.m. in Miami, and the Celtics are favored once again.
Jaylen Brown, in a pre-game interview with NBC Sports Boston's Abby Chin on Saturday, acknowledged that the Celtics have discussed the comparisons between the two teams. ESPN's Zach Lowe noted in his podcast that the Celtics are watching game-by-game clips of the Red Sox' comeback along the way.
"The more games that we win, the more the fans talk about it, the more the coaches are bringing it up in the locker room, saying it's possible and it can be done," Brown told Chin. "We believe, too."
Brown told Chin that the Celtics believe they're the better team but haven't played like it. He said they feel as though it's their destiny to advance, much like the Red Sox did 19 years ago.
He and Marcus Smart channeled their inner Kevin Millar by indicating before Game 4 that the Heat shouldn't let the Celtics win one. They did, then they let it happen again in Game 5, and now the Celtics are halfway there.
"History is at our doorstep," Brown said, "and we've got to respond."
Through five games, Brown has had a relatively quiet series by his standards, averaging 17.6 points while shooting just 20 percent from 3-point range.
Brown, who had a bag of ice on his left wrist while chatting with Chin, said the injury has nothing to do with watering plants. He said everyone has injuries this time of year, and he'll never make excuses. His focus is on Game 6.
He said the Celtics need to leave chance out of it, expect physicality and intensity from the Heat, and be mentally tough enough and strong enough to persevere through it.
"It felt like everything was going wrong the first three games," Brown said. "The last two, it felt like the momentum switched a little bit."
While the Celtics know the past won't do them any good, they do believe that their experience erasing 3-2 deficits can only help as they face their steepest challenge yet.
"We feel good," Brown said. "I think the belief is strong."
Sign up for Celtics updates🏀
Get breaking news and analysis delivered to your inbox during basketball season.