Celtics
Jimmy Butler, Erik Spoelstra remain confident in Heat after Celtics comeback from 3-0 to force a Game 7
"At this time right now, I don't know how we are going to get this done, but we are going up there and get it done."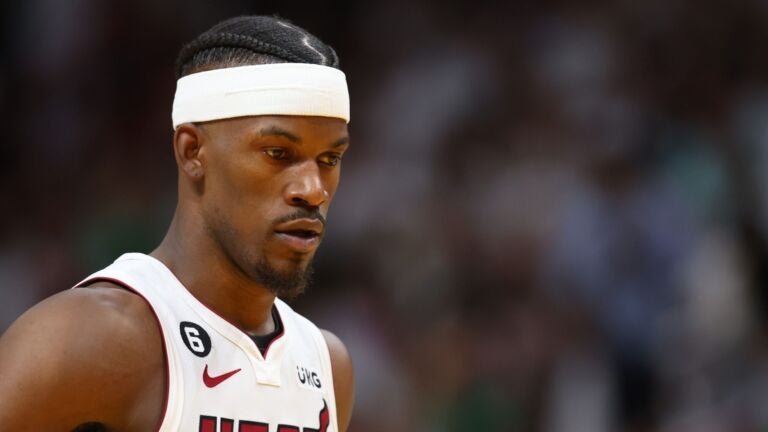 The Celtics are the fourth team in NBA history to force a Game 7 after trailing 3-0 in a series. Their opponents still maintain confidence going into Game 7, even after the devastating way they lost Game 6.
The Heat were just seconds away from winning the Eastern Conference finals. Jimmy Butler made all three free throws with three seconds left to put Miami up 103-102, giving it the lead after it trailed by 10 just five minutes prior.
Butler was seen on the bench telling his Heat teammates "one stop" after he made his free throws, as that was all they needed to avenge their Eastern Conference finals loss to the Celtics a year prior.
The Heat didn't get that stop.
After Marcus Smart's Hail Mary turnaround jump shot following the inbounds pass rimmed out, Derrick White crashed the board and got the putback in right before the buzzer to give the Celtics a one-point win that forced Game 7.
Adding to the miraculousness of the shot, White was the player who inbounded the ball to Smart, roughly 30 feet from the basket. White was able to get to the rim without being boxed out because the player covering him, Max Strus, was doubling Jayson Tatum on the inbounds pass.
Heat coach Erik Spoelstra didn't second-guess his decision to have Strus send extra attention at Tatum.
"Making that ball go anywhere but Jayson Tatum," Spoelstra explained his decision. "Ideally, you would think, you hope you do the right things. That thing just bounced a different way. That's the only place it could have bounced to hurt us. I thought we had a lot of things covered on that play, and sometimes things just don't break your way.
"I don't think there's any regrets on that. It's just a shame."
Both squads don't have much time to prepare for Game 7, which will take place in Boston at 8:30 p.m. on Monday.
Spoelstra knows that the turnaround for his team has to be quick as they stare at potentially being on the wrong side of NBA history.
"This is the way this season has been. This is one hell of a series," Spoelstra said. "At this time right now, I don't know how we are going to get this done, but we are going up there and get it done. And that's what the next 48 hours is about.
"There's been nothing easy about this season for our group, and so we just have to do it the hard way. That's just the way it's got to be for our group.
"We wish we would tip this thing off, right now. Right now, let's tip this thing off, and let's play another 48 minutes. But we'll wait 48 hours and do this thing in Boston."
Spoelstra's star player followed his lead when speaking to reporters following Saturday's thriller.
"Basketball at its finest. Very, very, very entertaining," Butler said. "But that's good basketball. I think, I believe, as we all do, like you're going to get the same test until you pass it, I swear. We were in this same position last year. We can do it. I know that we will do it. We've got to go on the road and win in a very, very, very tough environment.
"But we are capable of it. So let's get busy."
While Butler nearly dragged the Heat to victory in Game 6, his play in the final minutes didn't represent how he played for the prior 40-plus of Saturday's game. He scored 24 points but shot just 5-of-21 from the field.
The Heat nearly winning despite Butler's poor shooting night is part of the reason why he's confident going into Game 7. He expects himself to play better on Monday.
"When we huddle up after the game, after a tough loss like this one, everybody is smiling because we know we're very capable of it," Butler said. "I'm telling you, and we are not going to let up. I'm not going to let anybody quit. I'm not going to let our guys quit.
"I don't give a damn what happens. We're going to go in there and we're going to win."
Sign up for Celtics updates🏀
Get breaking news and analysis delivered to your inbox during basketball season.