Celtics
Derrick White saves the season: 10 takeaways from Celtics vs. Heat Game 6
The Celtics continued a historic pushback from a 3-0 deficit on Saturday.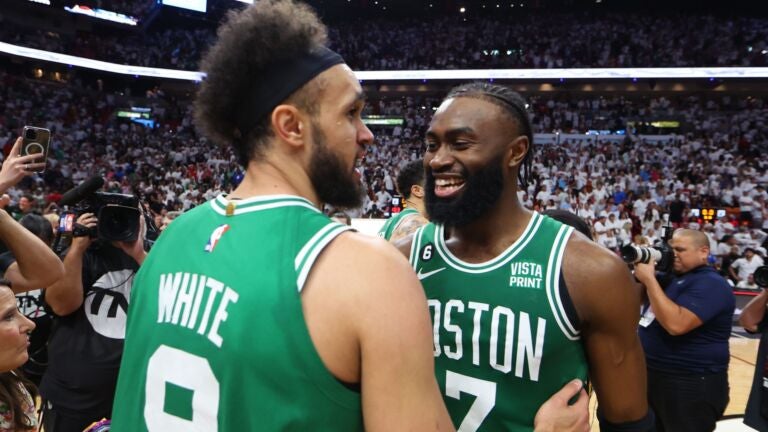 The Celtics outlasted the Heat in a wild 104-103 Game 6 victory that culminated with a play that could be remembered for years and became the fourth team in NBA history down 3-0 to force a Game 7.
Here are the takeaways.
1. There were roughly 20 seconds — 20 heart-pounding, tension-filled seconds — following the final buzzer of Saturday's Game 7 when it wasn't exactly clear whether or not the Eastern Conference finals were over.
One way or another, the game itself was over. Jimmy Butler had just knocked down three free throws to put the Heat up by one. Derrick White's putback layup either counted or it didn't.
So for 20 seconds, the Eastern Conference finals were a kind of Schrödinger's cat experiment — simultaneously dead and alive. Then a replay opened the box, and out popped a happy, healthy cat no worse for the wear. The ball was out of White's hands with 0.1 seconds remaining, and Celtics had evened the series at 3-3 with one of the wildest finishes in NBA history.
Less than a week ago, we wrote that the Celtics were about to be eliminated "barring one of the most miraculous turnarounds in NBA history."
Give us some credit: We were right that the Celtics needed a miracle.
2. Celtics fans should take a minute to appreciate Derrick White, whose addition to this team has been perhaps Brad Stevens's best move as GM. That's a tall order to fill, given that other moves include "trading a mediocre first-round pick and Aaron Nesmith for Malcolm Brogdon" and "trading the husk of Kemba Walker for Al Horford," but White's fit has been ideal.
On Sunday, White defended Jimmy Butler better than at other points in the series after Butler picked on him in the first three games. His offensive stat line was relatively muted — 11 points, 4-for-10 shooting, four rebounds, six assists, three blocks — but … well, do you really need us to say it? One of those rebounds and two of those points saved the Celtics' season and — if they win again on Monday — will be a defining moment in White's career and one of the most iconic plays in the history of a franchise that has a disproportionate amount of iconic plays.
3. As is often the case in these types of games, there was plenty of officiating controversy.
First, on the penultimate play, Al Horford fouled Jimmy Butler shooting a 3-pointer with the Celtics up by two. The Celtics challenged the play, which appeared to be a questionable decision — Horford clearly fouled him — but on replay, Butler appeared to double dribble.
Officials then inexplicably put 0.9 seconds back on the clock, which appeared wrong based on when Horford fouled Butler. At 3.0 seconds, Horford gave this contact against Butler.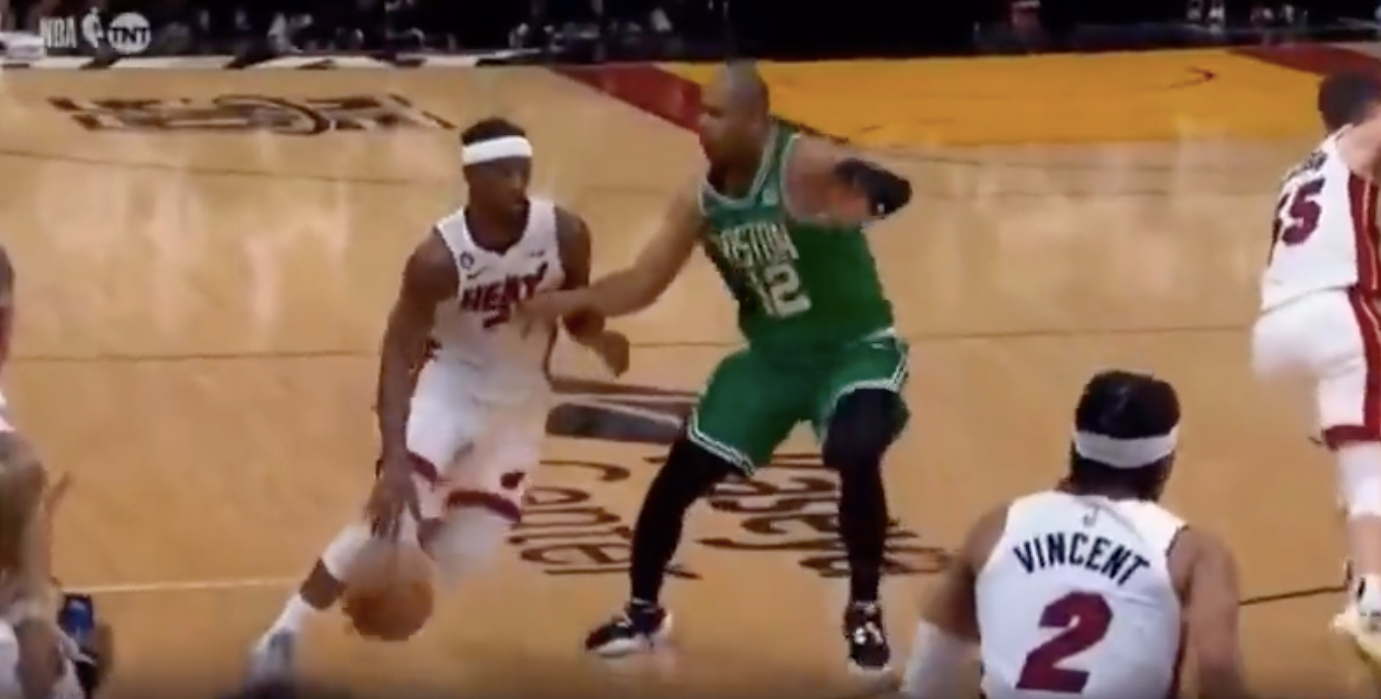 Was that what officials determined to be a foul? If so, Butler should have gotten two free throws, not three. Also, those extra 0.9 seconds ended up mattering quite a bit, since White had time to put the ball back up and in.
In the end, both fanbases found a way to feel cheated, which — given the nature of NBA fandom — was probably always going to be the case.
4. The Celtics won despite losing their usual bellwether — they were just 7-for-35 from 3-point range, which put them at 20 percent. The Heat, meanwhile, were 14-for-30 from deep.
In other words, the Celtics were outscored by 21 points from behind the arc, and they still came out with a win. It was the first time this season that the Celtics shot sub-25 percent and won a game, and the first time they shot worse than 35 percent and won in the postseason. They are now 4-7 when they shoot below 40 percent from deep, and 7-1 when they shoot above it.
How did the Celtics win a game in which their stars Jaylen Brown and Jayson Tatum shot 0-for-12 from behind the arc? By outscoring the Heat 42-32 in the paint and 12-4 in fast-break points. Miami's stars Jimmy Butler and Bam Adebayo also combined to shoot 9-for-37, although we'll get to a little more on Butler in a bit.
The Celtics kept shooting 3s in an attempt to get themselves on track, but they also got plenty of offense going to the hoop, which helped quite a bit.
5. After Game 5, a reader emailed to note that we didn't write anything about Marcus Smart in the takeaways. Reader, consider this our mea culpa: Smart was brilliant in Game 5 and should have been mentioned. He was brilliant once again in Game 6 — a defensive force who buried several timely shots en route to 21 points and recorded one very timely miss that White put back up and in.
6. After (sort of) guaranteeing a win in Game 6, Butler had his worst shooting game of the series — 5-for-21 from the floor with 24 points. He did grab 11 rebounds and dish out eight assists, but the Celtics have figured out how to defend him in ways that should worry the Heat going into Game 7. Butler's pump fakes aren't really throwing anyone, and his powerful drives and post-ups aren't pushing Celtics defenders back quite as far anymore.
That said, Butler was the reason the Heat walked a double-digit deficit down and turned it into a lead in the final three minutes. Underestimate him at your own peril.
7. Horford probably owes White a dinner — Horford did the one thing the Celtics couldn't afford to do, which was give up three points on the second-to-last possession. If White hadn't crashed the glass, the Celtics' season would have ended the way many games throughout the year ended: With a blown double-digit lead, a bad play in the closing seconds, and a missed shot at the buzzer.
8. Robert Williams looks like he's back — he was 4-for-5 on Sunday, but more importantly, his defense was stellar as a switching option even against Butler. Butler's shot fakes appeared to have Williams' head spinning earlier in the series, but on Sunday, Williams stayed down and remained in the play defensively, which is exactly where the Celtics want him to be.
He also caught this lob in the first half.
9. We got this far without really going in-depth on Tatum and Brown, but they were both excellent aside from their 3-point shooting. Tatum finished with 31 points, 12 rebounds, five assists, and 15-for-15 shooting from the free-throw line, while Brown scored 26 points and knocked down eight of 10 free throws. Getting Tatum and Brown to a combined 25 free throws is a very nice way for a 3-point-happy team to mitigate a bad night from behind the arc.
10. As Brown wrapped up an interview with the TNT crew following the game, Charles Barkley held his attention for a minute.
"You say you want to make history?" Barkley said to Brown. "You only make history if you win number 4. Don't forget that. Just getting to Game 7 don't make history."
Barkley could not be more correct. The Celtics celebrated briefly following Game 6, and they deserved to celebrate. But in the same way that Butler's three free throws no longer matter in the wake of White's putback, none of this hard-fought comeback matters if they lose Game 7. The team that said "don't let us get one" when they went down 3-0 needs to show up on Monday at TD Garden.
It's worth remembering that the three teams who forced a Game 7 after going down 3-0 all lost. Jimmy Butler isn't done. Erik Spoelstra isn't done. The Celtics aren't done.
History is not yet written.
Game 7 tips at 7:30 p.m. on Monday.
Sign up for Celtics updates🏀
Get breaking news and analysis delivered to your inbox during basketball season.