Celtics
'Like a flash of lightning': How the Celtics reacted to Derrick White's miracle buzzer-beater
Jayson Tatum, Jaylen Brown, Derrick White, and Joe Mazzulla react to the shot that saved the season.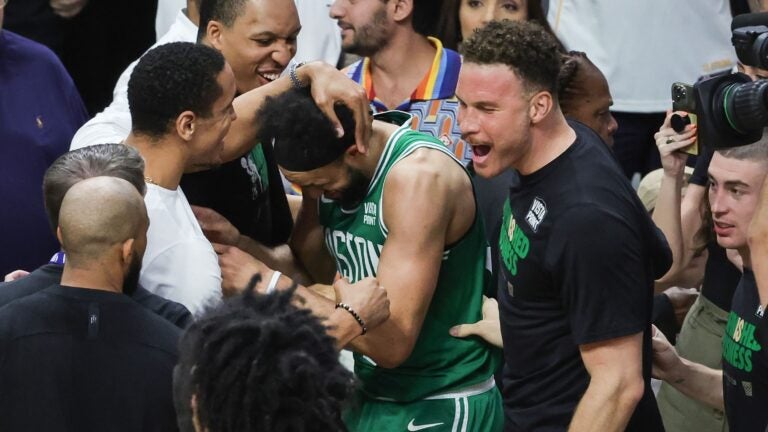 Derrick White began the play as the inbounder, passing the ball to Marcus Smart for a contested 3-point attempt in the closing seconds of Game 6.
"I was passing it in," White said. "[Gabe] Vincent was on me and he was up top denying [Jayson Tatum] so I couldn't get him the ball. They did a good job of denying [Jaylen Brown] too. Smart flashed, I hit him, and there really was nobody on me."
Once the ball left his fingertips, he ran to the corner in case Smart was able to get a pass off. When he saw Smart elevate for the jumper, he dashed into the paint untouched and tipped the ball in with 0.2 seconds remaining.
"It felt good," White said. "Everybody was asking me 'Did you get it off?' I was like yeah, I think so, but it was so close you never know."
White's tip-in proved to be the go-ahead basket, giving the Celtics a dramatic 104-103 win. The win forces a winner-take-all Game 7 at TD Garden on Memorial Day.
"Derrick White, like a flash of lightning, just came out of nowhere and saved the day, man. It was just an incredible play," said Celtics guard Jaylen Brown.
What was on coach Joe Mazzulla's mind when he saw the shot go in?
"Nothing. Game 7," Mazzulla said.
The Celtics now have an opportunity to become the first team in NBA history to overcome a 3-0 deficit. Having tied the series at 3-3, they're one home win away.
"[It was] faith, love, togetherness, physicality, belief, hope, all those things combined," Mazzulla said. "But it starts with the locker room. Those guys had a choice to make, and they chose to believe in each other."
White chose to believe in the team when Mazzulla started Rob Williams over him before Game 6 of the Philadelphia series and for the first three games of this series.
"I've always just been, it's all about the team," White said last round. "It's not about me. It's been that way all year, so whatever the team needs, I'm all in."
He was rewarded for his patience and hustle in the final minutes of Game 6 with a season-saving buzzer-beater.
"If you've been around us all season, you see how close this locker room is. We're always joking around," White said. "Everybody is getting along. When times are tough, it's easy to kind of point the fingers. But we just stuck together and cared for each other and we've got one more game to go."
Jayson Tatum said the shot left him at a loss for words at first, but he felt a big sigh of relief knowing that the Celtics have at least one more game to play.
"We kept fighting," Tatum said. "We're down, but not out. We've got another chance. I'll go to war with every guy in that locker room as it shows. We've got a big one on Monday."
Sign up for Celtics updates🏀
Get breaking news and analysis delivered to your inbox during basketball season.